Published: October 22, 2020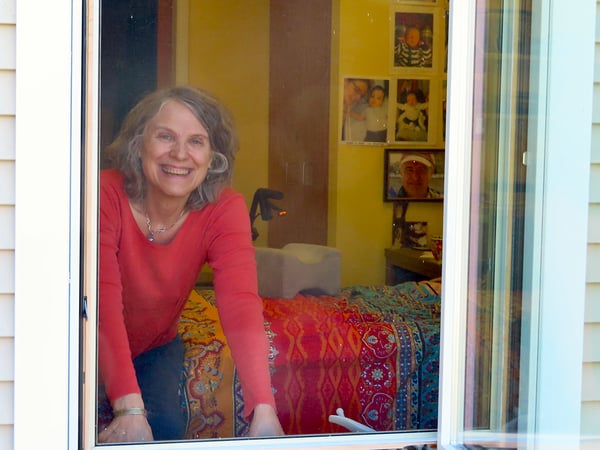 A year and a half into her move to Kendal at Oberlin, Judi Bachrach was hitting her stride.
Judi had been living in upstate New York with her husband, but after his death she needed to find a community that could help manage her multiple sclerosis. Kendal offered both Assisted Living and proximity to her daughter, a professor at Oberlin College.
At Kendal Judi was leading a meditation class for residents, swimming three times a week, taking walks as often as possible with her rollator, attending a monthly writing group and a weekly Quaker meeting, dining with new friends and enjoying visits from her daughter and newborn grandson.
The second week in March her new life at Kendal came to a halt.
"There was nothing and nobody," says Judi, who at 69 is the youngest AL resident at Kendal.
"After adjusting to my lack of freedoms, I discovered I am simply grateful."
Judi writes a blog - Judi B's Blog - and her March 12 entry reads in part:
"Kendal's watchwords are: calm, proactive preparation. At our regular health forum for the entire community yesterday afternoon, COVID 19 was the only topic of discussion. The doctor who is our medical director, the head of our nursing staff, the staff infectious disease specialist, and the chief health services officer were all on hand to inform us of the changes we have established for this month though things may change daily if necessary. As they did overnight. That turned out to be our last large community gathering for a while.
The Care Center area where I live is the most affected as we house the most elderly and health compromised residents at Kendal. The breakfast venue directly across the hall from me has closed, as will the nearest dining area. Meals will be brought to our rooms. Singing together is likewise not a good idea. The rest of the Kendal community can no longer come through our halls on their way to elsewhere in the sprawling facility."
When the Ohio Department of Health shut down nursing facilities, Kendal residents began visiting Judi and other AL residents outside their window, newly marked with room numbers. Judi's outdoor walks were replaced with visits to an enclosed courtyard – lovely but "no horizon." She joined a daily ZOOM meditation class as well as other online gatherings and formed a bubble with another AL resident so they could watch TV together. Thanks to a Kindle and Amazon, she was never without a book to read.
"I manage to keep pretty busy," she says.
When outdoor visits were allowed this summer she got to see her daughter Emilia Bachrach and grandson Max. Twice Judi has visited their home in Lakewood for a couple of weeks, which means a 14-day self- quarantine in her room once she returns to Kendal.
"I feel very fortunate that my daughter is nearby," says Judi, as her last quarantine was coming to an end.
She is a member of Kendal's New Normal Planning Committee, which has helped her keep connected to the new rhythms unfolding throughout the Kendal community. "It's a real loss of normalcy for everyone," she says.
'We've got to keep uplifting so that Hope can arise"
One of Judi's recent blogs is a poem entitled "Hope Arising." It ends:
"Whenever I feel my world is falling apart
I've got to uplift my troubled mind
Give voice to all the love and all the light I can find"
She is looking forward to her third visit to Lakewood for Thanksgiving and Max's 1-year-old birthday party, but beyond that the future is uncertain.
While some restrictions have eased, Judi knows that vulnerable men and women like herself will be the last ones to resume a more normal life. She has had moments of thinking "get me out of here" but those thoughts are fleeting. "This is where I belong. The staff has done an incredible job, they've given 150%," she says.
She likes to imagine the day when she can roll down the hall into Heiser, greet residents at their mailbox and head outdoors for a walk. Says Judi, "It will be a tremendous joy."
Choosing a Retirement Community is an Important Decision
---
Our whitepaper offers 15 helpful recommendations to consider.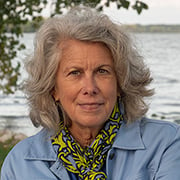 In the past, Molly Kavanaugh frequently wrote about Kendal at Oberlin for the Cleveland Plain Dealer, where she was a reporter for 16 years. Now we are happy to have her writing for the Kendal at Oberlin Community.