Published: September 23, 2019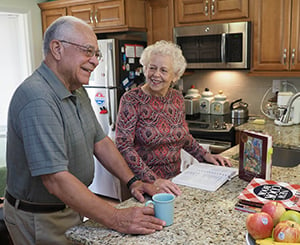 Fill an auditorium with Baby Boomers, ask them to talk about aging issues, and one of the top concerns you'll hear is finding the right place to call home.
Boomers like choice, and when it comes to housing, they have lots of options:
Do they age in place by converting the family house into space that will accommodate mobility issues and other aging concerns?
Or do they move into a condo, apartment or 55-plus community and say goodbye to the lawn mower and other property chores and expenses?
What about relocating to a life plan community, which offers all of the above along with an independent and active lifestyle, and if needed, assisted living and nursing care?
Many older men and women find the third choice appealing because such a community, also known as a Continuing Care Retirement Community (CCRC), offers so much, including the assurance this will be their last move.
Now, the question becomes how they can find the right CCRC to call home.
Prospective residents want to make sure their chosen CCRC is a good financial fit. Kendal at Oberlin understands how complex the financial puzzle can be, which is why the community is always looking for innovative resources to help older adults put the pieces of the puzzle together.
Kendal at Oberlin: Helpful Financial Resources
This spring, Kendal launched an online preliminary financial calculator called MoneyGauge, created by myLifeSite™ – an organization that helps people research and understand CCRXs. By answering seven quick and simple questions, the calculator tells users whether a community is a likely financial fit.
The financial questions are general - for instance, what are your approximate retirement savings within a range of $50,000? Plus, the results are delivered in just a couple of minutes. Potential residents receive a preliminary look at what kind of housing, if any, they can afford. The tool is a guide, not a guarantee of financial approval.
Brad Breeding, president and founder of myLifeSite™, said the company developed the tool to help guide consumers early on in their journey of selecting a life plan community. Fewer than two dozen CCRCs currently offer the calculator.
"We've found that many potential residents of continuing care retirement communities want to gain a level of clarity fairly early in the research process about how well their finances potentially align with the cost of various residential options available. It doesn't make sense to invest a lot of time and effort into other aspects of the decision to ultimately find out that it isn't the best fit financially.
"The benefit of using MoneyGauge is that in about two minutes someone can get a preliminary assessment to help gauge affordability and they can do this on their own time right there on the retirement community's website," said Brad Breeding.


You may also enjoy: Is Kendal at Oberlin a Good Financial Fit? >>>
Other User-Friendly Financial Resources from Kendal
Kendal at Oberlin offers a range of contractual agreements for residents moving to cottages and apartments.
Both entry and monthly fees are based on the type of contract (platinum or gold plans), the size of accommodation and whether they're single or double occupancy. Home sizes range from a studio efficiency apartment (482 square feet, single-occupancy only) to a large two-bedroom deluxe cottage with a den (1,874 square feet), with several floor plans in between. The standard contract offers a declining entry fee refund for up to 50 months of occupancy, or there are 50 percent and 90 percent refund options available for an additional cost on the entry fee.

The range of current rates and an overview of contract options can be found here.


To help prospective residents easily navigate the contracts, the Admissions Office has put together a cost comparison worksheet. The worksheet helps you compare the monthly costs of your current residence with the costs of living at Kendal.
For instance, if you currently own a house, you pay utility costs and real estate taxes. At Kendal at Oberlin, those costs (except for telephone service) are included in all plans. Other costs, such as car fuel and maintenance, may be greatly reduced since many services and activities are provided on-site at Kendal.
The worksheet helps you determine what Kendal costs, and another Kendal publication – "Straight Talk: Financial Facts for Choosing a Retirement Community" – explains what your investment covers.
For instance, because the entry and monthly fees cover future long-term care costs, a portion of each may be considered a medical expense for federal income tax purposes. With comprehensive agreements, a significant part of the entry fee can be counted as a one-time medical expense for each person, while a portion of the monthly fee may be counted annually as a medical expense.
The deductible amounts vary from year to year and are determined annually by the community, based on the relative costs of providing care services. To get an idea of what your deductions may amount to at Kendal, ask for a copy of the community's tax letter for the previous year stating the deductible amounts for that year.
Additionally, Kendal updates its tax relief guide for older adults each year.
How Financially Fit is the CCRC?
You also want to make sure you choose a life plan community that's financially sound.
Kendal has put together a checklist of documents and reports you may want to review:
Actuarial funded status, which represents the portion of liabilities covered by assets (a funded status greater than 110-115 percent is preferable);
Occupancy levels, which fluctuate based on transitions within the community but the main goal is to get full and stay full;
A cash flow statement, which shows how much cash is produced from entrance fees, how much cash is used by operations and how much cash is needed for debt services and capital spending;
A balance sheet that shows how much cash and how many investments are available;
Accreditation by CARF-CCAC, a voluntary quality improvement benchmark, that means a community has met more than 800 standards, including financial ones. Of the almost 2,000 life plan communities in the United States, only about 300 are accredited.
It's no surprise Kendal is one of them. The Life Plan Community was re-accredited for a 5-year term by CARF in 2017, its fifth such designation.
CARF identified three areas of "exemplary" performance at Kendal at Oberlin, including its financial performance, which operates at or above the 75th percentile for "days cash on hand" and "cash to debt ratio."
Why Kendal at Oberlin is Often at the Top of CCRC Lists
Located just a mile from the internationally acclaimed Oberlin College and its Conservatory of Music, and 35 miles from Cleveland, Kendal attracts men and women from across the country.
The 26-year-old community is located on 100+ scenic acres, with ponds, woods, gardens and paved trails for biking and walking. Community space includes a state-of-the-art fitness center with lap and therapy pools, art studio, a wood shop and more.
Kendal is resident-driven (no staff social director here!) and dozens of committees reflect the interests and values of the men and women who live here. You'll find groups for interests like environmental stewardship, lifelong learning, inclusion and intergenerational engagement.
What's Next?
If you decide Kendal at Oberlin looks like a good financial fit and offers a desirable living option, it's time to schedule a tour and get to know us better.
If you decide to apply to become a resident, Kendal will ask for more detailed financial information to create a conservative projection of future expenses as a Kendal resident. The community asks that residents have enough income and assets to cover living expenses over their actuarial life-expectancy years. Beyond that, if a resident outlives his or her financial resources, Kendal guarantees that they will continue to provide services for that resident's life.


In the past, Molly Kavanaugh frequently wrote about Kendal at Oberlin for the Cleveland Plain Dealer, where she was a reporter for 16 years. Now we are happy to have her writing for the Kendal at Oberlin Community.