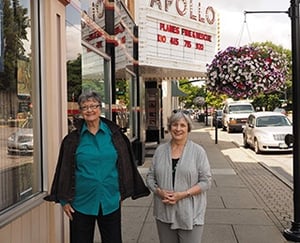 Looking for a delicious ethnic meal or cafe? You probably have a favorite go-to city or town. Ditto for eclectic shops, parks and cultural centers.
Have you visited Oberlin lately? Dubbed "a big-minded small town," Oberlin offers all of the above and more, including the bounty of being home to a prestigious liberal arts college and music conservatory.
It's the perfect destination for a day trip, so let's get started.
Start the Day…
The southern Lorain County city of 8,400 residents is easy to get around, but it's still nice to have a walking map in hand or on your smartphone. (Or you can pick up a map and other brochures at the Oberlin Business Partnership, 23 E. College St.)
Also, before you visit, be sure to check the Oberlin College events calendar, which is always full of concerts, lectures and other events open to the public.
Oberlin is home to many health-conscious residents who know the importance of starting the day by eating breakfast, so finding early morning fare and java is easy.
The Black River Café serves breakfast all day, with a focus on using local, organic produce such as honey, eggs, and cheese. Along with the usual breakfast items, the menu also includes homemade granola, tofu scramble, vegan pancakes and crepes.
If you like to start the day with something sweet visit the Blue Rooster Bakehouse, with a lineup that includes croissants, muffins, coffee cake and more. Coffee's always brewing, and you can sit inside, or get a to-go and head to Tappan Square, a 13-acre green space in the center of town great for people watching.
The square is a National Historic Landmark and owned by Oberlin College:
"The park is named after Arthur Tappan, a 19th-century abolitionist who was instrumental in keeping the college financially solvent in its early years. In addition to trees, benches, and swings, the park also features Clark Bandstand, the Memorial Arch, and two boulders known as the Rocks that often have spray-painted messages."
Engage Your Mind
Along with the college, Oberlin has two more great venues for learning—the Allen Memorial Art Museum and the Oberlin Heritage Center. (Both are closed on Mondays.)
The Allen Memorial Art Museum, also owned by the college, is in the midst of its centennial celebration.
"With a collection of more than 15,000 objects, the museum is one of the finest college art collections in the nation, with masterpieces by Claude Monet, Arshile Gorky, Ernst-Ludwig Kirchner, Amedeo Modigliani, Hendrick ter Brugghen and many others," writes Steven Litt in The Plain Dealer.
Museum admission is free.
The Oberlin Heritage Center's mission is "to preserve and share Oberlin's unique heritage and to make our community a better place to live, learn, work and visit."
The city's history includes "John Mercer Langston studying to become Ohio's first African American lawyer, Lucy Stone fighting for the same pay as male school teachers, and John Watson sheltering freedom seekers after their journey from slavery."
The center includes the historic Monroe House (1866), Jewett House (1884) and Little Red Schoolhouse (1836-1837). A variety of tours are available for a nominal fee. The center also has a museum store and appointment-only library.
Lots of choices for lunch, ethnic and otherwise: Fusions and Red Chinese Bistro (Asian); Agave Burrito Bar (Mexican); Aladdin's Eatery (Lebanese-American); Lorenzo's Pizzeria (Italian).
The Feve is known for its burgers and tater tots, assorted beers and other adult drinks.
Enjoy the City's Natural Resources
After lunch, enjoy a leisurely walk, and again you have choices. The North Coast Inland Trail is a paved bike/walk path that cuts diagonally across the city, just south of Tappan Square.
Morgan Street Reservoir is a 12.5 acre park with a walking trail around the perimeter that connects to the college's arboretum. A much smaller park with historic sculptures honors Dr. Martin Luther King Jr., who visited the city several times.
Rather bike around the city? Swerve Bike Shop rents bikes hourly or by the day.
The city's creative and artistic spirit is celebrated in many of the shops, such as Ginko Gallery, Bead Paradise and Uncommon Objects.
You can buy and sell vinyl records at Hanson Records and books at MindFair Books. Ratsy's Store sells socks galore, vintage clothes, knickknacks and other unusual stuff.
By now, you're probably ready to call it a day, but there's one more stop to consider. See what movies are playing at the Apollo Theatre, where all seats are $4 Sunday through Thursday.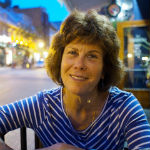 In the past, Molly Kavanaugh frequently wrote about Kendal at Oberlin for the Cleveland Plain Dealer, where she was a reporter for 16 years. Now we are happy to have her writing for the Kendal at Oberlin Community.