Published: January 17, 2018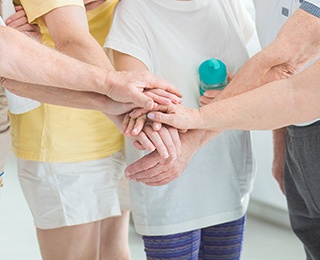 During Christina Graf's visit to Kendal at Oberlin, she first heard about Vitalize 360, a comprehensive holistic coaching program available to all residents.
"It was a selling point, one of many," says Christina, who moved to Kendal in late 2017.
After settling in, Christina met with Jill Tvaroha, Kendal's wellness coordinator and one of two Vitalize 360 coaches at Kendal. The two women talked at length about Christina's goals in all areas of her life and the challenges she faces to achieve them. Christina also completed a couple of surveys to help the two of them dig deeper.
"My combination goals center on work and travel," says Christina, who works part-time as an organizational development and change consultant.
Working with Jill, Christina is putting a plan in place to stay in optimum physical shape so she can do both.
One main challenge is geographic. As an Oberlin College graduate Christina knew the kind of weather that awaited her, but still, moving to Northern Ohio from the Atlanta area, where it's easy to stay active, is an adjustment. For starters, she's walking 2 miles a day around the campus perimeter and plans to explore swimming, yoga and meditation classes.
Another challenge is living in an older adult community. "As much as I know Kendal is right for me, I'm 65 and on the younger side," she says. (The average age of a new resident is 74 years old and the range of age is 65 to 104.)
Living at Kendal also means having delicious, nutritious meals, including a variety of desserts prepared and available daily. The buffet style dinners require discipline for some residents. Christina is working on that too.
"With Vitalize 360, this community is saying we will walk with you as you go through this chapter of many changes," Christina says.
The Basics of Vitalize 360
Vitalize 360 was developed by Kendal Corporation and Hebrew Senior Life, two non-profits dedicated to enhancing the lives of older adults. The program is currently being used in about three dozen life plan communities in 12 states.
"Vitalize 360 combines an innovative, award-winning, person-directed approach to wellness coaching with the power of information derived from a scientifically-grounded assessment system. The program engages, challenges and inspires individuals to live full, healthy, vibrant lives and enables communities to demonstrate significant improvement in successful aging," program directors explain.
Key components of Vitalize 360 include:
Working with an interdisciplinary team, including fitness specialists, creative arts and music therapists, social services staff, nutritionists, nurses and other medical personnel
Ongoing one-on-one coaching (in person and email) with quarterly and annual reviews, more if needed
Connecting with resident and community activities to help a person reach his or her goals
Providing helpful resources, including various surveys and worksheets, designed to help a resident identify new goals and challenges
Speaking of challenges, Jill says explaining the program to new Kendal at Oberlin residents takes time, given all the adjustments and information-gathering going on when a resident first moves in.
Jill sends each new resident a welcome card, followed by a letter explaining Vitalize 360.
"I tell residents the 360 refers to the 360-degree view of you," she says.
Typically, a resident fills out a 4-page "lifestyle survey" before meeting with Jill or Saun Howard, a fitness wellness specialist and Kendal's other coach.
The survey covers a variety of topics from physical and recreational activities to diet and weight concerns and social relationships and spiritual needs.
Some of the questions ask a resident to pick one of three answers about a given activity, such as travel or meditation: not interested, interested and already participating, or interested and not participating.
Often a springboard for conversation comes when a resident selects "interested and not participating." For instance, a resident may say she is interested in attending a place of worship but has not found one yet. Jill can help, or refer her to social services.
For some residents, losing or gaining weight might lead to a meeting with Sue Campbell, community nutritionist, or someone with financial concerns might connect with Ann O'Malley, chief financial officer.
And for other residents, just spending time voicing a concern with a coach is enough.
Resident goals are often short term, "I want to get in physical shape to go on a hiking trip with my grandchild," while others use Vitalize 360 to look at the long road, "I have 10 to 20 years to live here, what do I want to be doing?"
The Gift of Growing Old
Many men and women who move to a continuing care retirement community like Kendal are excited to embrace this next chapter of their lives. But as Joan Chittister so eloquently explains in The Gift of Years, Growing Older Gracefully, it means "facing that time of life for where there is no career plan."
A coach can help a resident dig deeper and develop a plan for what Joan calls "a special period of life – maybe the most special of them all."
Jill says some of her favorite questions to stimulate meaningful dialogue are:
What committees do you really want to be on? (With more than 100 committees to choose from at Kendal, the choice can be daunting.)
What is one thing that really brings you joy in your life right now?
Tell me about an exciting time in your life.
What accomplishments are you most proud of?
What have you had to overcome in your life or in a specific situation?
Resident Thelma Morris likes to use Vitalize 360 as an annual self-evaluation tool, filling out a form without looking at last year's copy, and then comparing results.
"The differences are as interesting as the similarities. Did I finally find an exercise regime I could stick with? Was there a medical need I checked up on? Did I really decide to get hearing aids? Have I been neglecting my distant family? Have I emailed them recently? Do I need Skype? Do I still want to publish a book of poetry? Do I still write poetry?" Thelma explained at a wellness gathering last year.
"There is something about looking at myself, internally as well as externally, each year which at my advanced age, isn't such a bad idea. I like this Vitalize 360 way of 'summing up.'"
Vitalize 360's Transformative Power
In a recent Boston Globe article featuring Vitalize 360 at Orchard Grove retirement community in Canton, MA, Dr. Atul Gawande, author of Being Mortal and an expert on end-of-life care, calls the Vitalize 360 approach "transformative."
It recognizes that "even as you may have health issues and frailty and the challenges that can come with aging . . . people have lives worth living. And in fact have a lot more life worth living," he says. "I see it as the kind of thing that you'd like to see go populationwide. You'd like to make it routine."
For now new resident Christina Graf is focused on fitness, but says she knows there will be many more conversations with Jill and Saun as she faces future changes and challenges. For instance, she says, she trusts the coaches and will value their opinion if concerns about driving safely arise.
"To me, Vitalize 360 says, we at Kendal welcome you as an independent person and we will do everything we can in partnership with you to make your years as rich as possible," Christina says.
Enjoy a Vibrant, Holistic Lifestyle at Kendal at Oberlin
Are you interested in learning more about life at Kendal at Oberlin? Explore our website, read our blog, sign up for our weekly email or contact us for more information.
In the past, Molly Kavanaugh frequently wrote about Kendal at Oberlin for the Cleveland Plain Dealer, where she was a reporter for 16 years. Now we are happy to have her writing for the Kendal at Oberlin Community.