Published: March 20, 2019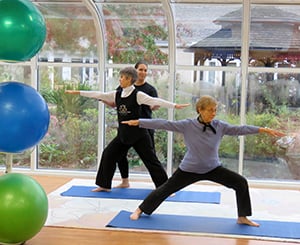 Water yoga and tap dancing classes — in all about 40 hours of land and water fitness classes weekly.
State-of-the-art lap swimming and therapy pools and exercise room so residents can easily follow a personal fitness program.
A 100+ acre campus with paved trails for walking and biking and two clay tennis courts.
Vitalize 360, an innovative holistic wellness coaching program available to all residents.
Yes, it's obvious Kendal at Oberlin values high-quality wellness programs, provided at no additional charge for its residents.
What is Vitalize 360?
Wellness Coordinator Jill Tvaroha sends each new resident a welcome card, inviting residents to take a class or have an assessment, followed by a letter explaining Vitalize 360.
Key components of Vitalize 360 include:
Working with an interdisciplinary team, including fitness specialists, creative arts and music therapists, social services staff, nutritionists, nurses and other medical personnel;

Ongoing one-on-one coaching (in person and email) with quarterly and annual reviews, more if needed;

Connecting with resident and community activities to help a person reach his or her goals;

Providing helpful resources, including various surveys and worksheets, to help a resident identify new goals and challenges.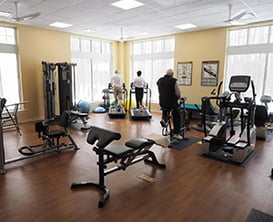 "I tell residents the 360 refers to the 360-degree view of you," says Jill, one of two Vitalize 360 coaches at Kendal (Wellness Specialist Saun Howard is the other).
Vitalize 360 was developed by The Kendal Corporation and Hebrew Senior Life, two non-profits dedicated to enhancing the lives of older adults and is currently being used in about three dozen life plan communities in 12 states.
In a recent interview in the Vitalize 360's national newsletter, Jill explained the impact Vitalize 360 has made at the Oberlin community:
"It has become one of the pinnacles of wellness for people and helps them begin the journey toward the rest of their lives, often in the face of adversity. I'm proud of every resident who is brave enough to engage in the journey and proud of the team of staff members who support and nourish people on their way. The smallest thing can mean a lot to someone and there is no goal too big or small. Collectively, we have helped people achieve lifelong unfulfilled goals, improve their daily lives, participate in something meaningful, be a better support for their partner or friends, or fulfill that last wish before they leave this world."
Kendal Puts Fun into Fitness
Three mornings a week a dozen or so residents stop by Heiser Auditorium for a friendly round or two of table tennis.
"For me, it is a distraction from the woes of the world, and it's a healthy distraction," said Sidney Rosenfeld, who elevated table tennis from a pastime to a fun, semi-competitive sport when he moved to Kendal 12 years ago.
Table tennis (don't dare call it "ping pong") offers many health benefits for older adults, from increased energy and focus to improved balance and mobility.
"A Japanese study has shown that it slows the progression of dementia," Sidney said. He and others have witnessed this positive effect at Kendal.
Assisted living resident Janet Wanyek, who uses an electric wheelchair, was surprised when Sidney invited her to play. "In this?" she replied. Now Janet is a regular.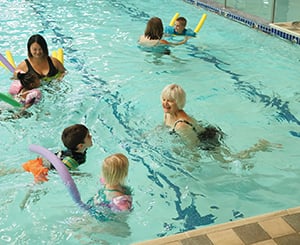 Every June residents, staff and children from the Kendal Early Learning Center participate in Fun Fitness Week.
Last year's activities ranged from B (basketball and bowling) to W (walks and Wii). In all, there were about two dozen opportunities to have fun. The most popular event was baggo, also known as cornhole, which drew 56 participants, followed by dog fun, which brought 52 people, some but not all with a four-legged friend.
A handful of events, such as lap swims and perimeter walks, are not scheduled but completed at the person's convenience.
During Fun Fitness Week scores are not recorded — but every participant "wins" a free healthy lunch.
"Fun fitness is about doing fitness activities, but part of good health is to get out and do something different — out of the ordinary — to mix with people you don't normally see or interact with," explained Kathy Caldwell, who chaired last year's event and either participated in or observed every activity.
Other seasonal recreational activities on campus or nearby include:
Bocce

Miniature Golf

Shuffleboard

Croquet

Canoe and kayak outings to nearby rivers and lakes

Organized walks to nearby parks.
Staying Healthy After Age 60
Staying with an exercise routine is essential to maintaining good health as you age. There are also other practices you can utilize to continue living a healthy lifestyle. Download our guide, "10 Best Practices for Staying Healthy After Age 60," to learn more.
Free Guide: 10 Best Practices for Staying Healthy After 60
---
In our free guide, we share many actions you can take to live a long, healthy and happy life in body, mind and spirit!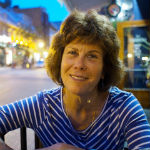 In the past, Molly Kavanaugh frequently wrote about Kendal at Oberlin for the Cleveland Plain Dealer, where she was a reporter for 16 years. Now we are happy to have her writing for the Kendal at Oberlin Community.