Published: July 19, 2019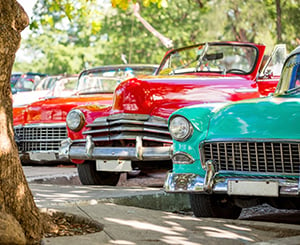 This time of year, sailors, anglers and swimmers head off to Lake Erie, baseball fans and diners to downtown Cleveland, families and coaster enthusiasts to Cedar Point and music lovers to Blossom Museum Center. But Oberlin minus students is still a city steeped in entertainment and outdoor intergenerational fun, so let's get started.


Summer in Oberlin: Santa, Classic Cars and Dogs
The Lake Erie islands aren't the only places that celebrate Christmas in July. On July 25, Splash Zone is planning a Christmas-themed evening for families that will include swimming and a visit from Santa.
Events get underway at 5:30 p.m. and run until 7:45 p.m. Registration is requested but walk-ins are welcome. The cost is $3.50, or $2 for Splash Zone members.
Another fun outing for young and old is Oberlin's annual Family Fun Fair and Classic Car Show on Saturday, Aug. 3, from 10 a.m. to 3:30 p.m. You can walk along College Street while listening to The Summer of '65 Band, admiring the classic cars and shopping the bargain sidewalk sales. Children can enjoy talking to Peppy the Clown, making free crafts and dunking their favorite coach while parents learn about services and programs from local non-profits and shop the sidewalk sales.
Lorenzo's pizza is a tasty year-round treat for us humans, but the dog days of summer are an opportunity to share a meal with our four-legged friends. Homemade dog biscuits are on the menu for "Paws on the Patio," which gets underway at 5 p.m. every Monday through Aug. 26. Ten percent of food purchases goes to Partners With Paws of Lorain County, which helps pets in need, including finding caring homes for homeless cats and dogs.
Related: An eclectic art collection at Kendal Collects 2019 >>


Other Ongoing Summer Fun Events in Oberlin
The Oberlin Farmers Market is open every Saturday through October, 9 a.m. to 1 p.m. The market, located in front of the Oberlin Public Library, features local fruits and veggies (like blueberries and tomatoes) but also farm-raised eggs, beef and chicken, pies and other bakery items, coffee and chocolate, along with handmade jewelry, soaps and other crafts, plus entertainment. For a list of vendors and performers, visit the website.
Since 2009, the Oberlin Summer Theater Festival has been offering free family-oriented theater, making it a popular annual outing for many families.
The 2019 season runs through July 28 and features three plays: "Butterflies are Free" by Leonard Gershe (various dates and times between June 21-July 28 in Hall Auditorium), "Measure for Measure" by William Shakespeare (June 28-July 27 in Wurtzel Theater), and "Long Day's Journey Into Night" by Eugene O'Neill (July 5-July 27 in Hall Auditorium.) The plays are geared toward the entire family, including school-age children.

Related: A new guidebook to Cleveland's thriving restaurant scene >>
New this summer is the theater festival's Underground Cabaret, featuring vocal performances of songs from American musicals performed live to piano accompaniment. Three sets will be offered in rotating repertory through July 27 in The Birenbaum jazz club in the lower level of the Hotel at Oberlin: "I Wish I Were in Love Again" (love songs from Rogers and Hart); "Unsung Sondheim (rare songs by Stephen Sondheim); and "Lost Broadway" (great songs from shows you never knew). Tickets are $10 for adults, $5 for ages 13 to 17 and free for children under 12.


Also seasonal are tours of the Weltzheimer/Johnson house, designed in 1948 by Frank Lloyd Wright. The Usonian home at 534 Morgan St. is one of the few nationwide that is open to the public. You can tour the house Sundays: Aug. 4; Sept. 1; Oct. 6; and Nov. 3. Hours are noon until 5 p.m. Presentations on the architecture and history of the house begin on the hour and are limited to 50 participants per hour. Advance registration is highly recommended. The cost is $10 but is free for children under 18 and Oberlin College students.
Explore More of Oberlin, Ohio
Besides the summertime events you'll find in this charming town in northeast Ohio, there's plenty to do year-round - shopping, dining, cultural attractions and more.
Get your free guide to the must-see places in and around Oberlin and plan your own summer fun today.


In the past, Molly Kavanaugh frequently wrote about Kendal at Oberlin for the Cleveland Plain Dealer, where she was a reporter for 16 years. Now we are happy to have her writing for the Kendal at Oberlin Community.