Published: January 3, 2017

At Kendal at Oberlin, it took a community-wide effort to develop the 2017-2021 strategic plan, which is just what Chair Dick Baznik envisioned when he and the Strategic Planning Committee embarked on the project in the fall of 2015.
"My goal, from the beginning, was that no one who participated in even one of those discussions would be surprised by the completed plan," says Dick, who moved to Kendal with his wife, Donna, in 2010.
Kendal at Oberlin's Board of Directors approved the strategic plan in November 2016. Now the hard work gets underway to achieve the five goals.
5 Strategic Plan Goals
Ensure the continuing strength of Kendal's core continuing care retirement community;
Improve and extend Kendal-associated healthcare to benefit current and expanded markets and adapt to a changing environment;
Introduce new features that build on current strengths and reach priority audiences;
Increase the role of technology in all facets of operation and the residential experience;
Strengthen governance and partnerships to achieve goals, experiment in new ventures and improve market position.
The plan also presents a number of other initiatives that will require further study before they can be considered for implementation.
Planning for the Boomer Generation
Growing older today has changed from 1993, when Kendal at Oberlin opened its doors. So have the economy, employment and wealth trends, and medical care.
Aging Boomers, who were born between 1946 and 1964, have different expectations, interests and needs as they begin to reach retirement, including working beyond normal retirement age. That may mean offering home offices as a housing option and state-of-the-art technology.
The plan addresses these "large waves of change" with several key points:
Choice is key for current and future residents, whether they are choosing materials to renovate a kitchen or programs addressing health and wellness;
A "Kendal Academy", focused on job training, will strengthen Kendal's current workforce and help build the future workforce as demand for healthcare workers grows;
More partnerships with the larger Oberlin community, such as offering healthcare and wellness services, will help broaden Kendal's reach and generate revenue.
For example, Kendal is exploring a creative partnership to offer housing to Oberlin College conservatory students in a Kendal-owned duplex in exchange for providing intergenerational music programs and time spent with residents.
"It's extremely exciting to have the buy-in and support from all of our Kendal constituents on this new plan. The various opportunities ahead will be guided by the plan's objectives but have fewer constraints when opened to engage our entire Kendal community. The sense of ownership makes a big difference," says Kendal CEO Barbara Thomas.
Ongoing Housing Renovation and Improvements
The strategic plan also addresses dementia. As men and women continue to live longer, their chances of developing dementia increase. Kendal is currently building Jameson House, a memory-support neighborhood setting within the Stephens Care Center. It is slated to open in 2017.
Renovation continues elsewhere on campus. As cottages become vacant, geothermal heating and cooling and expanded living space are being added. Independent living apartments are also being renovated with open kitchen designs and new flooring and lighting.
Strategic Planning Continues
As for the strategic planning committee, it will remain in business. The committee will monitor progress and work with the board and administration to make sure the five goals are reached, and future key priorities are studied for possible implementation.
As Ardith Hayes, outgoing president of the Kendal at Oberlin Residents Association, told residents, "The journey forward will be guided by the Strategic Plan, developed this year with the participation of the entire community. In this process, we've learned that the landscape of our 25th anniversary in 2018 may be very different. We will likely have to adapt to changing needs in aging services – healthcare, economic resources, housing, and markets.
"Throughout the journey, let us be guided by the values inherited from our Founders, who created the organization and processes by which we order our community life in keeping with our mission."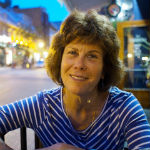 Molly Kavanaugh frequently wrote about Kendal at Oberlin for the Cleveland Plain Dealer, where she was a reporter for 16 years.