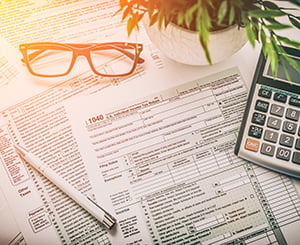 In late December 2017, Congress passed a major reform of the Internal Revenue Code, known as the Tax Cuts and Jobs Act. Now it's time to pay close attention to these changes as we gather our 2018 records and prepare federal taxes.
The biggest change that affects all taxpayers is the standard deduction amount. The new tax law almost doubles the previous standard deduction amount to $24,000 for married filing jointly, $12,000 for single filers, and $18,000 for heads of households. This increase means that while in past years you might have itemized, this year you might be better off taking the standard deduction.
Many Tax Benefits for Older Adults Still Remain
While most federal income tax laws apply equally to all taxpayers regardless of age, there are some provisions that take into account specific situations of taxpayers 65 and older.
According to IRS Publication 554, older adults enjoy the following special provisions:
Higher gross income threshold for filing;

Credit for the elderly or disabled;

Higher standard deduction (if you do not itemize deductions).
Older adults can take advantage of a number of other deductions to reduce income taxes.
Here are 3:
1. Medical and Dental Expenses
In 2016, people 65 and over could deduct medical expenses that exceeded 7.5 percent of their adjusted gross income. For everyone else, that amount was 10 percent of their AGI. For tax year 2017 and 2018, everyone could deduct medical expenses that top the 7.5 percent threshold. This rises to 10 percent for all taxpayers, regardless of age, with income earned after January 1, 2019.
Medical expenses are one of the largest expenses for older adults. Fortunately, under Code §213(a), you can deduct your medical expenses that exceed 7.5 percent of your AGI in 2018, as discussed above. Under that code, a taxpayer is allowed a deduction for expenses paid during the year not compensated by insurance or otherwise for medical care. The statute, in relevant part, defines medical care as amounts paid for:
The diagnosis, cure, mitigation, treatment, or prevention of disease or for the purpose of affecting any structure or function of the body;

Transportation primarily for and essential to medical care;

Qualified long-term care services;

Insurance, including amounts paid as premiums under part B of title XVIII of the Social Security Act, relating to supplementary medical insurance for the aged covering "medical care" or for any qualified long-term care insurance contract.
Prepaid medical costs can also be deducted. The long-standing position of the IRS is that the portion of the lump sum entry fee and/or the portion of the monthly fee attributable to medical care paid by continuing care retirement community residents is deductible as medical expenses (not long-term care insurance).
Residents of life plan or continuing care retirement communities are entitled to a deduction for a portion of the entrance and/or monthly maintenance fees. The amount of the per capita medical deduction is calculated annually by the community. If you are exploring life plan communities, be sure to ask about this.
2. Selling Your Main House
Many older adults are in the downsizing mode, which means they are selling the large family home and moving to a condo or retirement community.
According to IRS Publication 554, you can generally exclude up to $250,000 ($500,000 on a joint return in most cases) of the gain on the sale of your main home. To claim the exclusion, during the five-year period ending on the date of sale, you must have:
Owned the home for at least two years (the ownership test);

Lived in the home as your main home for at least two years (the use test);

During the two-year period ending on the date of the sale, you did not exclude gain from the sale of another home.
Generally, if you can exclude all of the gains, you do not need to report the sale on your tax return unless you receive a form 1099-S from your real estate broker.
3. Charitable Contributions
Retirement is the time when many older adults begin to give gifts of significant value to their communities. Charitable contributions can include outright or planned gifts such as bonds, cash or check, mutual funds, real estate, tangible personal property, bequests, and scholarships.
You can benefit from large charitable contributions made to qualified charities by itemizing these deductions on Schedule A. Most organizations (other than churches and government) must apply to the IRS to become a qualified organization. To find qualified organizations consult the IRS Tax Exempt Organization Search.
Charitable contributions are subject to special limitations. For example, your deduction for charitable contributions generally cannot be more than 60 percent of your adjusted gross income. Additionally, if you donate property other than cash, you generally can deduct the fair market value of the property at the time of the contribution. See IRS Publication 526 for complete details on itemizing charitable contributions on your taxes.
Deductions Eliminated or Changed in 2018
Some of the deductions that are no longer available when filing 2018 taxes include:
Personal exemptions;

Home equity loan interest (unless the proceeds are used to make improvements on the taxpayer's main residence, in which case the interest is still deductible);

Moving expenses;

Casualty/theft losses (except in areas where a presidential disaster declaration was made);

Job expenses;

Tax preparation fees (There is an exception - if you have Schedule C, E or F income, a portion of the tax preparation fees can be deducted on those schedules.);

Investment fees and expenses;

Trustee fees for an IRA if paid separately.
Yes, there is a lot to review as you prepare 2018 taxes. Talk to your financial planner sooner than later so can meet the April 15 filing deadline without stress.