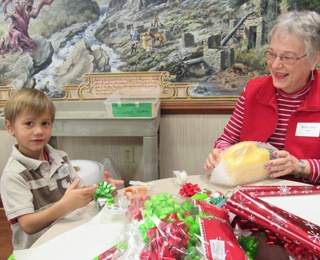 Some men and women really enjoy wandering through malls, shopping centers, department stores and superstores looking for holiday gifts. It puts them in that feel-good "holiday spirit," they cheerfully declare.
Others find that malls and big stores have the opposite effect. Traffic, long checkout lines, too much merchandise to sort through, often causes them to spend more money than budgeted just to get it done. "Bah Humbug," they sneer.
Thankfully there are many ways to provide gifts for family and friends that involve little or no interaction with the storefront shopping world.
Here are four other ways for older adults to give this holiday season.
Give a Cherished Item
Look around your house and see what treasure might give delight to a loved one. A painting or ceramic piece? A vase or candy dish? A souvenir from a special vacation? A wedding or long-ago birthday gift? A decorative lamp or clock?
Do a little digging. Go through your jewelry box, bookcases, china cabinets and clothes, linen and other closets. Attics and basements also hold treasures you might have forgotten about.
Heirloom gifts are especially meaningful to grandchildren and other young adults in your life. A granddaughter would probably appreciate your pearl necklace or vintage fountain pen. A young man might like an antique tool or cufflinks. Make sure the gift includes a card or letter, preferably handwritten, detailing memories and stories about the item.
Writes Susan V. Bosak in How to Build the Grandma Connection:
"Grandchildren like the hottest new stuff, but they also have a real need for a sense of family history and connection. In the short term, keepsakes create an immediate sense of connection. Over the years, they become a powerful symbol of that connection. Keepsakes evoke memories and feelings. They also make us feel part of something bigger. They are a critical part of a living family legacy. Older people have a need to give keepsakes as 'something to remember me by,' and grandchildren have just as much of a need to receive them."
A form of "regifting" goes on throughout the year at Kendal at Oberlin, and is especially popular during the holidays. Kendal's Resale Shop sells used furniture, clothes, dishes, books and other items donated by residents and people in the larger community. Many people find unusual gifts for family and friends.
During the holidays, volunteers set aside $1 items for a special one-day event called the Twigbee Shop, named after a holiday program of the former Higbee's department store in downtown Cleveland. Pre-schoolers from the Early Learning Center shop for family members, and residents help children wrap presents, which is a gift that goes both ways.
Resident Ruth Ann Clark, former chair of the Resale Shop, explains.
"Providing an opportunity for the children to buy gifts for those they love, is a highlight of the season. Their hearts are full, open, generous, and their spirits are high with excitement - partly for the season and occasion, partly for the fun of being 'grown up' and doing their own shopping without their parents, and partly for the fun of popping the bubble wrap in which their gifts are protected before being wrapped with paper. They love to pick out their own paper and ribbons too! There's nothing more special about the holiday than being with and enjoying the children!"
Give Travel and Other Experiential Gifts
Is 2017 the year for an intergenerational family vacation? It might be, if you are willing to pay for some or all of it.
Along with cost, other considerations are physical activity level, interests and vacation availability of family members, and health and other special needs.
According to U.S. News & World Report, popular intergenerational family vacations include:
Orlando and other theme parks;
Cruises to Alaska and other destinations;
All-inclusive resorts in Mexico and other Caribbean spots;
New York City, Chicago and other major city getaways;
Enrichment and educational tours such as those offered by Road Scholar.
Your trip gift can be much smaller and closer to home. Book a weekend at a state park cabin or lodge, take your favorite young or old friend to dinner and a play or sporting event.
Rather than sharing a travel experience or outing, consider sharing a talent or skill with a loved one. You could teach a family member or friend how to knit or sew, make jewelry, candles or pies, and include some or all equipment and materials to get started. Or teach them how to fly fish, golf, practice yoga or learn woodworking.
Or maybe your loved one's interest is not one you possess, such as writing poetry or playing guitar. You could sign them up for an instructional class or online program, or pay a friend or neighbor to share their skills.
Obviously, you want to make sure the recipient is really interested in learning what you are offering.
Give a Handmade Gift
Kendal at Oberlin resident Sam Goldberg uses the lathe in the Kendal woodshop to make jewelry boxes, music boxes, vases and bowls. " I have given many of these as gifts to family members and friends," he says.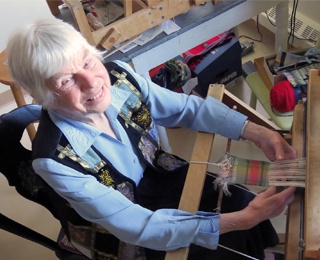 Mary Louise VanDyke, also a resident, likes to bake bread and weave wall hangings and cell phone lanyards for gifts.
If you are a knitter, think about giving socks or scarves; a seamstress, pillows and quilts; a baker, cookies and candies; a gardener, canned relish or preserves.
Want to give a handmade gift, but need ideas or a little help? Spend an afternoon walking around Michaels or other arts and craft store. Many of these stores also offer classes and events for a nominal cost.
Here are 7 DIY ideas with instructions from Country Living:
Colorful hand warmers;
Grapefruit lavender and other scented soaps;
Unusual bottle stoppers;
Paint- dipped wooden kitchen utensils;
Ceramic tile coasters;
Button rings;
Stenciled animal coffee mugs.
The handmade gift could also be made by someone else's hand. Ten Thousand Villages, with retail and online stores, sells all sorts of handmade objects – jewelry, scarves, home decor, kitchen items - made by men, women and children in developing countries.
The 70-year-old company's mission is to "create opportunities for artisans in developing countries to earn income by bringing their products and stories to our markets through long-term, fair trading relationships."
BeadforLife sells paper beads and shea skin care products handmade by Uganda women and girls. BeadsforLife recently shared this story on their blog:
"Fleeing the Congo with her husband and children meant that Sharifa had to leave everything she knew and loved behind. The country was in a turmoil of civil war and this young family had fled for their lives. They arrived in Uganda with almost nothing and moved into a slum where they were able to live from hand to mouth working as manual laborers and eating one meal a day.
Then Sharifa joined BeadforLife's Street Business School and began to dream of starting a jewelry business. She began by purchasing just a few items and reselling them for a profit. Soon her husband built her a portable display rack and she bought more items to sell.
Sharifa tried several locations and different times of the day to discover when sales would be the best. Now she has a regular spot in a local market where she is doing a regular business in jewelry, plus she is now selling beautiful fabrics from the Congo. Sharifa's family is now eating three meals a day and her children are all in school. Her potential has been ignited and there is no stopping her now!"
Give a Gift in Honor of a Loved One
Give a goat, a biogas stove or other animal and farming item to families in Zanzibar and other impoverished countries, then send a special card from Heifer International telling your loved one of the gift.
The goal of Heifer International is to help families achieve self-reliance by providing them with the tools needed to sustain themselves. Or support the Sierra Club by symbolically adopting a snowy owl, harbor seal or other wild animal to honor someone.
Finally, you can give the gift of giving. A GlobalGiving gift card allows the recipient to pick from thousands of humanitarian projects worldwide.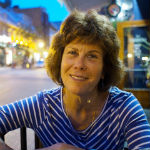 Molly Kavanaugh frequently wrote about Kendal at Oberlin for the Cleveland Plain Dealer, where she was a reporter for 16 years.