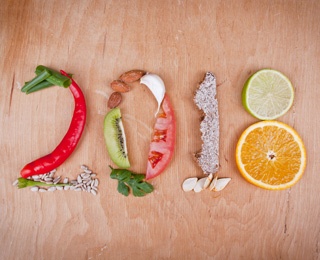 Soon we will welcome the new year, "full of things that have never been," poet Rainer Maria Rilke reminds us. His words serve as a gentle nudge for us to ponder how we can make next year a healthy one in body, mind and spirit.
Sure, lots of things are out of our control. But there are many activities, exercises and behaviors that can help put us and keep us on a healthy path.
Begin the New Year with These Healthy Practices
Here are 5 healthy practices to start the new year:
#1 Make the Moment Meaningful
The practice of mindfulness has been around for thousands of years, and is connected to many religious and secular traditions from East to West. Lately, though, we've been hearing a lot more about this practice as a method to reduce stress, cultivate happiness and improve our overall well-being.
This fall, Time magazine published a special edition entitled "Mindfulness, The New Science of Health and Happiness."
"Ask 10 people to define 'mindfulness' and you'll likely get 10 different responses," writes Mary Elizabeth Williams. "But the basic concept of the word is straightforward. It's about putting down our juggling balls for a little bit. It's about embracing the beauty of monotasking. It's about, as mindfulness author and instructor Jon Kabat-Zinn has put it, 'paying attention in a particular way: on purpose, in the present moment and non-judgmentally.' "
Most people think meditation is a way to cultivate mindfulness, and it certainly is, but it's not the only method. Plus, there are different ways to meditate, including listening to a guided meditation to following a walking meditation.
Yoga and Tai Chi are good exercises to cultivate mindfulness, but so are swimming and running. You can turn an everyday activity, such as walking the dog or sipping a cup of tea, into a mindful activity by paying attention to the present moment and tuning into the sensual experiences all around you.
Play around with mindfulness, and find your practice.
#2 Stretch Your Mind
We grow weary hearing "use it or lose it," but it's true (think—balancing the checkbook or remembering phone numbers).
Yes, there are big ways we can exercise our brains, such as signing up for a class to learn astronomy or a second language. But there are lots of small things we can do too:
tackle a crossword puzzle or Sudoku, organize a weekly Scrabble game with friends or find another brain game you enjoy;
memorize a favorite poem, quote or scripture;
learn to play piano or another instrument;
put away the calculator and use your brain to do tasks involving numbers;
pick up a book that will challenge you—instead of a mystery, read a science book.
By consistently exercising the brain, you will improve memory and brain function and reduce the risk of cognitive diseases.
#3 Bucket List in Progress
Again, making a list of all the things you want to do before you "kick the bucket" can include big, complex and/or expensive outings (a Cunard cruise world voyage) to small and simple activities—an afternoon ferry ride to one of the Lake Erie islands.
The important thing is to keep the list in play, adding and subtracting on a regular basis. Include things you want to do alone and with a spouse or friends. And while fun is a worthwhile goal, also think of things that will challenge or stretch you.
Fearful of heights? Try parasailing or a zipline.
Think you're too old to ice skate or roller skate? Think again.
Want to learn more about a social issue, such as immigration? Find an agency to volunteer.
#4 Make Your Home Fall-Safe
We install smoke detectors and lock our doors to keep us safe. What preventative measures do you take to prevent falls, the leading cause of fatal and non-fatal injuries for older Americans?
The National Council on Aging has put together an informative checklist, which you can do alone or, better yet, with the assistance of a family member or friend who is handy.
Make sure walking paths are clear of papers, books, cords, shoes and the like. Fix loose steps and handrails. Store kitchen items in cabinets you can easily reach. Install a grab bar in the shower and by the toilet.
If you're concerned about your balance, enlist the help of a personal trainer or physical therapist.
_________________________________________
Discover more about Kendal at Oberlin's balance classes here.
_________________________________________
#5 Get a Good Night's Rest
Sleep is our ally, restoring our body and mind for the day ahead. Most of us know the bad habits that get in the way of a restful night, such as:
scanning our phone in bed;
late-night eating and drinking;
exercising too close to bedtime.
About half of the people over 65 have frequent sleeping problems, according to the American Sleep Association. Medication or a medical problem could be causing the insomnia, so talk to your doctor.
Poor sleep makes us more prone to accidents. Plus, you need to feel rested in the morning so you'll have the energy and focus to pursue the other four healthy habits for the coming year.
Make It a Healthy Year
At Kendal at Oberlin, our focus is on ensuring the health, safety, and happiness of residents. We do this by providing information through our blogs and other resources. We also offer members of Kendal and the wider community healthful options through our Fitness Center and classes. Find out more about what Kendal can offer you by contacting us online or calling 800-548-9469 or 440-775-0094.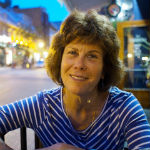 In the past, Molly Kavanaugh frequently wrote about Kendal at Oberlin for the Cleveland Plain Dealer, where she was a reporter for 16 years. Now we are happy to have her writing for the Kendal at Oberlin Community.