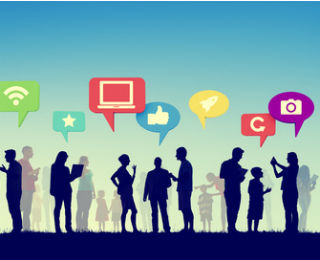 When social media initially came onto the scene, many viewed it as simply a fad. It wasn't. Social media is now a part of many people's lives, and it seems to be everywhere you look. And contrary to what some believe, many older adults are utilizing social media on a regular basis; of the 59 percent of adults over 65 who use the internet, 49 percent of them use social media in some way.
Have you recently been encouraged to join a social media platform by a friend or family member? Perhaps you are reluctant because you don't see the benefit in it. You may want to re-think that.
5 Benefits of Social Media
1. Memory Improvement
It's vital to take proactive measures to keep your mind sharp as you age, and it can be very important when it comes to maintaining your independence. A study from the University of Arizona recently found that social media may be an excellent tool when it comes to exercising your brain: adults over 65 who used Facebook performed 25 percent better on memory tests in this study.
2. Keeping in Touch
Are you tired of using email or the telephone to stay in contact with old friends, your children, and grandchildren? Or simply looking for an easier way? Social media may be the answer. By following their accounts, you can see what all of those people post, and you can also comment and interact in ways that are less of a hassle than composing an email or playing phone tag.
3. Health Benefits
Sound crazy? Not so much. Many older adults find that being active online can help relieve stress in their lives, which in turn improves their emotional state. Simply spending time on Facebook can actually reduce your heart rate and boost your self-esteem.
4. Mood Improvement
Older adults are sometimes more vulnerable to social isolation, which can lead to depression and other health concerns. Social media allows you to expand your social circle without having to change your daily routine or even leaving your house (although we still recommend that!). Thanks to places like Facebook, Twitter, and Google+, many older adults have been able to locate support groups and reconnect with old friends.
5. Freedom of Expression
By creating a profile on social media websites, you're creating your own space on the web where you can choose exactly how to express yourself. You can share information that is important to you as well as photographs in addition to updating your friends and followers on what's new in your life.