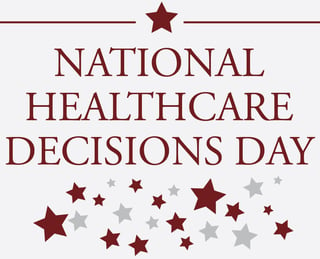 "Not to decide is to decide."
Most of us are familiar with this quote from Harvard University theologian Harvey Cox, or variations of it. And many of us have found his sentiment to be a helpful guide when faced with a difficult decision.
The decisions that are center stage on April 16 certainly are difficult ones.
Who will make healthcare decisions for you if you cannot make them for yourself?
What kind of medical treatment do you want at the end of your life if you are unable to tell your doctor or loved ones?
National Healthcare Decisions Day, which began 10 years ago in Virginia and now observed across the country, "exists to inspire, educate and empower the public and providers about the importance of advance care planning." It is directed at everyone, regardless of age or current health status, which we all know can quickly change.
This year's theme: "It Always Seems Too Early, Until It's Too Late."
Where to Start?
The organizers behind National Healthcare Decisions Day have compiled a list of resources on its website, most free and downloadable.
One of the most important decisions to make is selecting a person to be your voice if you cannot speak for yourself, even if only temporary. This person is called a "health care power of attorney" (or "proxy, "agent" or "surrogate").
The American Bar Association (ABA) has put together an advance planning toolkit with 10 "tools." The first tool will help you select the best person to be your health care agent.
The ABA suggests you pick up to 3 people and then compare their qualifications, using a 10-question guide.
Will this person be able to handle conflicting opinions among family members, friends and medical personnel? Can this person separate his/her feelings from your wishes?
State laws vary, but in general the person must be at least 18 years old and cannot be your healthcare provider or a provider's employee, or owner/operator of a health care or continuing care retirement community.
After you have selected your agent, talk to the person. Review the qualifications and see if she/he is willing to follow your wishes. If it is a good match, give the person a copy of your advance directives and inform family members.
If circumstances or sentiments change, you can always select a new power of attorney.
Your Living Will
A "living will" or advance directive documents what kinds of medical treatments you would or would not want at the end of life. It becomes effective when you are terminally ill and unable to express your wishes, or when you are permanently unconscious.
Before the living will can be used, two physicians must agree that you are unable to make medical decisions and will not recover. Other requirements may also apply, depending on your state's laws.
You do not need a lawyer to fill out an advance directive, but you are required to sign them in front of the required witnesses. The laws governing advance directives vary from state to state, so it is important to complete and sign advance directives that comply with your state's law. Also, advance directives can have different titles in different states, and one state's advance directive does not necessarily work in another state.
The National Hospice and Palliative Care Organization provide free advance directives for each state.
Once the form is completed and signed, photocopy the form and give it to your health care power of attorney, family, friends and all health care providers.
Still Not Ready to Decide?
According to Pew Research, 42% of Americans have had a friend or relative suffer from a terminal illness or coma in the last five years and for a majority of these people, and 23% of the general public, the issue of withholding life sustaining treatment came up.
In another study of residents living in a skilled nursing center, having a living will was associated with lower probability of dying in a hospital.
And a study of patients with advanced cancer found that only 27% had discussed end-of-life issues with their oncologists, and most had never discussed pain management with any doctor.
Medical ethics attorney Nathan Kottkamp, founder and chair of National Healthcare Decisions Day, filled out his living will years ago when he was still in college. Now he tells others to think of it as a gift to loved ones.
"Studies suggest that most of us know that we should "Have the Talk" but only about a quarter of us have. I hope that people will mark their calendars for April 16, assemble their loved ones, and just do it. Sometimes we just need a catalyst. National Healthcare Decisions Day is it."
By the way, Kottkamp picked the day after Tax Day as a salute to Benjamin Franklin's belief: "In this world nothing can be said to be certain, except death and taxes."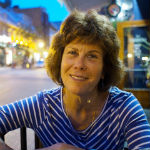 Molly Kavanaugh frequently wrote about Kendal at Oberlin for the Cleveland Plain Dealer, where she was a reporter for 16 years.