Published: June 21, 2016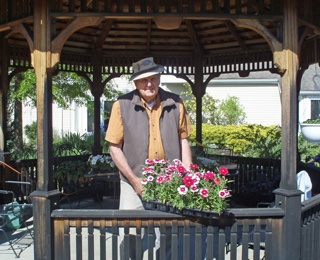 Kendal's Courtyard Garden opened in the summer of 2000, just at the time that Bill Schreiner and his wife, Kathryn, were moving to the community. Within days, Bill was working in the garden.
Years later, not much has changed in Bill's routine.
The 92-year-old resident estimates he spends a total of 1,000 volunteer hours a year in the garden or working on garden-related jobs. That's about 20 hours a week. He raises from seed bi-annual and hard-to-find annuals in the horticulture building, and in early spring begins to prepare the garden beds. "People are envious of the soil, but I've got 16 years involved in improving the soil," he says.
About two dozen annual flats are ordered and planted in mid-May, often with the help of his children, who fly in from Washington, Denver and Houston. During blooming season, Bill checks the moisture daily and waters if needed, aided by a seven-station automatic watering system. Then there's weeding and pruning, and cutting flowers for Kendal arrangements.
"I don't use the pool or exercise equipment. I get plenty of exercise out here, it's how I keep in shape," Bill explains.
Soil in his Soul
The youngest of six children, Bill grew up on a farm near New Philadelphia, about an hour south of Cleveland. "I was in the dirt before I went to school," he says, and helped milk the cows and other farm chores.
After the military and college, he and Kathryn found a home in rural Medina County on 2 acres, where Bill could have a garden and commute to Parma public schools, where he was a science teacher and later supervisor. He retired in 1984, and devoted most of his free time to gardening and golf.
"We would have seven to nine plantings of sweet corn a summer," he says. "We lived out of the garden. We had a 20-cubic foot freezer that was filled to the brim with vegetables from the garden and so we enjoyed produce all year long."
Although vegetables are not grown in Kendal's Courtyard Garden, the enclosed space offers everything else that Bill loves about gardening.
"I look forward to the next bloom," he says, pointing to pink rosebushes just starting to show its color. A circulating creek runs alongside the gazebo, decorated by a vine of clematis. Red, white and blue seedless grape vines line an exterior wall.
Garden Blooms Brighten Many Lives
The location is ideal, giving many residents in the Stephens Care Center a gorgeous view from their apartments, and all residents and staff an inviting place to eat or relax. The garden is used for Supper under the Stars, musical gatherings and other events.
Children from the Early Learning Center often visit and pull out toys in a nearby storage bin. Families gather for reunions, and two couples were married there.
"Our feathered friends have found the Courtyard Garden an inviting and safe place to raise their young," Bill says, listing the many friendly birds, including song sparrows, goldfinches, Mallard ducks, robins and Cardinals.
In addition to the birds, Bill has identified 14 different butterflies visiting the flowers, including the Great Black Swallowtail.
Along with the Courtyard Garden, Bill maintains three gardens in the city of Oberlin and an entrance to a golf course, where he can pursue his other passion of golfing. And he has a garden in the front and back of his cottage.
Several years ago Bill took photographs and wrote a history about the Courtyard Garden for the residents' website.
"I have had the pleasure of caring for and sharing this garden with all the residents of Kendal at Oberlin, but especially the residents of the care center. It takes a lot of time and effort, but knowing how much it is appreciated by so many makes it a very pleasurable experience," he wrote.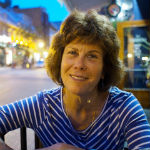 In the past, Molly Kavanaugh frequently wrote about Kendal at Oberlin for the Cleveland Plain Dealer, where she was a reporter for 16 years. Now we are happy to have her writing for the Kendal at Oberlin Community.