Published: June 24, 2019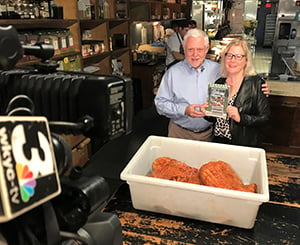 Ten years ago, husband and wife travel writers David Molyneaux and Fran Golden would have been hard-pressed to fill a book about Cleveland's restaurant and foodie scene. Today that task was easy, and the result is a delicious and diverse guidebook called "Unique Eats and Eateries of Cleveland" (Reedy Press, $20.95).
"It's fairly new that Cleveland has a thriving restaurant scene," Fran says, rattling off some of the cuisines now available in the city – Guatemalan, Asian, Hawaiian and Caribbean. Along with the influx of immigrants who have brought their tastes and culinary talents to Cleveland, locals are eager to try new dishes and flavors too, the couple explains.
The book, published in May, is a "tasty tour" of eateries and food, from fancy dining and cafes to bakeries and markets, in all about 100 and only three located outside the city - Salt+ in Lakewood, and Tommy's Restaurant and Nighttown in Cleveland Heights.
"The places kind of chose themselves. They had to have a story or be special or unique," David says. Adds Fran, "We're not restaurant critics, so we approached this as travel writers."
David is a former Plain Dealer travel editor and Fran is a Boston travel writer who relocated to the area in 2012 to marry David. For a time, the couple lived in Oberlin, where David's roots run deep – several ancestors are Oberlin College graduates and his great-grandfather and grandfather owned Watson's Hardware located in the Molyneaux Building. The couple now lives in Shaker Heights.
David and Fran started with a list of about 150 places and foods, but the list kept changing over the year as they ate their way around Cleveland. ("There's not a free meal in that book," David adds.)
Vegan, Visiting Cleveland and More
Looking for tasty vegan meals? Try TownHall in Ohio City or Pura Vida in downtown. "Cleveland is recognized as a top vegan city," says Fran, who calls herself a "sometimes vegan."
Want to impress out-of-town guests? For fancy French visit L'Albatros in University Circle (or enjoy happy hour on the patio with a glass of wine and its famous cheese plate), lunch and "the most amazing milkshakes" at Tommy's and dim sum (especially on weekends) at Li Wah in Asia Town.
For sweets, the couple recommends Mitchell's Ice Cream, now with nine locations in and around Cleveland and available at local grocery stores, and the year-old Larder Delicatessen and Bakery (when you see the photo of its Rhubarb Cream Cheese Rugelach you'll know why).
"Larder is an example of a super talented young chef opening a restaurant. Jeremy Umansky is a food genius and his pastrami cured in koji (a fungus used in making soy sauce, sake and miso paste) is putting them on the map," Fran says.
And then there's the "battle of brown mustard." Bertman Original Ball Park Mustard is the official mustard of the Cleveland Indians and Authentic Stadium Mustard is the official mustard of the Cleveland Browns and Cleveland Cavaliers. Who knew?
If David and Fran decide to write a second eatery book they may venture outside of Cleveland. Then again, there may be enough food frenzy to write a second book about Cleveland eats.
"There's a lot of buzz here about food," Fran says.
Meet the Authors and Learn More
David and Fran have several upcoming events.
Author Alley 2019, Loganberry Books, 13015 Larchmere Blvd., July 6, noon to 4 pm • David will sign
Brecksville Branch of Cuyahoga County Public Library, 9089 Brecksville Rd., July 17, 7 - 8:30 pm • Fran and David will talk and sign
Euclid Public Library of Cuyahoga County Public Library, 631 E. 222nd St. July 22, 7 - 8:30 pm • Fran and David will talk and sign
Mentor Public Library, 8215 Mentor Ave., Aug. 29, 6:30 - 8 pm • Fran and David will talk and sign
Perry Public Library, 3753 Main St., Sept. 12, 7 - 8:30 pm • Fran and David will talk and sign
Trying New Things = Better Brain Health
If you are ready to explore new restaurants in the Cleveland area, be sure to pick up Fran and David's new book. Did you know that trying new things such as different foods, learning a new hobby and exploring new places is good for your brain health?
Download our guide, "Keeping Your Brain Healthy As You Get Older," to learn more about brain health and the 7 proactive steps to keep your mind sharp.
Keeping Your Brain Healthy as You Get Older
---
It is important to stay active and eat well to stay healthy and fit, but you have to keep your brain healthy, too.


In the past, Molly Kavanaugh frequently wrote about Kendal at Oberlin for the Cleveland Plain Dealer, where she was a reporter for 16 years. Now we are happy to have her writing for the Kendal at Oberlin Community.