Published: April 23, 2023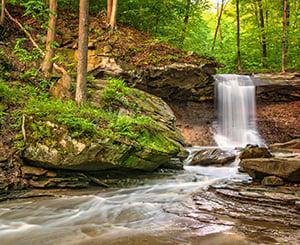 What comes to mind when you think about our national parks? Do you envision the amazing vistas of the Grand Canyon, or perhaps wild and wonderful Yellowstone? America's national parks are a travel destination for millions of us year-to-year. Let's check out some numbers:
There are currently 63 national parks in the United States. If you also count the monuments and historic properties, there are actually 424 individual units that the National Park Service (NPS) oversees.
In 2022, our national parks welcomed 311 million visitors. This is about 5% more - than 2021, and approaching the numbers seen prior to the COVID-19 pandemic. Parks (national and otherwise) became preferred places to recreate during pandemic times.
Since the inception of the National Park Service in 1904, over 15 billion visits have been registered.
The Top Ten National Parks for 2022
Each year, NPS ranks the parks and the service sites by the number of recreation visits. The large western parks routinely appear on that list year-to-year. But it might surprise you to learn that The Great Smoky Mountain National Park, with its grassy mountain views, a popular water trail and beautiful fall foliage, is the one that consistently tops the list. Here are the Top Ten among the national parks, ranked by number of visitors in 2022.
Great Smoky Mountains National Park - 12,937,633
Grand Canyon National Park - 4,732,101
Zion National Park - 4,692,417
Rocky Mountain National Park - 4,300,424
Acadia National Park - 3,970,260
Yosemite National Park - 3,667,550
Yellowstone National Park - 3,290,242
Joshua Tree National Park - 3,058,294
Cuyahoga Valley National Park - 2,913,312
Glacier National Park - 2,908,458
Some of the parks charge an admission fee – but there are some that don't, including the Great Smoky Mountain National Park. NPS also manages historic, military and monument sites. It's easy to include these places in your travel plans if you go to the NPS web site and find properties listed there by state and territory.
If you are a U.S. citizen or permanent resident over the age of 62, you might want to check out the lifetime Senior Pass. A one-time purchase of $80 will give entrance or access to the pass owner and accompanying passengers in a single, private, non-commercial vehicle at federally operated recreation sites across the country. You can buy them in-person at the visitor centers in most recreation sites, or order a pass online.
Closer to Home
Ohio is home to one federal park, the Cuyahoga Valley National Park. For those of us in Oberlin, it's less than an hour away (43 miles). Of the 63 national park sites, Cuyahoga Valley ranked #9 in 2022, up from #13 in 2021, with 2.9 million recreation visits.
CVNP is one of the smaller parks, with about 33,000 acres. Its location between Cleveland and Akron offers a lush green oasis between 2 urban regions. During the pandemic, the park hosted many new visitors from the region, with people seeking more opportunities to recreate outdoors.
CVNP does not charge admission fees, so it's a favorite place for local residents to run, walk or bike. Some do so several times a week, making this a "park for the people."
One of the key features in the park is the Towpath Trail, part of historic Ohio and Erie Canalway. Biking and hiking are favorite things to do. Another key initiative for the park has been the restoration of the Cuyahoga River, making it a safe and enjoyable water trail. In 1969, the river infamously caught fire, due to rampant industrial pollution. Now, over 50 years later, it teems with wildlife, and kayaks are a common site.
If hiking, biking and paddling are not for you, how about exploring CVNP by rail? The Cuyahoga Valley Scenic Railroad offers its National Park Scenic train ride. Beginning in June and through October, the train will run Wednesday through Sunday. The Scenic train rides are offered on weekends only January through May. You can check the schedule for details. The train operates with a variety of historic (circa the 1940s to 1960s) equipment, including one car that is fully accessible for people who use wheelchairs or other mobility devices.
AARP offers a good travel guide for Cuyahoga Valley National Park. But be sure to check the park's website first for any current restrictions. And check out the official app for the National Park system. It's free and offers many tools to help you explore any National Park property.
Volunteers Support the Parks
While much volunteer activity in the Cuyahoga Valley National Park was limited through the pandemic, volunteers began to return to the park in 2022. I'm happy to be one of the many volunteers that support CVNP. According to the Volunteer Management Office of the Conservancy for CVNP, a total of 5,018 people contributed 105,380 hours of service in the Cuyahoga Valley National Park in 2022. That's less than pre-pandemic years, but is expected to grow again in 2023.
We believe we're making a difference by helping park visitors access resources, learn the history of the area and enjoy the simple beauty of the park safely. And by doing this, we hope to help preserve this natural treasure for generations to come. CVNP may not have the jaw-dropping landscape of the Grand Canyon or Yosemite. But in my opinion, it's still pretty spectacular.
Our national parks are treasures, and they belong to all of us. Have you found your park yet?
Ready to Plan Your Next Adventure?
---
Visit unusual, educational, and exciting travel destinations with the help of Kendal at Oberlin's free eGuide,
Planning Your Next Adventure: Must-Sees and Travel Tips.
This article was first published May 23, 2019 and has been updated annually. Author Terry Kovach is Kendal at Oberlin's Director of Sales and Marketing, and has worked for Kendal since 1995. She's been an active volunteer in the Cuyahoga Valley National Park since 2011.
About Kendal at Oberlin: Kendal is a nonprofit life plan community serving older adults in northeast Ohio. Located about one mile from Oberlin College and Conservatory, and about a 40 minute drive from downtown Cleveland, Kendal offers a vibrant resident-led lifestyle with access to music, art and lifelong learning.