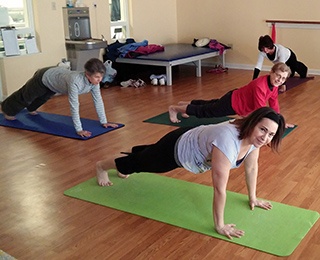 Mindfulness is on a lot of our minds these days. We are encouraged to eat slowly, to practice gratitude and yoga, to power down the smartphone and look up at the sky, all with the aim of cultivating more mindfulness.
Researchers are in on it too, looking at ways that mindfulness practices can improve sleep, manage depression, reduce pain, and provide insights on other uses of interest to all of us, including older adults.
First, though, let's look at some definitions of mindfulness, starting with the dictionary:
"A mental state achieved by focusing one's awareness on the present moment, while calmly acknowledging and accepting one's feelings, thoughts, and bodily sensations, used as a therapeutic technique."
Jon Kabat-Zinn, founder of the Mindfulness-Based Stress Reduction program and author of several books including Wherever You Go, There You Are: Mindfulness Meditation in Everyday Life, offers this definition: "Mindfulness is an awareness that arises through paying attention, on purpose, in the present moment, non-judgmentally. It's about knowing what is on your mind."
In this YouTube video, Buddhist monk Thich Nhat Hanh says that mindfulness is "the capacity to be aware of what is going on and what is there. The object of your mindfulness can be anything."
His approach is beautifully illustrated in this verse he wrote:
Waking up this morning, I smile.
Twenty-four brand new hours are before me.
I vow to live fully in each moment
and to look at all beings with eyes of compassion.
For many of us, mindfulness means paying attention and being present.
Mindfulness and Healthy Aging
Two Ohio State University researchers examined how mindfulness affected three areas of healthy aging — attention, well-being and inflammation.
While cautioning that more in-depth research is needed, they found that the majority of the 27 reviewed studies suggest mindfulness could benefit older adults, though overall results were mixed.
"Mindfulness may be advantageous for promoting cognitive, emotional, and physical health within the context of advanced aging… and represents a potential intervention for not only reducing emotional distress in older adults but for allowing them to flourish," according to the study published in the journal Frontiers in Aging Neuroscience.
In an interview, the study's senior author Ruchika Shaurya Prakash, director of Ohio State's clinical neuroscience laboratory and an expert in mindfulness, said a mindfulness practice could help older adults preserve and improve attention strategies.
"Around 50 percent of our lives, our minds are wandering and research from Harvard University has shown that the more your mind wanders, the less happy you are. Mindfulness allows you to become aware of that chaotic mind-wandering and provides a safe space to just breathe," she says.
Another study used Kabat-Zinn's Mindfulness-Based Stress Reduction to see how it might impact depression among people 65 years or older. During the 8-week study, participants engaged in four mindfulness practices: yoga, sitting meditation, informal meditation (meditation while walking or engaging in other activities) and body scan (serial attention to the sensations of different regions of the body).
Researchers found that participants who were 70 and over with less severe depression had the greatest improvement at the 6-month follow-up. They said the results were promising and warrant further examination.
The Mindfulness-Based program was also used in a study involving older adults with lower back pain, and concluded that while it showed promise, "larger more rigorous trials must be undertaken to convincingly demonstrate their effectiveness."
Why We Practice Mindfulness
Regardless of age, mindfulness has been found to reduce stress and anxiety, often leading to a happier life. Mindfulness, though, is not mastered, but rather a lifelong practice.
"For most of us, mindfulness is fleeting," writes meditation teacher Sharon Salzberg in Real Happiness: The Power of Meditation. "We manage it for a moment, and then we're gone again for a long period of time, preoccupied with the past, the future, our worries. What we're doing in practice is working to shift the ratio, so that we can gather and focus our attention more frequently. Mindfulness isn't difficult; we just need to remember to do it."
Kendal at Oberlin offers programs and classes to promote mindfulness, including yoga and Tai Chi, on land and in water.
But every day residents are engaged in informal mindfulness practices. Watch a resident play table tennis in the auditorium, make a clay pot in the Arts Studio, or carve a piece of wood in the Woodshop and you often see an attentive, present older adult. That's mindfulness.
In the past, Molly Kavanaugh frequently wrote about Kendal at Oberlin for the Cleveland Plain Dealer, where she was a reporter for 16 years. Now we are happy to have her writing for the Kendal at Oberlin Community.