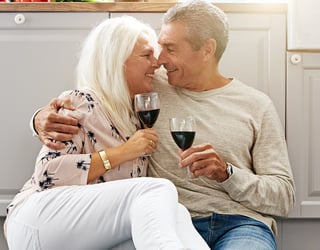 Baby boomers have impacted the American cultural landscape ever since they began arriving in droves, beginning in 1946 and continuing through 1964.
One area of the landscape they definitely redefined was sex and sexuality. Boomers had access to birth control pills, legalized abortion and no-fault divorce. Now as they reach their 70's, these boomers are continuing to speak out about sexuality, with encouragement from men and women even older.
Like actress Betty White, now 96. "Does desire melt away with age? I'm waiting for that day to come. Sexual desire is like aging — a lot of it is up here [points to her head]," she said in an AARP interview when she was 88.
Here's what other celebrities have to say about sexuality in their 70's and beyond.
______________________________________________
Related: 4 Myths about Growing Older
______________________________________________
Dr. Ruth Still Dishing It Out
Sex therapist Dr. Ruth Westheimer, 89, talked about sexuality with Iris Krasnow, author of Sex After…Women Share How Intimacy Changes as Life Changes.
"When I started in this business, I was already fifty. It became very clear right away that my values were old-fashioned about relationships, and my opinions were respected. My old-fashioned values haven't changed, but I have seen that the attitude toward sexuality and older people in this country has drastically changed. Older people definitely need to be touched, and they do need to be sexually active only if they desire," Dr. Ruth said.
Dr. Ruth has her own YouTube Channel and answers questions like this one from a viewer: "I'm over 65 – can I still have sex?"
"I am so glad that you asked about sex for people over the age of 65. In previous years, nobody talked about that," she said, and offered tips for dealing with sexual changes associated with age.
Sexuality and Aging: A Positive Outlook
In 2014, on the eve of turning 80 years old, Gloria Steinem was interviewed by New York Times columnist Gail Collins.
Writes Gail:
"Her intimate circle is mainly female. But in her good-things-about-80 list, Steinem wrote about the advantages of turning former boyfriends into friends: Your old lovers get to be your really old lovers, and you can't remember who broke up with who, or who got mad at who — just that the two of you remember things that no one else in the world does.
But she's not planning on adding to their number. Recently, she recalled, she met a young man in her travels and thought, If I was younger, we'd have had a great passionate affair for two years and been friends the rest of our lives.
It wasn't a wistful thought, she says. It was an observation. 'I didn't regret it. That's the advantage of shifting hormones."'
Actress Jane Fonda, 80 years old, also looks forward to aging sexually with optimism.
"Real love and intimacy can be much more possible when you're older," she said.
Sex, Drugs and Rock 'n' Roll
In a 2013 article entitled "What Mick Jagger Can Teach Us about Growing Old Gracefully," Dr. Simon Helfgott wrote that Mick runs eight miles a day, swims, kickboxes, cycles, takes ballet lessons and studies yoga and Pilates.
One of the doctor's favorite Jagger quotes: "You start out playing rock 'n' roll so you can have sex and do drugs, but you end up doing drugs so you can still play rock 'n' roll and have sex."
The Rolling Stones musician is now 74 years old.
Actor and former playboy Warren Beatty recently celebrated his 25th wedding anniversary with actress Annette Bening. "The most important thing that's ever happened — the best thing that's ever happened to me — was Annette and having four kids," says Warren, now 80.
Sexuality and Aging: Separating Fact from Fiction
When it comes to sexuality and aging, confusion is fairly common. Myths, misconceptions and societal beliefs often get in the way of our own understanding of how sexuality changes as we age. To learn more about sexuality and aging, download our whitepaper, "The Truth About Sexuality and Aging."
In the past, Molly Kavanaugh frequently wrote about Kendal at Oberlin for the Cleveland Plain Dealer, where she was a reporter for 16 years. Now we are happy to have her writing for the Kendal at Oberlin Community.