Published: April 23, 2021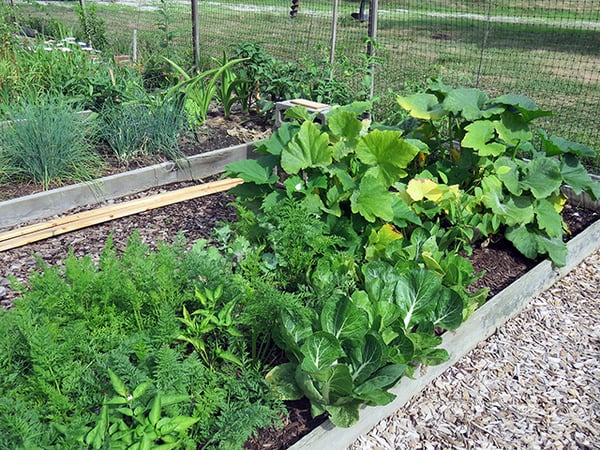 Nick and Lillie Long moved into Kendal last spring, just in time for Nick to start tending a plot in Kendal's community garden. He plants mostly vegetables but includes some flowers for his wife Lillie.
Nick, a master gardener, likes the social aspects of community gardening too. "Sometimes we talk about nonsense, other times we share knowledge with others and cuttings of prolific plants," he says
Kendal's community garden, currently comprised of 34 plots, has been part of the community since its first summer in 1994. While many residents cultivate smaller gardens around their cottages, the community garden gives other residents an opportunity to dig deeper. Some residents grow flowers for the flower arrangements that decorate Kendal's public space, others enjoy sharing surplus vegetables and herbs.
The $10 annual fee comes with lots of perks, explains manager Bill Washburn. The 12 x12 plots are fenced in to keep critters at bay, a rototiller along with wheelbarrows, trowels and assorted tools are stored in a nearby shed and water is plentiful.
"We have three outlets for hoses and one for drinking so the gardens stay hydrated and so does the gardener," he says.
Community Gardening is Popular
The American Community Gardening Association (ACGA) represents 2,100 gardens across Canada and the US, ranging from family allotments to tiny pollinator pocket parks, school gardens to urban farms. (Check the ACGA directory to see if you live near a community garden.)
The community garden movement began with the Victory Gardens during World War II, when an estimated 20 million Americans began growing fruits and vegetables in backyards, empty lots, even rooftops to supplement rationed foods. (Last year, on April 5, the term "victory garden" peaked as a search term, according to Google.)
The benefits of community garden are wide-ranging and help individuals, families, neighborhoods and the larger community.
According to ACGA, community gardening benefits include:
Producing healthy food to improve nutrition and reduce food costs, as well as providing fresh vegetables for distribution to food-insecure families;
Creating opportunities for outdoor exercise, social interaction, and hands-on learning for young and old;
Providing a place to garden for those who seek one, regardless of economic status, housing situation or available green space.
Health Benefits of Gardening
Who hasn't heard someone say "gardening is my therapy?" Well, it's true – gardening is good for our body and our brain.
According to a review of studies focused on gardening health benefits that was published in the Journal of Environmental Horticulture:
Women that participated in gardening had decreased cortisol levels, which indicated reduced stress.
Those that connected with nature resulted in having improved creativity and mental clarity.
Gardening and connecting with nature reduced the symptoms associated with ADD/ADHD, such as memory retention and attention, and improved overall cognitive functioning.
Presence in nature correlated with overall happiness, quality of life, and satisfaction.
Gardening/horticultural therapy resulted in decreased severity of both dementia and PTSD-related symptoms.
Another study conducted by Princeton University found that home gardening had a similar effect on emotional well-being (or happiness) as biking, walking or dining out.
Gardening is considered exercise by the Centers for Disease Control and Prevention, which recommends healthy older adults get at least 150 minutes of moderate to intense aerobic activity a week.
Activities associated with gardening, such as pulling weeds and digging in the dirt, nurture cardiovascular health. Fresh air and sunshine mean exposure to Vitamin D, which strengthens bones and immune system and lowers risk for osteoporosis. (Don't forget the sunscreen.)
So, whether you find a nearby community garden or a small space in your yard, Spring is here and it's time to dig in.
Learn More About Kendal at Oberlin – A Vibrant Community for Older Adults
---
Are you making plans for your future? Kendal at Oberlin offers an active lifestyle with opportunities for lifelong learning, art and culture.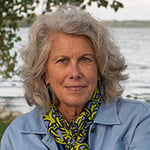 In the past, Molly Kavanaugh frequently wrote about Kendal at Oberlin for the Cleveland Plain Dealer, where she was a reporter for 16 years. Now we are happy to have her writing for the Kendal at Oberlin Community.
About Kendal at Oberlin: Kendal is a nonprofit life plan community serving older adults in northeast Ohio. Located about one mile from Oberlin College and Conservatory, and about a 40 minute drive from downtown Cleveland, Kendal offers a vibrant resident-led lifestyle with access to music, art and lifelong learning.