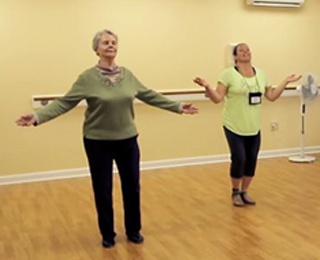 "Let's Dance" sounds like fun. "Let's Exercise" sounds like work.
Dancing, though, can give you many of the physical and mental benefits associated with an exercise program.
Take Zumba, a dance fitness program that incorporates Latin moves and music.
Dr. Edward Laskowski with the Mayo Clinic says Zumba is aerobic and offers many of the benefits associated with other aerobic activities such as running and swimming.
"Aerobic exercise reduces health risks, keeps excess pounds at bay, strengthens your heart and boosts your mood. If you enjoy Zumba, you're also more likely to do it regularly," he explains.
And Zumba now offers Zumba Gold, a program geared for older adults.
So Let's Dance
Finding a place to dance is pretty easy, day or night. Depending on your location, you can find classes at fitness clubs and senior centers, dance studios and nightclubs. Along with classes, many locations offer open dancing events and you can attend with or without a partner.
The type of dance and music might also be a consideration for you. Researchers offered a community-based dance program of merengue, bachata, cha cha cha and salsa for older Latinos and found promising results:
After four months of twice-weekly Latin dancing:
Dancers walked faster and were more physically active during their leisure time than before they started dancing.
Dancers completed a 400-meter walk in just under 392 seconds compared with almost 430 seconds at the start of the study.
Leisure physical activity rose from 650 minutes to nearly a total of 818 minutes per week.
"Scaling up such a culturally-attuned, and what appears to be a fun intervention could have significant public health effects," said Priscilla Vásquez, M.P.H., lead study author at the University of Illinois at Chicago.
Line dancing is another popular choice.
"Line dancing is the 2nd most popular extra curricular activity in the WORLD, using all rhythms of music. The most popular music used for line dancing is Country Music. Line dancing has kept active adults and seniors dancing for the health of it all over the world," writes Scooter Lee, CEO of the non-profit Dancing for the Dream, which promotes low-impact line dancing for older adults at venues throughout the United States.
Other Dance Moves
Tap dancing improves balance and lower body strength. And like many other dances, it can also help improve memory as dancers focus on remembering a sequence of steps.
And, according to a study in the Journal of Dance Medicine & Science, tap dancing has less impact than running, making it a joint-friendly activity.
Belly dancing has promise too, according to blogger Carol Wyer, writing in the Huffington Post.
"Belly dancing is becoming increasing popular with women in their 50s and 60s. Fitness, friendship and visibility are among the many reasons they are signing up to classes. And, they are not just noticing an improvement in physical health. Those going through menopause have seen a marked improvement in symptoms associated with the "change," from a reduction in hot flashes to resurgence of self-confidence," she writes.
On the other end of the dancing spectrum is square dancing, which offers a chance for socialization as well as fitness.
"Square dancing also helps you with the feeling of where you are in space and with coordination, and this may reduce falls and chances for fractures," says Dr. Lewis Maharam. "Regular square dancing may boost endurance, and being able to tolerate longer bouts of moving faster may result in improved cardiac function as the heart, a muscle, can become more efficient if trained. Square dancing can be considered a type of cross training, which helps to offset the muscle loss and strength loss typically associated with normal aging. In most cases if you can walk, you can square dance, but it's good advice to talk to your doctor before beginning any new exercise regimen."
Along with talking to your physician, make sure you are wearing comfortable and appropriate footwear for the dance. And while it won't make you healthier, wearing a Western shirt for square dancing or a ruffled skirt for Latin dancing can add to the fun.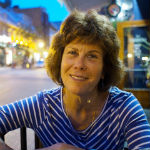 Molly Kavanaugh frequently wrote about Kendal at Oberlin for the Cleveland Plain Dealer, where she was a reporter for 16 years.