Published: February 9, 2022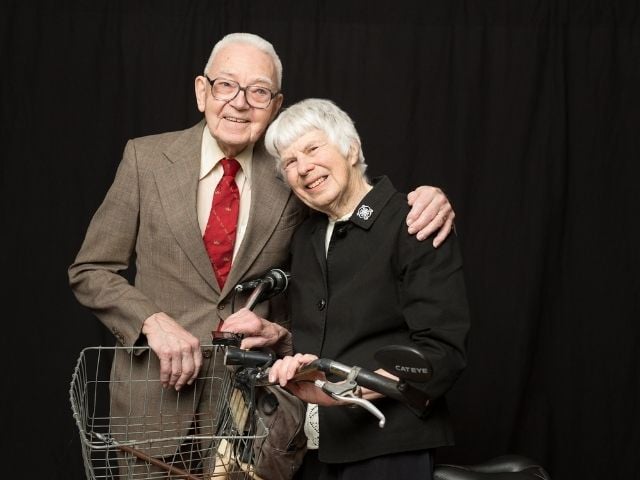 Married for nearly 75 years, Don and Mary Louise VanDyke were devoted to each other, and to the community where they lived most of their life - Oberlin and Kendal at Oberlin. They never had children but over the years "adopted" many Oberlin College students. They generously and humbly gave of their time to countless projects and organizations, near and far.
They both died in 2021, six months apart. Don was 95, Mary Louise 94.
"This world is full of people who are mourning them," said long-time friend Mary Picken.
During this heart-shaped holiday, let's remember a loving couple who opened their hearts to each other, and the larger world.
Oberlin College brought them together
Both only children, Don arrived at Oberlin College from Canton during World War II and was soon drafted. He served with the 8th Armored Division in Europe in the Ruhr and other campaigns, earning three bronze stars and the Purple Heart. When he returned to Oberlin he met Mary Louise, a native of Rochester, Pennsylvania. They graduated in 1947 and were married a year later, in the college's Fairchild Chapel.
After graduating from medical school at Western Reserve University, Don practiced ophthalmology in Kent and then in Oberlin before becoming a part-time administrator at the Oberlin Clinic in 1982. Mary Louise had graduate degrees in music education and sacred music, and taught music, led choirs, and founded the Northern Ohio Choristers Guild.
Don and Mary Louise were commissioned by the United Church Board of World Ministers (a predecessor mission body of Global Ministries,) and traveled to India, Honduras and the Dominican Republic to participate in eye clinics.
The couple moved to Kendal at Oberlin when it opened in 1993 and became among its founding members.
Classical music and college students
Many of their interests overlapped, such as attending hockey and lacrosse games at the college and hosting students for holiday dinners when they were unable to return home. Along with Oberlin College, they were avid supporters of the Cleveland Orchestra and enjoyed sharing their season tickets with friends.
But Don and Mary Louise had many personal interests too. Mary Louise was a master weaver, and could often be found at her loom in Kendal's Craft Room. She liked to weave personalized cards for friends, using their favorite color, and other gifts.
"It's a part of me, and I'm thinking of the person while I'm doing it," she'd say.
She organized a volunteer guild for the Allen Memorial Art Museum and often planned musical gatherings at Kendal and in Oberlin.
Don worked with David Orr and biology professor David Benzing in developing the landscaping around the Lewis Center for Environmental Studies at Oberlin College. He was active in Oberlin Rotary and spent 19 years as Building Superintendent at First Church in Oberlin (Mary Louise was a member of Christ Episcopal Church.)
Don volunteered more than 25,000 hours at Kendal, preferring to work alone rather than on committees. "Don is truly a 'Man for Others,' and attends every day to Kendal's needs as an unsung hero, by practicing 'life through a million acts of kindness' – serving residents, staff, and board," read the citation LeadingAge Ohio awarded Don for his Excellence in Volunteer Service.
While their individual interests often took them in different directions during the day "they always came back together at night, eating dinner at a table for two," recalls Maggie Stark, Kendal's former Marketing Director.
Their Final Days
When Don's health began to fail, Mary Louise could often be found in his room. Don died June 22, 2021 and in October Mary Louise organized a concert at Fairchild Chapel in his memory. The concert included Don's favorite chamber music and his favorite poem "If" by Rudyard Kipling, which according to the program "he tried to live by."
Mary Louise was in the midst of organizing a Christmas carol program when she passed on Dec. 12. After Mary Louise's death, long-time friend Mary Picken was cleaning out the VanDykes' cottage and found a handwritten poem on Don's desk. The poem, which was not composed by Don, reads in part:
"As I sit in heaven
And watch you everyday
I try to let you know with signs
I never went away.
I even place my arms around you
To calm you as you weep"
And now, with their passing, so many others are weeping.
Road Map to Residency
---
Moving to a new home is not an easy task. But it can mean an exciting new beginning.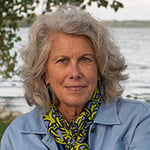 In the past, Molly Kavanaugh frequently wrote about Kendal at Oberlin for the Cleveland Plain Dealer, where she was a reporter for 16 years. Now we are happy to have her writing for the Kendal at Oberlin Community.
About Kendal at Oberlin: Kendal is a nonprofit life plan community serving older adults in northeast Ohio. Located about one mile from Oberlin College and Conservatory, and about a 40 minute drive from downtown Cleveland, Kendal offers a vibrant resident-led lifestyle with access to music, art and lifelong learning.