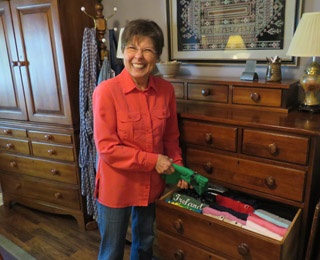 A common refrain when people start to visit retirement communities to consider a move is, "What am I going to do with all my stuff?" It's a big concern, fueled by anxiety, sentiment and a dive into an unfamiliar lifestyle.
Gary Olin and Sally Nelson-Olin were less anxious with such a move because they have had practice. They are retired ministers and had been previously married, so they had a history of moving before coming to Kendal at Oberlin in 2015. In other words, they have answered that question many times.
"We measure everything, every single piece of furniture," said Sally, pulling out floor plans and furniture templates.
Added Gary, echoing a sentiment expressed by his son a few moves back, "If you can't tell me in 5 seconds how you're going to use it, give it away."
Listen to what else the expert downsizers have to say.
Three Mythbusters
The century-old solid wood hutch, the formal dining room, the piano—don't expect to make much or any money selling it. There is an abundance of such furnishings, and today's families are smaller, more mobile, and generally more interested in streamline furniture and household items found at IKEA and other stores.
"The furnishings industry has a name for the big, dated wood-finished and upholstered pieces that no one wants anymore—brown furniture," Alina Dizik writes in the Wall Street Journal.
That said, maybe a relative or friend maintains a steady business on eBay or other consignment site. Offer them a percent of the sale to take care of it for you.
Second related myth—don't expect your children or grandchildren to want all your treasures.
Sure, they will want some things. Between them, Gary and Sally have 5 children and 8 grandchildren, and they earmarked certain pieces for them. Other items came with stipulations—you take the Amish table that sits 14, and you're signing up for Thanksgiving.
During family gatherings leading up to their move to Kendal, tables full of tools or books were often set up, with boxes and bags for family members to cart home their selections.
And finally, abandon this thought: You'll never know when you'll need it. The good news is that you are moving into a retirement community that offers common spaces and materials, so if you need something, they or your neighbor probably have it.
For instance, Kendal residents can use the sewing machine in the Arts and Crafts room, borrow a tool from the Wood Shop and rent a rollaway for overnight guests.
There is a library at Kendal, plus residents can get a library card at the Oberlin Public Library, which also gives them access to Oberlin College libraries. So you can part with many of your books, along with assorted fitness equipment, as Kendal has a fitness center.
In addition, most residents eat at least one meal a day in a common dining room. Since you will not be cooking as much, you can get rid of many kitchen appliances, pots and pans, dishes and other cooking utensils.
Onto Measuring
Now that you're in the right mindset for downsizing, it's time to pull out the tape measure. Many retirement communities will provide you with a floor plan of your new home, and the Internet has free space planning furniture templates you can download.
Sally and Gary were moving from a 3,100 square foot house in Lakeside with an attic and two-car garage, to a 1,100 square foot cottage with no attic and a one-vehicle carport.
Sally made a list of everything in their Lakeside house. The Home Inventory listed the item, size (dimensions), significance, whether to keep, sell or donate and its new location. For instance, if an item were to be donated, she marked what charity or person was getting it.
As they whittled the furnishing inventory down, they looked for items that have storage space or multiple uses.
Along with a tape measure, the couple's other best friends were a camera, scanner and computer. They used the camera to take photographs of treasured items they were parting with, along with a brief identification. They scanned old letters and other meaningful or important documents, and digitized dozens of classical music CDS, which they then donated to the college's Conservatory of Music.
If all this preparation sounds overwhelming to you, do not worry. There are people you can hire to help you organize, downsize and move. Check this list of Senior Move Managers® or ask your retirement community for referrals.
Keeping Your Space in Shape
Gary and Sally only bought a couple of furnishings for their Kendal cottage, but they bought many items which had the potential to store and save space. Slim hangers, space saver vacuum bags for sweaters and other clothes and collapsible containers are just a few of the many items you can buy.
After the Olins moved into Kendal, Sally read "The Life-Changing Magic of Tidying Up" by Marie Kondo, the Japanese cleaning consultant who is on a mission to help others downsize. Marie advocates a folding method for socks, t-shirts and other clothes by folding each piece into a simple, smooth rectangle so it stands up rather than lays flat.
One day when Gary was at a ball game, Sally folded all the clothes in his dresser using this method. After he got over the shock of seeing all his clothes in neat, standing up stacks, he was hooked. "Looks like it's time to do laundry," he said, as he pulled out a half-empty drawer.
Marie also says the clothes you wear should "spark joy" and if they don't, you should part with them. Sally is trying to follow that concept. "This is an experiment – I'm not sure about this shirt, so I'm going to wear it today and if I don't like it I'm going to get rid of it," she said in the morning. (By afternoon, she had decided not to keep it.)
The Olins also try to follow the practice of getting rid of an item of clothing if they buy a new one. That's easy to do at Kendal, with its Resale Shop open seven days a week. The Olins are frequent shoppers and donors.
"My goal is to keep downsizing," Sally said. "It is freeing to get rid of things, and when you have less stuff, you have less to worry about."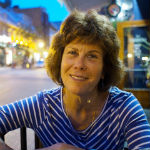 Molly Kavanaugh frequently wrote about Kendal at Oberlin for the Cleveland Plain Dealer, where she was a reporter for 16 years.