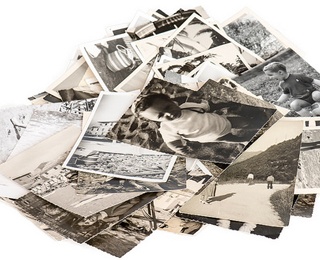 My mother's china now rests in my dining room hutch. A needlepoint door hanger made by her old friend is with my long-time friend. My son has possession of my father's mahogany dresser, purchased in 1949 when my parents wed. The framed pencil drawing of a racing horse hangs in my brother's house.
These are just some of the family keepsakes we still treasure. But many items, especially furniture, were sold or donated when my mother downsized a few years before her death.
Deciding what to keep, pass on to loved ones, or sell/donate to strangers can be an overwhelming task, both physically and emotionally. Often the process is part of a bigger challenge, such as saying goodbye to the family home or grieving a loved one's death. The sorting can bring tears, but also laughs.
Here are 4 tips to help make the experience heartfelt and manageable.
Write It Down
Several years before my mother died my brother and I got a phone call. "What do you want when I die?" she asked.
That may make some families uncomfortable, but we always talked openly about death, both the spiritual dimensions as well as the practical concerns. (My grandmother was the same way, and since all 10 grandchildren wanted the candy jar, we had to raffle it off when she died.)
My brother, mother and I revisited the "when I die" conversation several times before her death in 2015. Three years ago, I pulled out a notebook and walked with my mother through her condo, writing down a few words about items she treasured. Knowing that the LLADRO nun figurine in my office was purchased during her trip to Spain makes it more meaningful to me.
Share stories of your keepsakes with your loved ones. Better yet, write the stories down, or have family take notes as you talk.
That goes for jewelry too. My friend who is a jeweler says family members often come into his shop with diamonds and other gems, but have no idea what the item meant to their loved one.
And don't wait until you are an older adult in the midst of downsizing, when energy might be running low and emotions high. A couple years ago I wrote a letter to my son on his 25th birthday about my locket, which holds a photograph of him and his father.
"You were only a couple hours old, asleep in the nursery at Christ Hospital in Cincinnati, when dad sat on my bed and handed me a little box. Inside was a round gold locket. I was full of so much emotion already, but this really put me over the top," I wrote him.
Onto Big Stuff
Those just starting to downsize are often surprised to learn that their upholstered furniture, formal dining room set, piano, china and other family heirlooms can be hard to giveaway or sell.
"The furnishings industry has a name for the big, dated wood-finished and upholstered pieces that no one wants anymore—brown furniture," Alina Dizik writes in the Wall Street Journal.
Today's families are smaller and more mobile, plus they often prefer less expensive and more streamlined furniture and household items found at IKEA and other stores.
But the good news about today is the virtual world that exists. No matter where you live, you can sell items on eBay, Craigslist and other online sites. People who live in or near major cities can contract with online estate sales companies such as Everything but the House.
You can also donate many of your items to Goodwill, Habitat for Humanity and other charities. Also, hospices, cancer organizations, homeless agencies and other special-interest charities often operate second-hand store to support their mission.
For special or unusual collections, such as valuable books or figurines, contact a library or museum.
So be realistic, and don't get hurt feelings if loved ones respond, "No Thanks."
Why Not Upcycle?
Cover throw pillows with linen tablecloths, make a quilt out of old T-shirts, or turn a vintage suitcase into an end table.
"There's something innately satisfying about upcycling: rethinking the way an item is used, renewing its functionality, and keeping it out of the landfill, all at the same time," explains Etsy blogger Linzee McCray.
Of course, you may not have the time or talent for such a project, but maybe a crafty friend does. Or ask around. Fabric and knitting shops, woodwork stores, historical societies and libraries often can make a referral. Or check Craigslist.
And Finally, Photos
Organizing guru Marie Kondo recommends that you save photo sorting for last. Not only will you approach with confidence since you're well on your way to downsizing, but you can treat yourself to some TLC. You've earned it.
That said, Marie's approach is not for everyone: "There is only one way to sort photos, and you should keep in mind that it takes a little time. The correct method is to remove all your photos from their albums and look at them one by one. When you do this, you will be surprised at how clearly you can tell the difference between those that touch your heart and those that don't," she writes in The Life-Changing Magic of Tidying Up.
(It certainly isn't for me since I am married to a photographer.)
But interior designer Becky Dietrich found success with Marie's method.
"My solution took a couple of really joyful months to accomplish. I took all of my family pictures out of albums and off the walls, and then organized them by year, starting in 1972 when Mike and I were married, and moving through our 40th wedding anniversary. Then I picked my absolute favorites and built a new single album, simply entitled "The First 40 Years." I placed the rest of the pictures in clearly marked envelopes that went into a single large plastic bin. (Plastic bins are a downsizer's best friend.)

Our new album hangs around our tiny living room, and what I have discovered is that people actually pick it up and go through it! They would never have tackled 40 individual albums, but this single album holds their interest, and I love sharing it," she writes on Houzz.
You could make a photo album for each child and grandchild. Or scan and digitize photos so you can discard prints.
Just remember, key photographs of relatives and experiences are pretty meaningless unless your loved ones know who and what it is. So back to the beginning – write it down.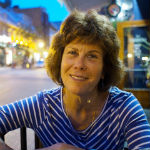 Molly Kavanaugh frequently wrote about Kendal at Oberlin for the Cleveland Plain Dealer, where she was a reporter for 16 years.