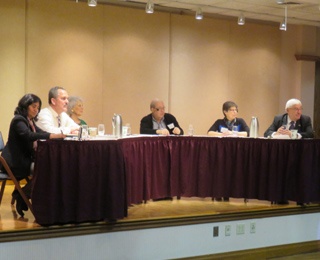 A tape measure and assorted colors of sticky dots, notes and masking tape.
A list of local charities in need of donated stuff.
A "less-is-more" frame of mind.
These are just a couple of tools that will come in handy when you start to downsize, according to a panel of moving experts and "I Survived Downsizing" men and women who now live at Kendal at Oberlin.
---
What is the Kendal at Oberlin lifestyle? Find out here.
---
"Did we sell anything? Not really. Do we miss anything? Not really," said resident Sally Nelson-Olin, who moved with her husband, Gary, from a 3,100-square-foot house with an attic and two-car garage to a 1,100-square foot cottage with no attic and one-vehicle carport.
Sally and the other panelists at the April 25 event touched on all aspects of moving, from finding a compatible realtor to dealing with the emotional challenges associated with getting rid of treasured possessions.
Emcee and recent downsizer Jim Walsh added the levity, suggesting that boxes of stuff topped with garden vegetables could easily be dropped off on neighbor porches – preferably at night. And don't think your children will rescue your things. "They don't want it," he said.
Rightsizing with the Help of a Realtor
Pradnya Martz, a Realtor with Keller Williams, prefers the word "rightsizing" when talking with clients. She recommends shopping around to find a Realtor that best fits your needs and personality.
She listed three reasons to hire a Realtor:
Their expertise and experience will be helpful as you navigate one of the biggest transactions of your life;
They see your house through the eyes of buyer, know the market and may even know of buyers that may like to see your home;
They are your fiduciary agents, well versed in contracts, and are as fully vested in the process as you. "They don't get paid until the money is in the bank," she said.
Realtors are also experts in "staging" and often hire professionals to help. Staging involves adding inexpensive amenities (a new hand towel, vase of fresh flowers), decluttering and improving the overall cleanliness and condition of the house.
Pradnya shared an interesting statistic from Shift: How Top Real Estate Agents Tackle Tough Times, by Keller Williams board chairman Gary Keller:
"A review of more than 2,800 properties in eight cities found that staged homes, on average, sold in half the time that non-staged homes did. Most buyers make decisions about the property they see within the first 15 seconds of entering the home."
Personalized Help Moving Older Adults
Moving from a big house to a condo, retirement community or apartment can be challenging, especially for older adults who have accumulated years of stuff and struggle with whittling down.
Thankfully, today there are professionals such as Ted Forthofer, a Certified Relocation & Transition Specialist™ and member of the National Association of Senior Move Managers.
"We help people age in place or more commonly people who are moving somewhere smaller," explained Ted, owner of Moves Made Easier.
He said that moving is a top stressor, right up there with death of a loved one and divorce. And moving without a plan in place adds to the stress, and to the cost too.
"I'm amazed how many people move first, downsize later," he said.
That's why working with a floor plan is so important. "Kendal is the only place we've worked with that has architectural drawings with grid lines – that is a huge advantage," he said.
Some of the services provided by move managers include:
Packing and unpacking belongings;
Hiring and supervising movers;
Arranging temporary storage;
Donating and/or selling belongings.
As for Ted, here are two maxims he shares with clients: Follow the OHIO rule – Only Handle It Once, and keep in mind what Australian organizer and author Peter Walsh said – "When everything is important, then nothing in important."
Been There, Done That
Three Kendal residents shared their experiences of downsizing.
Carol Harvey was living about 25 miles from Kendal when she visited Kendal for its overnight "Try It, You'll Like It" program.
"I loved it. I didn't want to leave," she said.
Her house sold in only three weeks after listing, and she quickly downsized to a one-bedroom cottage by giving items away to people she knew. "I brought what I really needed and wanted," she said, adding, "I'm not a saver."
The Olins had an advantage when they decided to move from Lakeside to Kendal. The couple, who married 10 years ago, are both retired ministers with a combined number of moves totaling 16.
When they married, friends gave them a decorator for two days, who also helped them deal with the emotional aspects of downsizing.
"You have to come to terms with stuff," Gary said.
The couple went from room to room, making an inventory and sorting items into three piles:
I don't even know where I got it.
I like it, but not sure I need/want it.
I've got to have it.
A tape measure and floor plan were always nearby as the couple went through the furniture, looking for items that had multiple uses or storage space.
Along with a tape measure, the couple's other best friends were a camera, scanner and computer. They used the camera to take photographs of treasured items they were parting with, along with a brief identification. They scanned old letters and other meaningful or important documents and digitized dozens of classical music CDs, which they then donated to Oberlin College's Conservatory of Music.
Since they were moving to Kendal, which serves meals and has a wood shop, library, gym and an art studio, they had no need for many kitchen items, tools, sewing machine and the like. Family, friends, churches and charities were happy for the donations.
The Olins continue to downsize – a 3-burner gas grill and mixer recently went to family members – and they donate to the Kendal Resale Shop, which supports the Residents Assistance Fund.
"I don't like to use the words 'cull' or 'toss'. I like 'give away' and 'let it go'," Sally said.
A New Home for Your Old Stuff
One theme running through the panel discussion and Q&A that followed was the joy and satisfaction people felt when they found a new home for their belongings. Only a couple of people said they got paid, but money was not a reward; finding a person, charity or organization was.
For instance, Emcee Jim Walsh said his wife's professional clothes went to a charity that provides office attire to low-income women entering the job market, and their piano went to the Conservatory of Music.
Suggestions for other donations included:
Contact local historical museums about old phone books and photographs with local buildings;
Ask local schools, day cares and art centers about fabric donations;
List items on freecycle.org, a national, nonprofit internet site for people to give and get free stuff;
Find a nearby Habitat for Humanity ReStore, which takes building materials, tools and more;
Check with local recycling agencies that maintain donation drop-off lists. The Cuyahoga County Solid Waste District publishes a comprehensive guide entitled Pass It On: A Resource-Full Guide to Donating Usable Stuff.
What about your downsizing experience? What worked, and what was horrific? Do you have any advice or tips to share? And what novel items were you able to recycle?
Kendal at Oberlin residents are accustomed to surmounting challenges successfully. Are you ready for new challenges? Learn more about how Kendal and you can work together to face them. Send my no-obligation brochure!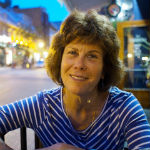 Molly Kavanaugh frequently wrote about Kendal at Oberlin for the Cleveland Plain Dealer, where she was a reporter for 16 years.