Published: August 26, 2019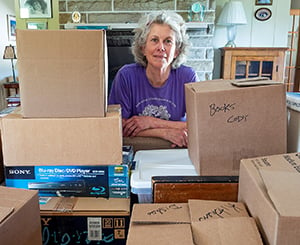 It certainly is a brand-new year which will be filled with changes. Though a little scary to think about letting go of our routine and comfort zone, very exciting to think about what is in store for us.
That's what Maggie Stark wrote in a Happy New Year card to me at the beginning of 2019. The change that was in store for both of us was a major one – moving out of our beloved family houses into space more in-tune with our mid-60s lifestyles and sensibilities.
As Kendal's marketing and admissions director for more than 25 years, Maggie knows a thing or two about moving. She has helped hundreds of older adults through the transition of moving and downsizing, with its surprises and pitfalls, its physical and emotional challenges, and always, dealing with all the stuff. Speaking of which, when it comes to downsizing, Maggie knows her stuff.
In some ways, I do too. Since I began writing blogs for Kendal four years ago, the most common topic I write about is downsizing. I've interviewed residents and experts like realtors and senior move managers, read countless articles and books, attended seminars and watched videos. Following the advice of Japanese cleaning consultant Marie Kondo, I have held, thanked and said goodbye to favorite T-shirts.
So, we approached our respective moves with a bit of "we got this" swagger. We knew all the dos and don'ts of moving at our age, and we thought it would be easy to practice what we preach and write.
This is what really happened.
First, the Facts
Maggie moved on May 4, leaving her house of 32 years for a condo in Bay Village five miles away. She gave up about 400 square feet but gained a lakefront view. She also added two sets of stairs totaling 30. But that view!
She is also near most everything she needs and loves. She can walk or bike to parks, shops and restaurants, and is just a short drive from her year-old granddaughter, favorite grocery store (Heinen's), church, and more.
Six weeks later, my husband, five-year-old dog and I moved out of our house of 22 years and into a small (think "starter," but now a "closer") house in my hometown of Cincinnati 200 miles away. We left a rural ranch house on two acres for a Cape Cod (i.e. stairs) with a postage-stamp yard. Also new for us - sidewalks, curbside recycling and a basement (still full of boxes - no wonder downsizing was so easy).
Plus, now we can walk or are a short drive from just about everything - Skyline Chili and Graeter's ice cream, Trader Joe's and Whole Foods, plus drug store, bank, hardware store, restaurants, church, YMCA and even a women's writing center.
I used to complain about all the time I spent driving everywhere, especially for groceries. Now I have all this drive-free time. Good thing, because I need extra time climbing up and down two flights of stairs several times a day.
Related: Spark joy during downsizing and decluttering >>
Heavy Lifting
Professional movers handled the physical part of our move, but first we had to figure out what items to take and what to leave behind as we began packing household items, clothes and books.
Our downsizing knowledge came in handy, plus we could always find answers in Cuyahoga County's Pass It On.
We called the Cleveland Furniture Bank and Habitat for Humanity Restore, both of which pick up furniture, sold books to Mindfair Books, or donated them to libraries and Little Free Library. We donated items to Kendal's Resale Shop, Goodwill, Good Neighbor Thrift Shop and Trinity Lutheran Church garage sale, and took advantage of shredding events and recycling outlets.
I put a dog igloo on the curb, and it was gone in a half hour. We made one U-Haul trailer trip to the county landfill - $20 well spent. And I'm happy to report that neither of us are renting a storage unit.
Maggie had a good system for packing. "I got all the same size boxes and labeled them," she says. I inherited her boxes but didn't bother crossing out Maggie's labels - that sure made unpacking fun.


Related: Getting started with decluttering and downsizing >>


The Mental and Emotional Sides of Downsizing
The mental demands of moving were not fun. Maggie did a lot of renovations before moving in, which meant making countless decisions – paint colors, new appliances, cabinets, handles for cabinets, TV, and on and on.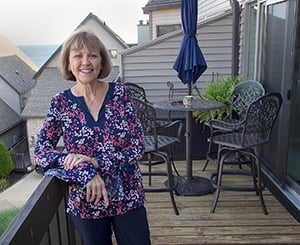 "I literally felt like I had been living under a rock for 20 years," she says.
One night she got ready to do laundry in the condo and just couldn't focus on reading yet another set of instructions. Since she hadn't sold her house yet, she gathered up her dirty clothes and headed back to her old washer.
I dated and kept all my moving notes in one steno notebook (with a cover entitled "She saw every ending as a new beginning"). Now when I flip through the notebook I am overwhelmed by all the logistics we had to juggle for a 200-mile move in the midst of my husband's retirement. (On top of many pages are reminders to "meditate" and "pray.")
Moving is emotionally draining too. Those walls and rooms contained so many memories of raising our children and celebrating the holidays with family and friends. For Maggie, saying goodbye was especially hard because her husband died in 2012.
"I didn't think it would hit me that hard," she said, tearing up as she described her final walk through the house.
Because of tight moving deadlines, we both pretty much followed Kondo's advice about leaving photographs and other sentimental memorabilia for last, which means we have boxes yet to be unpacked and sorted.
Advice and Other Insights
We all know what a great Kendal cheerleader Maggie is, and this move has made her even more so.
Even though she opted to move to a condo instead of a Life Plan Community like Kendal (for now), she is even more convinced of the value of such a move.
"Everything is taken care of at Kendal like utilities, plumbing and electrical issues and so on. You have a problem, you call one number – Facility Services. You don't need cleaning supplies, tools, even a guest room – Kendal has four available for a nominal cost. At Kendal there is a sense of community and life is simpler," she says.
But we both agree that no matter where we moved, making a house feel like a home takes time. Maggie is a couple months ahead of me on that score – pictures are on the wall, her granddaughter has spent the night and family gathered for the Fourth of July.
"The memories are starting," Maggie says.
My brother and other relatives and old friends live nearby and have all visited, but that homey feeling will come as we celebrate holidays and other special occasions, especially when our L.A.-based son visits.
As hard as the move was, we're both glad we did it now rather than wait five years. (Stairs? Cable TV?) Maggie and I figure it will take a year for our new addresses to really feel like home, for memories to kick in as well as for the space to feel like our own.
Come New Year's Day, I know we'll have words to share with each other about this year of change. It's been scary and exciting, for sure, but hopefully filled with new routines that make growing older such a joy.
Get Downsizing Help for Your Own Home
Like Molly and Maggie, you might find yourself overwhelmed as you begin your downsizing plan. Luckily, we've created a guide with tips to help you decide what to keep, what to donate, and more.
Get your free copy of the guide here.
The Do's and Don'ts of Downsizing Guide
---
Getting Ready to Move? Time to Downsize Your Belongings?Don't know where to start? Our guide can help!

In the past, Molly Kavanaugh frequently wrote about Kendal at Oberlin for the Cleveland Plain Dealer, where she was a reporter for 16 years. Now we are happy to have her writing for the Kendal at Oberlin Community.