Published: October 14, 2019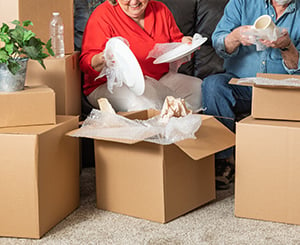 As we grow older, our piles of stuff grow larger. We have books and mementos from our early years, camping gear, toys and travel treasures from our middle years, and photographs, clothes, furniture, hobbies, and family heirlooms we have collected throughout the years.
Plus, don't forget about all the unlabeled boxes stored in the attic and basement that hold who knows what. Now multiply that by two or more depending on our family size.
It's no wonder so many older adults are reluctant to consider moving to a smaller home. "What will I do with all my stuff?" they ask.
But living in a smaller space with less of that stuff has many benefits. Since you have less to clean and maintain, you have more time and money to enjoy life. Your carbon footprint is smaller, and your stress level often drops too – now you know what you have and where to find it when you need it.
Lately, we've been hearing a lot about the tiny house and minimalist living movements. While many of us have no interest moving into a 200-square foot structure or going off the grid, we might consider how to downsize to a smaller space so we can spend more time and money of what we value.
Related: Downsizing tips - where to donate your belongings >>
Let's Start with the Stuff
The Tiny Life published an article about "the purpose of stuff" and divided it into four purposes with questions to ask about each.
Functional: What if you didn't have this thing; what would the impact be? (Think kitchen gadgets.)
Aesthetics: How do you want your space to feel, and how will this item help you achieve this goal?
Nostalgic: Is it possible to keep this memory alive in another way, such as a photograph? (Beware of quicksand.)
Dream Placeholders: Should I lay this dream to rest and move on?
These are insightful questions to ponder and hopefully useful to jumpstart the downsizing process. As your piles of stuff to discard grow, it's time to make lists of what goes where and put a question mark next to children and grandchildren.
"Your grown children will not agree to be the recipients of your downsizing if it means their upsizing," writes Elizabeth Stewart, author of "No Thanks Mom: The Top 10 Objects Your Kids Do Not Want (and what to do with them).
Suggestions for donations include:
Contact local historical museums about old phone books and photographs with local buildings;
Ask local schools, daycares and art centers about fabric donations;
List items on freecycle.org, a national, nonprofit site for people to give and get free stuff;
Find a nearby Habitat for Humanity ReStore, which takes building materials, tools and more;
Check with local recycling agencies that maintain donation drop-off lists. The Cuyahoga County Solid Waste District publishes a comprehensive guide entitled Pass It On: A Resource-Full Guide to Donating Usable Stuff.
Related: How to downsize family heirlooms and mementos >>
Smaller Home Options to Consider
Once you've taken care of all that stuff, it's easier to move to a smaller home. Condos, apartments, and life plan communities are all options you may want to consider depending on your income and location.
Moving to a condo is appealing to many older adults for the obvious reasons, but the move also comes with a monthly fee. Renting an apartment can free up time and money, but it means a landlord and other tenants are now part of the equation.
A life plan community has homes of varying sizes. For instance, on the smaller side, Kendal at Oberlin offers a studio apartment (482 square feet), a one-bedroom apartment (675 square feet), a studio cottage (643 square feet) and a one-bedroom cottage (874 square feet). Larger apartments and cottages with various floor plans are also available.
Moving to a Continuing Care Retirement Community can also make the transition easier, writes Brad Breeding, president of myLifeSite.
"Thanks to the planning and pre-work commonly handled by the community's on-staff move-in coordinator, you should expect your new residence will be clean, freshly painted, and window treatments will be hung…You'll be comfortably sleeping in your own bed in your new home that night."
Learn More Do's and Dont's of Downsizing
Downsizing can be a big job, but you'll love how you feel when it's done. If you're ready to downsize and want to learn more about taking the first step, download our free guide, "Do's and Don'ts of Downsizing."
You'll get tips from bestselling author Marie Kondo, advice from an interior designer, lists of what to keep and what to donate, and more.
The Do's and Don'ts of Downsizing Guide
---
Getting Ready to Move? Time to Downsize Your Belongings?Don't know where to start? Our guide can help!


In the past, Molly Kavanaugh frequently wrote about Kendal at Oberlin for the Cleveland Plain Dealer, where she was a reporter for 16 years. Now we are happy to have her writing for the Kendal at Oberlin Community.