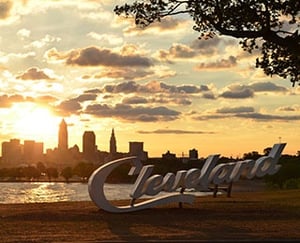 Grab a friend or a friendly group and head to Cleveland, a lakefront city rocking and rolling with lots to do day and night. It doesn't matter if you and your friends are foodies or cultural enthusiasts, nature lovers or sports fans, this North Coast city will more than satisfy your hunger.
Let's Start with Food
The restaurant scene is eclectic, from ethnic fare to fancy and comfy.
But first, you might want to check out these three grocery shopping venues:
Gallucci's brims with Italian tastes and smells, with fresh bread, olives, cheeses, oils, sauces and more. Located at 6610 Euclid Ave., the store offers a hot lunch counter during the week. Its roots are more than a century-old (Mama Gallucci just turned 93, and is still going strong).

In their own words, "Gust Gallucci Company invites you to shop where the chefs shop. We have one of the largest selections of Italian foods, wines, and other ethnic specialty items. Mary Ann Esposito, a best-selling author and host of public television's popular cooking show, Ciao Italia, says 'Gallucci's is one of the finest Italian food stores in the country.'"


Aladdin's Baking Company is almost a half-century old, and still turning out its renowned pita bread. It's a popular lunch spot too, with a savory Mediterranean menu, including spinach pie, zaatar bread, chicken shawarma sandwich (the top seller), baklava and assorted salads and sweets. It's located at 1301 Carnegie Ave.


West Side Market was designated as one of "10 Great Public Places in America," by the American Planning Association in 2008 and celebrated its centennial in 2012. The market is home to 100 vendors selling meats, seafood, fruits, vegetables, baked goods, flowers, spices, nuts, cheeses and ready-to-eat dishes. The market is open year-round, closed on Tuesdays and Thursdays, and located in Ohio City at 1979 W. 25th St.
Now to the downtown and surrounding area bar and restaurant scene.
Since the warm weather is still with us, here are a handful of places to visit with outdoor seating, thanks to Plain Dealer John Petkovic's 2018 Patio Guide.
Bar 32 at the Cleveland Hilton Downtown, 100 E. Lakeside Ave. "The views of Lake Erie and the city from the 32nd floor of the Hilton makes it a destination for out-of-towners and locals alike."


Nuevo Modern Mexican, 1000 East Ninth St, "This jumping eatery has brought new flair to the area with its fiesta vibes, margaritas, tequilas and views of Lake Erie, North Coast Harbor and Voinovich Park."


Bruno's Ristorante, 2644 West 41st St. "The patio is adorned with flowers, ivy, iron gates, colorful umbrellas, a fountain and cappuccino on the table. Alfresco dining at its best."


Dante, 2247 Professor Ave, "It's secluded and quiet and that brick wall, gate and greenery provide enough privacy to make Dante feel like an escape from the crowds of partiers roaming the streets of Tremont."
Popular Cleveland restaurants you'll find on most every "best of" list include: Blue Point Grille, 700 W. St. Clair Ave.; Greenhouse Tavern, 2038 E. 4th St.; Chinato, 2079 E. 4th St.; Cowell & Hubbard, 1305 Euclid Ave.; Red The Steakhouse, 417 Prospect Ave.; and Taza Lebanese Grill, 1400 W. 6th.
Does your group hate sitting still? Consider The Corner Alley, where you can bowl, eat and drink at the same time.
Located at 402 Euclid Ave., "The Corner Alley features 16 lanes of upscale bowling action. Designed for people who want to have fun and bowl at all skill levels. The state-of-the-art, custom-designed scoring system delivers attention-grabbing multimedia content. Hungry or thirsty while you bowl? Experienced servers come to you for lane-side service, filling your food and beverage needs."
Let's Get Some Culture
A surprise to many Ohioans, National Geographic Traveler named Cleveland as one of 21 Best Places to visit in 2018 because of its "new cultural energy."
"You can see a focused energy of creative talent — people who would have the option to go anywhere, but they're making Cleveland great again," writes editor George Stone, who grew up in Toledo.
The city's cultural footprint is certainly expanding, but make sure friends, especially out-of-towners, visit some of the landmarks.
The Cleveland Museum of Art opened in 1916 "for the benefit of all the people forever," and admission continues to be free, though there may be a charge for special exhibitions.
Its permanent collection includes:
An American collection of about 300 paintings and 90 sculptures (William Sidney Mount's The Power of Music, Frederic Edwin Church's Twilight in the Wilderness, Albert Pinkham Ryder's The Racetrack (Death on a Pale Horse), and George Bellows's Stag at Sharkey's, plus works by Winslow Homer and Edward Hopper);
A "constantly expanding" contemporary art collection;
An internationally recognized European painting and sculpture collection (more than 500 objects spanning 1800 to 1960).
If your group is comprised of 10 to 25 people, you can schedule a private tour. Is your group a mix of ages? Consider an intergenerational visit Sept.15-16 for its annual Chalk Festival. Work alongside professionals to create a colorful square ($10 to $20 depending on size, chalk included).
The Cleveland Orchestra's home is Severance Hall, with concerts September through May.
"As it nears the centennial of its founding in 2018, The Cleveland Orchestra is undergoing a new transformation and renaissance," according to its website.
The 100th anniversary gala is Sept. 29, and other upcoming concerts include Tchaikovsky's "Swan Lake," Mahler's "Resurrection" and Handel's "Messiah." A great way to celebrate the holidays with family and friends is to attend one of the orchestra's festive concerts Dec. 14-23.
Throughout the season, the orchestra features "At the Movies," showing classic films with live accompaniment. They also perform Family Concerts, starting with "Halloween Spooktacular" on Oct. 28.
Other Cleveland cultural venues to consider:
Western Reserve Historical Society (Be sure to stop by 'Tinkerbelle," the 13 ½-foot sailboat Clevelander Robert Manry sailed from Falmouth, Mass. to Falmouth, England in 1965.);


Cleveland Botanical Garden (including an art gallery featuring works that reflect nature's wonders);


Rock & Roll Hall of Fame, with music, memorabilia, films and more from rock's greatest.
Let's Head Outdoors
The city's backyard is Lake Erie, and one way to enjoy the lake is a cruise. Goodtime III, a quadruple-deck 1,000 passenger luxury ship, operates until Sept. 30 with a variety of cruises, including a narrated luncheon cruise. (Discounts available for groups of 20 or more.)
The Nautica Queen cruises year-round, with lunch, dinner and sightseeing cruises.
If you're more of a landlubber, plan a visit to Lake View Cemetery, a 285-acre parklike setting featuring the Garfield Memorial, Wade Memorial Chapel, grave sites of many great civic, social and cultural leaders, plus sculptures and lakes. Your four-legged friends are also welcome.
With nine miles of roads, you can walk for hours. (On Oct. 14, the annual "Run Through History," you can run a 5K or walk two miles and support the cemetery's foundation.)
On Sundays in September and October, you can hop aboard Lolly the Trolley. Reservations are required and cost $20 per person. The cemetery also offers private walking tours for groups of at least 12.
Spend an afternoon or evening at Progressive Field, where the Cleveland Indians will be playing until the end of September, hopefully into October. Let's hope the Cleveland Browns, who begin play in September, have something to cheer about this season too.
Plan Your Next Adventure
Once you've sampled Cleveland's culture, we have some more recommendations for you. We've created a guide, Planning Your Next Adventure: Must-Sees and Travel Tips, to help you discover your newest favorite getaway. Download it today to find close-to-home day trips, national parks, booking tips and more!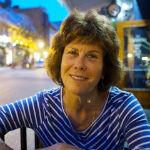 In the past, Molly Kavanaugh frequently wrote about Kendal at Oberlin for the Cleveland Plain Dealer, where she was a reporter for 16 years. Now we are happy to have her writing for the Kendal at Oberlin Community.