Holiday music and movies,
Colorful lights and ornaments,
Religious and spiritual meetings,
Presents made and bought,
Festive parties and gatherings,
And food every step of the way.
Often during the holidays, we pass over healthy food and forgo good eating habits when confronted with scrumptious appetizers, plentiful buffets, cookie platters galore and festive drinks. What's the harm, we think as we overfill a plate with pastry puffs and rich dips, followed with the excuse, I don't want to be rude, as the host passes around desert trays.
Even the healthy food experts struggle during the holidays.
"I want to choose every deliciously decadent item I can get my hands on. And to be honest: I do — to some extent. But overall, it's important to keep your eyes on the prize during the holiday season, and the ultimate prize is your health," writes Cleveland Clinic registered dietitian Jennifer Willoughby.
Studies show that on average Americans gain 1.3 pounds over the holidays. We can add to that gripe our anecdotes about upset stomachs, sleepless nights and lethargy. But holidays don't have to center on food that adds pounds and aches. So, get over your guilt about being rude and think healthy as you eat your way through the holidays.
Healthy Holiday Eating Tips
The folks at Harvard Medical School came up with a dozen tips for eating healthy during the holidays. Here are 6 to try:
After finishing your first helping, give your stomach time to register that it's full. Take a 10-minute break and you might find you're not that hungry anymore;

Before heading out, eat a healthy snack such as apple slices with peanut butter, so you don't arrive famished;

Don't drink alcohol on an empty stomach, as it increases your appetite and reduces your self-control;

If the gathering includes dancing join in the fun, as it's a good way to work off calories, or take a walk break;

Go easy on the sweets, meatballs, fried foods, breads and creamy rich sauces, and make sure your plate includes veggies and fruits;

Be a discriminating buffet eater. Check out all your options before filling your plate.
"You don't need to deprive yourself, eat only boring foods, or take your treats with a side order of guilt. Instead, by practicing a bit of defensive eating and cooking, you can come through the holidays without making 'go on a diet' one of your New Year's resolutions," writes Patrick Skerrett, former executive editor of Harvard Health.
If you are asked to bring a dish to the party, bring a healthy one so you have at least one go-to. That doesn't mean it has to be boring. "Salsa with Scoops" is healthy and always a hit, either as an appetizer or side dish. Need a dessert? Mix up a batch of Fig and Ginger Truffles. (Recipes below)
While food might seem like the star attraction, put your real focus on spending time with family and friends – or meeting new people. Move away from the food table and get involved in fun and interesting conversations. Did someone mention table tennis (AKA ping pong) or a game of pool? That'll get you moving and burning calories. Or volunteer to play with the young party-goers.
Bubbly, punch, eggnog and other holiday drinks
We warned about drinking alcohol on an empty stomach, but there are other concerns when it comes to holiday drinks.
"Holiday beverages pack a lot more calories, fat, and sugars than people may realize," says Amy Keating, R.D., a dietitian in Consumer Reports' food lab.
Here are 5 tips from Consumer Reports about smart holiday drinking:
Skip eggnog, which is high in calories, fat and sugar, or drink just a small amount, preferably the low-fat versions.

Instead of sugary cocktails (mixed with tonic, colas, fruit juices and cocktail mixers) drink a Bloody Mary, or alcohol mixed with seltzer water. For even less calories mix up a virgin festive drink, such as seltzer water with a dash of grenadine.

Choose a low-alcohol wine, such as a Riesling, pinot grigio, or pinot blanc.

Select a small glass. "A review study from 2008 found people are generally bad at estimating the amount of wine—five ounces—that counts as one alcoholic drink. Looking at the data from 18 studies, the researchers calculated that in some cases people overpoured by as much as 40 percent," according to Consumer Reports.

Keep a large glass of water handy. Sip water while and in between drinking alcoholic drinks. It keeps your stomach full and your hands busy – two good ways to limit alcohol consumption.
If a punch is your preference, find out if it's spiked and what the ingredients are. Multiple fruit juices and sherbet means it's high in calories and sugar content, punch made with sparkling water and mixed with fruit slices and ice cubes less so.
For more information, try our guide to "Feed Your Body Right"
Cooking light under the holiday lights
Visit cookinglight.com for healthy holiday side and dessert recipes.
Here are two of our favorite recipes.
Fig and Ginger Truffles
Ingredients
2 cups dried black Mission figs or other dried figs (about 8 ounces)¼ cup crystallized ginger (about 2 ounces)1 tablespoon honey½ teaspoon ground cinnamon2½ ounces dark chocolate (60% to 70% cocoa solids), chopped
Directions
Remove the stems from the figs and discard. Put the figs, ginger, honey and cinnamon in a food processor and process for about 45 seconds, until the ingredients are finely chopped and begin to stick together. Roll the fig mixture with your hands into heaping teaspoon-size balls and set them on a baking sheet or plate lined with wax paper.
Place a small bowl over a saucepan containing barely simmering water over low heat. Make sure the water is at least 2 inches from the bottom of the bowl. Place half the chocolate in the bowl and stir until it is melted. Remove the saucepan from the heat and add the remaining chocolate. Stir until all the chocolate is melted. Remove the bowl containing the chocolate from the pan.
Roll the fig balls in the melted chocolate, one or two at a time, until they are covered. Place them back on the wax paper and then chill in the refrigerator until set, about 15 minutes. Serve at room temperature.
Makes 8 servings
Serving size: 2 truffles
Per serving: Calories 200; Total Fat 3.5 g (Sat Fat 2g; Mono Fat 0g; Poly Fat 0g); Protein 2g; Carb 45g; Fiber 6g; Cholesterol 0mg; Sodium 5mg
Salsa with Scoops
Ingredients
1 can black beans (drain and rinse)
1 can Mexicorn (drain and rinse)
2 avocados (chopped)
2 regular-sized tomatoes or 3 Roma tomatoes (chopped)
1 red onion (chopped)
1 package Good Season's Zesty Italian salad dressing mix
1/3 cup olive oil
¼ cup wine vinegar
Directions
Prepare and mix first five ingredients in bowl. In jar, combine Italian dressing, oil and vinegar, and shake. Add dressing just before serving. Combine and serve with Tostitos scoops.
NOTE: Once combined, this recipe is not a good leftover so only mix half if you are not going to use all at one time.
Can be served as an appetizer or side dish.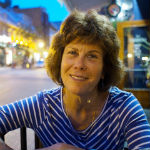 In the past, Molly Kavanaugh frequently wrote about Kendal at Oberlin for the Cleveland Plain Dealer, where she was a reporter for 16 years. Now we are happy to have her writing for the Kendal at Oberlin Community.