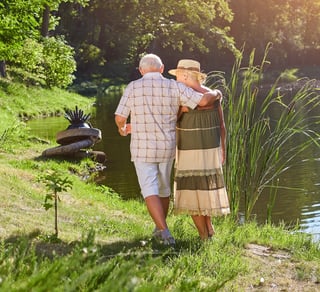 When we think about love, lots of images come to mind, from the serious to the small. We think about who we love, like our family and friends, including our furry four-legged ones, and what we love, such as walking along a sandy beach or indulging in our favorite sweet.
For some of us, love may include the intimate physical relationship of having sex with someone we love—true lovemaking.
But intimacy can be more than physical, and like water and food, we never outgrow our need for intimate relationships.
What is Emotional Intimacy?
The Institute on Aging took a look at intimacy and older adults in a report entitled "Sexuality and Intimacy Issues as We Age." Citing several sources, the writer, Patrick Arbore, offered these definitions of intimacy:
the capacity for eventual commitment to lasting friendships and companionship and, in particular, love;
a love relationship with another person where you offer and are offered validation, understanding, and a sense of being valued intellectually, emotionally and physically;
a way of relating to someone that involves development—mutual trust and a deepening and a qualitative transformation of the relationship.
And from the New Oxford American Dictionary: close familiarity or friendship, for example, the intimacy between a husband and a wife.
Challenges Older Adults Face
People who have a spouse or partner often face challenges maintaining an intimate relationship, both physically and emotionally, as they grow older. Illnesses and diseases, including dementia, can limit intimacy. But intimacy is still possible.
"There are many different ways to have sex and be intimate—alone or with a partner. The expression of your sexuality could include many types of touch or stimulation. Some adults may choose not to engage in sexual activity, and that's also normal," according to the National Institute on Aging.
Older adults who are single or widowed may have limited resources, including physical and financial, to develop new, meaningful relationships.
The AARP Foundation identified several risk factors associated with isolation include:
Living alone;
Mobility or sensory impairment;
Major life transitions;
Socioeconomic status (low income, limited resources);
Being a caregiver for someone with severe impairment;
Psychological or cognitive vulnerabilities;
Location: rural, unsafe or inaccessible neighborhood/community;
Small social network and/or inadequate social support;
Language (non-English speaking); and
Membership in a vulnerable group.
Ways to Reduce Isolation, Develop Intimacy
Like everyone else, older adults have discovered the possibilities of meeting someone special through an online dating site. Twelve percent of Americans between ages 55 and 64 used an online dating website or app in 2016, double the 2013 ratio, according to the Pew Research Center.
Dr. Pepper Schwartz, who met her boyfriend online, offers these eight tips for the 50-plus crowd interested in online dating:
Be sure you are ready to date;
Do your homework before signing up on a site;
Enlist your friends when picking a photograph and filling out your profile;
Avoid clichés in your profile, use distinct descriptions;
Don't limit your options;
Stay safe, including meeting at a safe, public space for the first date;
Take your time to get to know a person before making a commitment;
Be resilient, it may take a while to find the right person.
Finding New Relationships at a Retirement Community
Living in a retirement community is also a way to develop new relationships, sometimes intimate ones.
Writes Brad Breeding, president and co-founder of myLifeSite, "The opportunity to socialize with peers is one of the advantages of senior living communities, such as continuing care retirement communities (CCRCs, also called life plan communities). Not only do these communities offer a large group of potential friends who are in a similar place in life, but they also offer numerous scheduled events and activities to residents–everything from happy hours, to cooking and fitness classes, to affinity groups that share a common hobby or interest."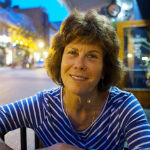 In the past, Molly Kavanaugh frequently wrote about Kendal at Oberlin for the Cleveland Plain Dealer, where she was a reporter for 16 years. Now we are happy to have her writing for the Kendal at Oberlin Community.