Published: November 10, 2022

Pre-pandemic when it came to entertaining, many older adults mostly thought it meant fine china, dinner and dessert, and matching table decorations. The pandemic taught us a lot about of the simplicities of being with friends and loved ones, whether BYOB around a fire pit or socially distant game nights.
So let's consider how can we combine the two to create enjoyable, stressless gatherings this holiday season.
Why socializing is important
Many of us realized how important socializing is to our well-being when the early days of the pandemic isolated us from others.
"We are social animals by nature, so we tend to function better when we're in a community and being around others," says Dr. Craig Sawchuk, a Mayo Clinic psychologist.
Benefits of socializing include sharpened memory and cognitive skills, enhanced happiness and well-being and feeling connected to others.
Inviting friends over is a good way to tap into your creativity, forget your woes and give you new memories and stories to share.
Make it Simple this Holiday
Cookie exchanges are a popular way to stock up on goodies and have fun in the process, but if cookies are not your thing consider other exchanges - candles (handmade or bought), ornaments (regifted or handmade) or favorite holiday books, for starters.
Or forget the exchange and just gather friends for a night of singing holiday carols (instruments optional) or to binge watch holiday movies (popcorn and candy optional).
Other ideas from CountryLiving include:
Head to the nearest ice skating rink, then end the night with hot chocolate at your house (get creative with the toppings);
Invite friends over for a gift-wrapping party;
Host a vintage party – you supply the punch have guests bring springerle or other old-fashioned cookies, a decoration from the '50s etc.
Fondue with friends;
How about a pamper party (find a massage therapist willing to give chair massages).
Get ideas from young ones in your life
Our grandchildren and other young ones in our life can teach us a lot about how to have simple fun. They dress up on days other than Halloween or throw a tea party for any old reason. Ditto for coloring or painting, so why can't you?
Our millennial friends have ideas too for simple entertaining.
Kelly Corcoran, Kendal's Marketing Manager, says "entertaining in our house includes considerations for gluten- free diets and vegetarians, while keeping the carnivores happy. When in doubt, a charcuterie board is always a crowd pleaser and easy to keep supplies on hand for when people pop over (which happens a lot). We had family over recently and the meal included Quinoa salad, baked potatoes, and a roasted Chicken. We love to cook and often get inspiration from celebrity chef's Instagram pages, like Ina Garten. We are usually inspired to host people after seeing a chef post a recipe on their social media accounts like an Apple Cider old fashioned or a Cauliflower gratin."
Kendal residents have found creative ways to entertain their guests too, whether it's playing miniature golf or bocci, or borrowing a board game from the library, says Anne Wardell. (New York Times tech columnist Kevin Roose says when he visited his grandparents Gretchen and Kenneth Roose at Kendal he liked to play table tennis.)
Speaking of games, how about a conversation game? Real Simple put together a list of three dozen fun conversation starters questions. Here are 5:
Which person at this table would make the best news anchor?
If you had a uniform that you had to wear every day, what would it be?
What's your celebrity baby name?
What was your most bizarre holiday purchase (or holiday gift)?
What new—and unexpected—hobby have you started this year?
Or you could pick up a book such as "If … (Questions for the Game of Life)" that is packed full of creative, thoughtful and engaging questions.
So here's a question for you: What is your favorite way to entertain friends?
Road Map to Residency
---
Moving to a new home is not an easy task. But it can mean an exciting new beginning.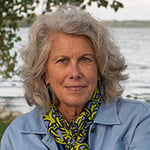 In the past, Molly Kavanaugh frequently wrote about Kendal at Oberlin for the Cleveland Plain Dealer, where she was a reporter for 16 years. Now we are happy to have her writing for the Kendal at Oberlin Community.
About Kendal at Oberlin: Kendal is a nonprofit life plan community serving older adults in northeast Ohio. Located about one mile from Oberlin College and Conservatory, and about a 40 minute drive from downtown Cleveland, Kendal offers a vibrant resident-led lifestyle with access to music, art and lifelong learning.