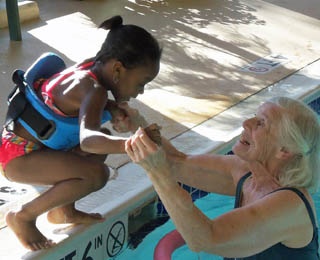 Ask your favorite young friend to "exercise" with you, and you'll likely be heading out the door alone.
But what about an invitation to walk, bike, hike, swim or golf together? One of those activities could easily turn into a fun – and healthy – intergenerational outing.
A Perfect Match
Whether you have grandchildren, nieces and nephews or youngsters in your neighborhood or church, spending time together can be a good time for both of you.
The energy and enthusiasm of children is contagious. Plus, going on an outing gives you a glimpse into the lives of their generation, whether it's clothes or culture, and a chance to enrich your worldview.
For children, a chance to get special attention from an adult – other than a parent or teacher – can be a rewarding experience. And, sadly, the younger generation needs to do a better job of embracing exercise.
"With childhood obesity rates at an all-time high, it's more essential than ever to keep children from being too sedentary," writes Amy Goyer in an AARP article.
Let's Get Moving Indoors
Nintendo Wii and other gaming systems geared for fitness is a great activity for all ages, Amy writes. "Studies have shown that Wii games, such as bowling, baseball and tennis and other Wii Fit activities improve balance and coordination among older adults. Capitalize on your grandchildren's interest in entertainment media but get them moving. You might even be able to beat them at this type of video game!" she explains.
Have access to table tennis, or what was long ago called ping-pong? At Kendal at Oberlin, for instance, tables are set up several times a week for all to enjoy. The activity offers many health benefits for older adults, from increased energy and focus to improved balance and mobility. And most children love any activity that involves a ball and a chance to win.
Many retirement communities also offer indoor pools, with time set aside for family swims. Community centers also do the same, often with discounts for older adults.
Whether indoors or out, swimming is the fourth most popular sports activity in the United States, according to the Centers for Disease Control and Prevention. "People report enjoying water-based exercise more than exercising on land. They can also exercise longer in water than on land without increased effort or joint or muscle pain," the CDC explains.
Health benefits for young and old include:
Decrease in arthritic pain;
Improved mood and less anxiety;
Improved bone health.
Biking and Hiking
The opportunities for young and old to bike safely together have never been greater. As more and more unused railroad tracks are converted into trails for biking and other non-motorized activities, you can stay off of busy roads and enjoy a leisurely ride with easy access to restrooms and water.
According to the Rails-to-Trails Conservancy, there are more than 240 rails-to-trails in the United States.
Many communities offer special biking events for all ages, such as a full moon ride. Visit your local bike shop for brochures and other information.
But wherever you plan to bike, always wear a helmet and bright clothes and follow these other safety tips.
Hiking adventures abound too, and can be as simple as following a flat trail in a park to climbing a mountain.
The Wilderness Society lists 10 tips for hiking with children. Here are 5 of them:
Include time for children to stop, look and explore, whether it's with a camera, binoculars or the naked eye;
Along with the essentials (map, sunscreen, first aid supplies, food and water), also pack wet wipes, lip balm and safety whistles;
Plan frequent stops for water and snacks (healthy and kid-favorite ones);
Teach young hikers about the importance of taking all trash with you, maybe even an extra bag to collect trash along the way;
And finally, make it fun. "Create games that you and your children can play out on the trail. Have them look for signs of wildlife (scat, bird holes in trees, fur) or count wildflower species. Organize a scavenger hunt and have them find things that are bumpy, smelly, small, big, living, wet…the list goes on!" according to The Wilderness Society.
Look for Novel "Exercises"
Impress your younger friend by introducing him or her to a new physical activity, such as footgolf, stand-up paddle boarding or hiking yoga. You can learn a new skill together, and enjoy the laughter and self-confidence that comes with it. Just don't call it exercise!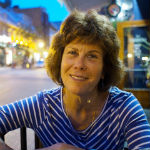 Molly Kavanaugh frequently wrote about Kendal at Oberlin for the Cleveland Plain Dealer, where she was a reporter for 16 years.