Published: April 12, 2023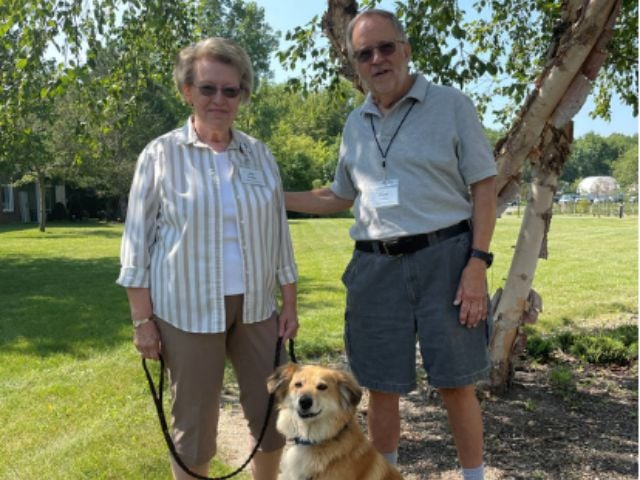 Kendal is home to more than 300 men and women in their 60s and well beyond. They come from near (Oberlin and Cleveland) and far (Hawaii, Canada and elsewhere). The residents share many common values, such as sustainability and lifelong learning, and many have ties to Oberlin College. But each resident has his or her own unique story, and throughout the year we'll be sharing some of their stories with you.Gerry Findlan retired from Kendal May 31, 2021 and the next day moved into Kendal with his wife Ann. "When they asked if we wanted a tour of Kendal I said, 'No, I think we're OK,'" Gerry said with a laugh.
Along with their rescue dog Traci, the couple brought along their volunteer can-do spirit and as soon as pandemic restrictions eased they were back at it, and adding new activities at Kendal.
"Having been in social service jobs all of my work life I always appreciated volunteers who came to Murray Ridge. When I retired I looked forward to doing so," Ann said.
Throughout April we celebrate National Volunteer Month, which is a cause for celebration at Kendal, home to lots of men and women who are volunteer extraordinaries. Today we highlight two of them.
National Park, library books and more
Ann and Gerry Findlan moved to Oberlin in 1986 to work at nearby Murray Ridge Center, which serves developmentally disabled citizens in Lorain County. Ann and Gerry both retired from the center in 2006. Though Gerry got a new job in Kendal's Facility Services, they both began volunteering in earnest.
They are big fans of the U.S. National Parks – to date they have visited close to 300 national parks, historic sites and national monuments - so it was only natural Ann and Gerry would volunteer at Ohio's sole national park, the Cuyahoga Valley National Park, specifically its Conservancy.
Once a week the couple heads to the park and lends a hand in the Conservancy main office in Peninsula or the Environmental Education Center, working on fundraising, putting together training programs or other tasks. Sometimes they take a hike or return at another time to do so with Traci.
Closer to home is the Oberlin Public Library. Gerry is currently on the board of the Friends of Oberlin Library, Ann is a former board member, now a member who helps out with book sales. The couple also volunteers for Golden Retrievers in Need (G.R.I.N.) by assisting with donor letter mailings. (By the way they adopted two previous Goldens from G.R.I.N, Traci is a mixed breed they adopted from the Medina County SPCA.)
Twice a week Ann heads off to Mercy Health - Allen Hospital, also in Oberlin, to greet visitors at the front desk or train new volunteers. She's also treasurer of the hospital auxiliary.
Gerry is active on many volunteer boards - secretary of the Rotary Club of Oberlin, member of Sacred Heart Church's finance committee and board member of the City of Oberlin Board of Zoning Appeal, among others.
At Kendal, Gerry co-chairs the "big bus" tours with Kathy Hazelton. This involves lots of logistics, organizing day trips for up to 55 people to regional art museums and other destinations. He's also on the pet committee and often he, Ann and Traci join the Sunday pack walks.
As for Ann, she co-chairs Kendal's Volunteer Clearinghouse Committee with Anne Elder. Currently they are updating a booklet for residents entitled "Local Community Volunteer Opportunities."
Other volunteers at Kendal
Like we said earlier, volunteerism is part of Kendal's DNA, and every year the life plan community takes the pulse of its unpaid service to see how the community is doing. Quite well, it turns out, according to the clearinghouse committee's recent tally.
The grand total of all hours reported by residents and staff in 2022 was 55,726, a significant increase when compared with the hours reported in 2021, and even higher than pre-pandemic 2019. These hours include both volunteer service within Kendal, a nonprofit continuing care retirement community, and in the larger community. More than 200 residents and staff reported their volunteer hours.
"Kendal residents and staff very much exemplify the Kendal values of generosity and responsibility (in the larger community)," Ann said.
Check Out Our New Gardening Guide:
---
Gardening is a great activity at all ages. Get helpful tips here!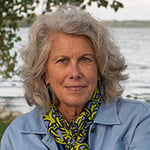 In the past, Molly Kavanaugh frequently wrote about Kendal at Oberlin for the Cleveland Plain Dealer, where she was a reporter for 16 years. Now we are happy to have her writing for the Kendal at Oberlin Community.
About Kendal at Oberlin: Kendal is a nonprofit life plan community serving older adults in northeast Ohio. Located about one mile from Oberlin College and Conservatory, and about a 40 minute drive from downtown Cleveland, Kendal offers a vibrant resident-led lifestyle with access to music, art and lifelong learning.