Published: July 26, 2023
Kendal is home to more than 300 men and women in their 60s and well beyond. They come from near (Oberlin and Cleveland) and far (Hawaii, Canada and elsewhere). The residents share many common values, such as sustainability and lifelong learning, and many have ties to Oberlin College. But each resident has his or her own unique story, and throughout the year we'll be sharing some of their stories with you.
Daughter of a Kendal founder, renowned musician with strong ties to Oberlin College and a long-time Oberlin resident - well, moving to Kendal was a "no-brainer" for Catharina Meints Caldwell.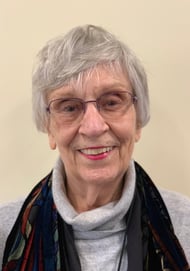 That was a year ago this September and Catharina has already sampled much of what makes Kendal special.
For instance, she moved in right before scheduled hip replacement surgery so she could stay in the Stephens Care Center for rehab. "I was cared for extremely well. The care center is so well run, and the physical therapy was fantastic," Catharina says.
In the spring she taught a Lifelong Learning class at Kendal on a subject dear to her heart – baroque music. Catharina was a cellist with the Cleveland Orchestra and former Associate Professor of viola da gamba, baroque cello and cello at the Oberlin Conservatory. "Time Travel Back to the 16th-18th Centuries Through Sound" was the title of her Lifelong Learning course.
"I thoroughly enjoyed doing it, and it made me realize I am not done teaching," she says.
Life before Kendal
In 1971 Catharina's husband Jim Caldwell was offered a professorship at the Oberlin Conservatory of Music as Professor of Oboe and she was offered a cellist position in the Cleveland Orchestra - both in a two week period.
The next year the couple launched the Oberlin Baroque Performance Institute, a summer workshop that just completed its 52nd year. In 2006 Jim died and Catharina retired from the Cleveland Orchestra, but she continued teaching part-time at the Conservatory. She retired from that position in 2020 and began making plans to move to Kendal.
Catharina's mother, Nelle Meints, moved to Kendal when it opened in the fall of 1993 and lived there 15 years, so the community was very familiar to Catharina. Her main challenge in the move, though, was downsizing from a large, custom-built house in Oberlin that housed the couple's extensive art and antique instrument collection to a two-bedroom plus den cottage.
"Many of the instruments came with me, others I sold or disposed of in good ways. It was a huge amount of effort, but I got a lot of help," she says.
One big assist was Kendal's online floor plans, which made it easy for Catharina to determine what and where things would fit in her new home.
Life at Kendal
Catharina, who also goes by Cathy, turned one of the bedrooms into a music room, a comfortable space for playing solo as well as with other musicians (Kendal and others) and giving private lessons.
Catharina also paints and submitted a couple of paintings in this summer's Kendal Creates exhibit.
"This show has a watercolor of a side view of the house and a small oil of an interior view which includes a French Art nouveau chair, part of a set I had to sell to downsize to fit into Kendal. The round door was Jim's first idea for the house—a combination of the SciFi series Stargate and the ancient Asian tradition of round doors. Most of the paintings of my house are on my walls with some in storage waiting to be cycled in and out for a seasonal variety."
She has also gotten involved with helping to plan the Kendal bus trips to Conservatory concerts.
But Catharina's "favorite" activity at Kendal is going to dinner. "I don't know who I'm going to sit with but almost always have a wonderful time meeting people, who have such interesting backgrounds and are entertaining," she says.
Catharina is still in the process of selling her home, which takes up a lot of time and energy. "Once that's behind me, I will feel like I can get more involved at Kendal," she says.
Learn More About Kendal at Oberlin – A Vibrant Community for Older Adults
---
Are you making plans for your future? Kendal at Oberlin offers an active lifestyle with opportunities for lifelong learning, art and culture.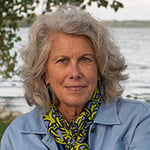 In the past, Molly Kavanaugh frequently wrote about Kendal at Oberlin for the Cleveland Plain Dealer, where she was a reporter for 16 years. Now we are happy to have her writing for the Kendal at Oberlin Community.
About Kendal at Oberlin: Kendal is a nonprofit life plan community serving older adults in northeast Ohio. Located about one mile from Oberlin College and Conservatory, and about a 40 minute drive from downtown Cleveland, Kendal offers a vibrant resident-led lifestyle with access to music, art and lifelong learning.