Published: September 18, 2023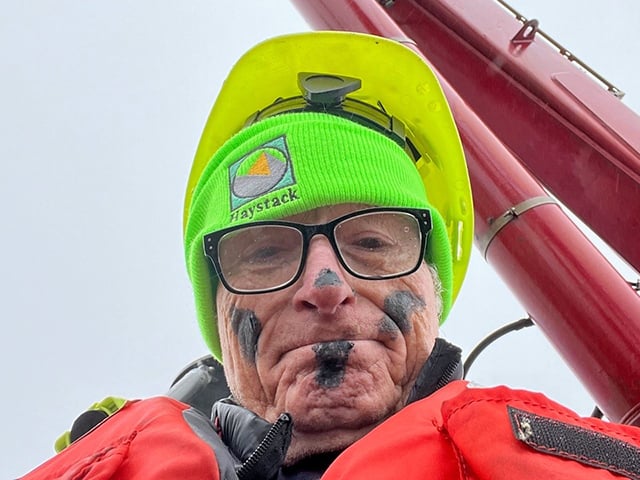 We introduce you to David Scholl in this edition of "The Faces of Kendal." Kendal at Oberlin is home to more than 300 men and women in their 60s and well beyond. They come from near (Oberlin and Cleveland) and far (Hawaii, Canada and elsewhere). The residents share many common values, such as sustainability and lifelong learning, and many have ties to Oberlin College. But each resident has his or her own unique story.
Geologist Dave Scholl left Nome, Alaska on August 9, 2023 aboard the 261-foot Research Vessel Sikuliaq with University of Alaska Fairbanks students plus scientists and crew, in all about four dozen people.
They spent five weeks and traveled nearly 3,000 nautical miles exploring an underwater area in the Bering Sea known as the Bering Land Bridge, believed to be a passageway thousands of years ago for humans and animals between Asia and North American. The crew took samples and images of vegetation and sediment to analyze the environmental DNA of the area for future missions.
"I don't have a salary, but I'm by no means retired," says Dave, who was the crew's "elder statesman." Despite his senior standing, he was no match for the younger crew when it came to a "mud" competition. The crew tried to cosmetically improve their looks with facial slashes of Bering Sea mud, some as old as 21,000 years. Dave says he did not see any improvements.
Dave's Journey to Kendal
In 2012, as Dave, a California native living in Silicon Valley, was ending a research meeting in Nice, France he found a Road Scholar trip beginning in Rome that he decided to join. Over the years he and his wife had taken many Road Scholar trips and he continued to do so after her death in 2002.
Also on the trip was Bunny Hensley from Cincinnati. She had planned the trip with her husband, but sadly he died beforehand, so a girlfriend joined her.
Dave and Bunny met on the second day of the trip as they walked to the Roman Forum. He was intrigued by her hopscotching across streets, she by his bright yellow backpack. They were married nine months later while on a second Road Scholar trip sailing off the coast of Maine. The captain performed the ceremony on Babson Island during a lobster bake. "I think the whole wedding cost me $80," Dave says.
Once married Bunny moved to California but the go-go-go California lifestyle did not suit her, Dave says. "Bunny is a Buckeye, she really wanted to get back to Ohio and here to Kendal," where her mother lived. The couple's move to Kendal was delayed a couple of years because of COVID, but last summer everything fell into place.
"It was not a hard adjustment for me moving to the Midwest and to Oberlin. I like the people here and the Cleveland airport is nearby so I can easily travel," he says.
Looking ahead
Dave says he really hasn't had time to get involved in the Kendal community or the Oberlin College science community what with the cross-country move and the monthlong research cruise.
He's planning a presentation about the Bering Land Bridge for Kendal's Science Discussion Group and hopes to be able to return to the Bering area on a future voyage of R/V Sikuliaq's (pronounced See-KOO-lee-auk and translated from Inupiaq as "young sea ice.")
The vessel is state-of-the-art, which for an elder scientist with years of research under his belt was magical. "To me it was like Alice stepping through the Looking Glass," he says.
Learn More About Kendal at Oberlin – A Vibrant Community for Older Adults
---
Are you making plans for your future? Kendal at Oberlin offers an active lifestyle with opportunities for lifelong learning, art and culture.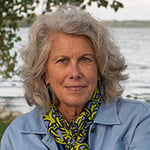 In the past, Molly Kavanaugh frequently wrote about Kendal at Oberlin for the Cleveland Plain Dealer, where she was a reporter for 16 years. Now we are happy to have her writing for the Kendal at Oberlin Community.
About Kendal at Oberlin: Kendal is a nonprofit life plan community serving older adults in northeast Ohio. Located about one mile from Oberlin College and Conservatory, and about a 40 minute drive from downtown Cleveland, Kendal offers a vibrant resident-led lifestyle with access to music, art and lifelong learning.