Published: December 14, 2022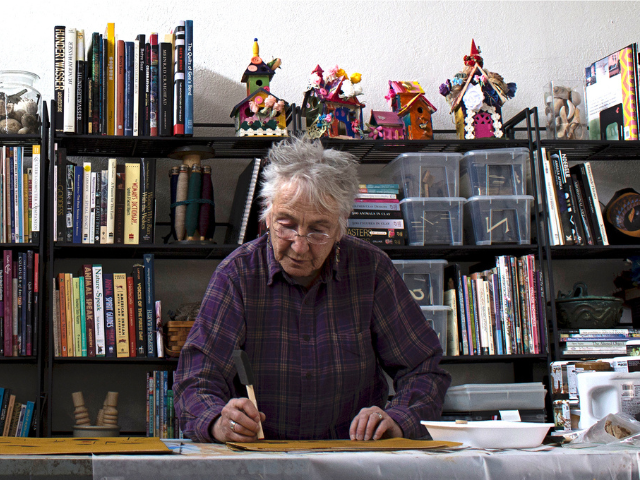 Kendal is home to more than 300 men and women in their 60s and well beyond. They come from near (Oberlin and Cleveland) and far (Hawaii, Canada and elsewhere). The residents share many common values, such as sustainability and lifelong learning, and many have ties to Oberlin College.
But each resident has his or her own unique story, and throughout the year we'll be sharing some of their stories with you.
A couple of years ago while sitting on Kendal's Buttonbush Bridge holding a piece of bark, Helene Aarons came up with the idea for her latest artwork, called "dimensional collages." These 3D pieces contain her original multi-layered stencil paintings, accented with found gems from nature ("my spiritual teacher") and flea markets.
"Finally I finish fussing and glue these used, found objects to the background painting, often combing them in a whimsical manner. And viola, a piece of artwork is born!" Helene explains in the Artist Statement that accompanies her exhibit, now on display in Kendal's Community Gallery.
This is Helene's first solo show, but she has been working on art all her life and in earnest since she retired and moved to Santa Fe.
From Southwest U.S. to Northern Ohio
"I wanted to see how much of me was an artist," she says, in explaining her move from Boulder, Colorado, where he worked for the federal government in land management.
The New Mexico city had everything she wanted – art, culture, a Native American community plus sun, spacious landscapes, hiking trails and eclectic cuisine.
What it didn't have was the level of medical care she needed following her stroke several years ago, and so she decided to head east to Kendal at Oberlin.
When Helene arrived at Kendal in late 2019, she was coming to a community very familiar to her. Her mother Helen Schwimmer lived at Kendal for 14 years and sisters Dorothy Luciano and Charlotte Elsner currently live there, along with brother-in-law Joe Luciano. A third sister lives in Oberlin.
Along with working on her art in Kendal's Craft Room, Helene has found other activities of interest on campus. She volunteers at the Resale Shop, and is involved with the dementia friendly and recycle study groups.
In Oberlin, Helene is a volunteer at the Firelands Association for the Visual Arts (FAVA) and Oberlin Community Services and attends many of the Oberlin Conservatory of Music concerts.
And she's beginning to explore Gordon Square, Cleveland Heights and other "art pockets" in the area.
Community life throughout her life
Helene says she is a hippie at heart. She's lived in a teepee and various communes throughout her 83 years, so community life is not new to her. Now, though, her walking is restricted and she uses a rollator to get around.
"I'm learning how to slow down, how to be a really good listener. I have a small circle of really good friends and from my apartment window I look out on Buttonbush Bridge and it makes me feel like I am in a treehouse," she says.
And always, finding time to spend on her artwork, which she describes as "an effort to nourish the best in me."
If you want to learn more about Helene's artwork consider attending her Artist Talk on Jan. 12 at 4 p.m. in the Heiser Lounge. "I had so much fun making them, I want to share my joy," she says.
All guests will need to follow visitor guidelines upon arrival.
---
Moving to a new home is not an easy task. But it can mean an exciting new beginning.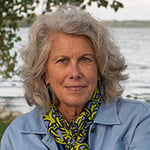 In the past, Molly Kavanaugh frequently wrote about Kendal at Oberlin for the Cleveland Plain Dealer, where she was a reporter for 16 years. Now we are happy to have her writing for the Kendal at Oberlin Community.
About Kendal at Oberlin: Kendal is a nonprofit life plan community serving older adults in northeast Ohio. Located about one mile from Oberlin College and Conservatory, and about a 40 minute drive from downtown Cleveland, Kendal offers a vibrant resident-led lifestyle with access to music, art and lifelong learning.