Published: August 8, 2023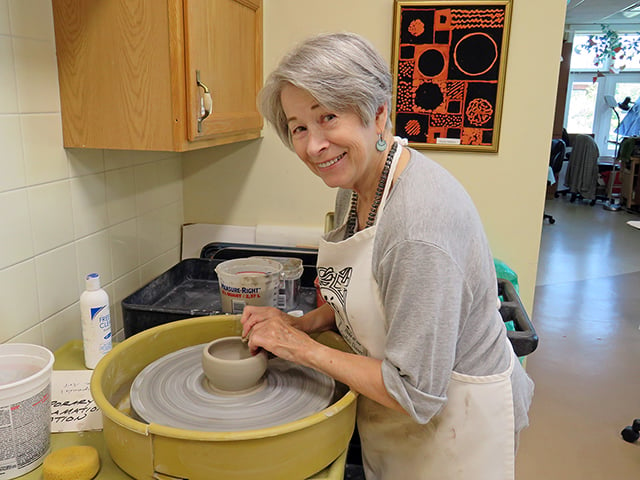 Kendal is home to more than 300 men and women in their 60s and well beyond. They come from near (Oberlin and Cleveland) and far (Hawaii, Canada and elsewhere). The residents share many common values, such as sustainability and lifelong learning, and many have ties to Oberlin College. But each resident has his or her own unique story, and throughout the year we'll be sharing some of their stories with you.
Six months after moving into Kendal, Kathleen Cerveny has found her footing. She's made new friends, continued pursing former passions such as poetry and pottery while exploring new ones, and has found her personal space within this vibrant retirement community.
Here are 3 takeaways.
Moving, mentors and maps
Kathleen moved from nearby Cleveland Heights, so the Oberlin area was somewhat familiar to her. But still moving to a life plan community is a huge undertaking, and her mentors Jack and Kathleen Secrist stepped up before day one to help with the transition. During that first phone call, the couple told her about Kendal meal plans, which can be confusing to a novice, local doctors, shopping and more.
"They greeted me on the day of the move-in (March 2) and stayed while the movers were here. Later they gave me a tour of the Oberlin area and have invited me to lots of dinners. They really worked to get me embedded," she says.
Now she considers the couple good friends and has designated Kathleen her "buddy" whom she texts every morning, a safety practice Kendal recommends for single residents.
Like any volunteer program, mentor participation varies, which is why both Kathleen's and other residents would like to implement mentor training 101. "And yes, I would think about being a mentor someday," she says.
Kendal is located on 110+ acres and has 225 cottages and apartments spread out around 17 parking lot areas, which means it is easy for newcomers and visitors to get turned around. Kathleen relied on a campus map found on the resident website, plus got lots of assists from other residents.
Speaking of moving to a large and active retirement community like Kendal, Kathleen recommends that new residents schedule a meeting with the president of the Kendal at Oberlin Residents Association (KORA) to learn all the ins and outs. "I didn't do that, but I had the very best mentors on the planet, and they helped," she says.
Finding the right balance
Kathleen had an active life before moving to Kendal and didn't want that to change. She continues to meet with her poetry circle of 20 years back in Cleveland Heights and will resume teaching "Principles and Practices of Arts Management" this fall at Baldwin Wallace University in Berea. Plus, she maintains a blog of essays.
That means she has to sometimes say "no" to Kendal activities. Plus, Kathleen is an introvert ("an extrovert if I need to be") and values her time alone.
"I've gotten good at saying 'I don't think that is something I can commit to,'" she says, adding, "It is possible to maintain quiet time while living in a community. People will leave you alone."
A couple of things that Kathleen has said "yes" to is the Art Studio. She joined the Art Studio committee and enjoys using the equipment to make pottery (she submitted several flower arrangement containers to Ginko Gallery to sell) and recently led a ceramic wind bell project.
"I'm so delighted to have such easy access to the Art Studio, and I can go there any time I want," she says.
She's also a bluebird nest monitor - Kendal has 15 boxes on campus - and participated in this summer's biennial exhibit Kendal Creates.
More to come
Kathleen looks forward to exploring the Lorain County Metro Parks system and local orchards and markets, such as Aufdenkampe Family Farm in Vermilion where she went to pick strawberries.
"I also want to spend more time at the Allen Memorial Art Museum, which is really wonderful, and it feels like it's time to get another tattoo. I have an owl, which is my totem, and haven't decided what's next," she says.
---
A Guide to Oberlin, Ohio Dining, Shopping, and Attractions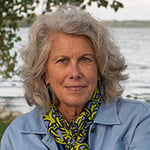 In the past, Molly Kavanaugh frequently wrote about Kendal at Oberlin for the Cleveland Plain Dealer, where she was a reporter for 16 years. Now we are happy to have her writing for the Kendal at Oberlin Community.
About Kendal at Oberlin: Kendal is a nonprofit life plan community serving older adults in northeast Ohio. Located about one mile from Oberlin College and Conservatory, and about a 40 minute drive from downtown Cleveland, Kendal offers a vibrant resident-led lifestyle with access to music, art and lifelong learning.