Published: October 25, 2023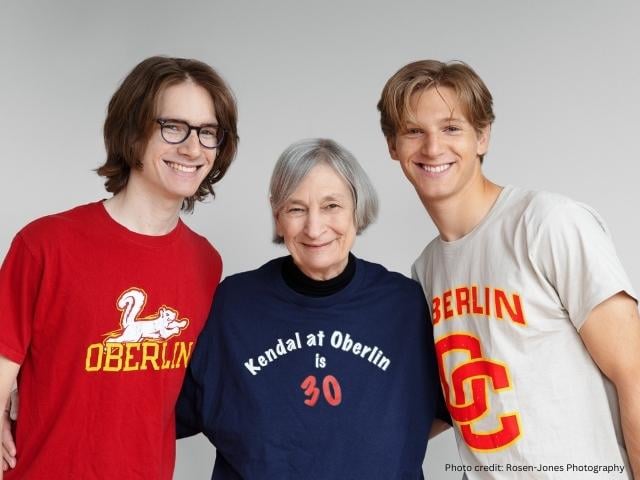 Kendal at Oberlin is home to more than 300 men and women in their 60s and well beyond. They come from near (Oberlin and Cleveland) and far (Hawaii, Canada and elsewhere). The residents share many common values, such as sustainability and lifelong learning, and many have ties to Oberlin College. But each resident has his or her own unique story. Here is Nanette Holben's story.When Ben Jones moved to Oberlin in 2008 to take a job at Oberlin College, it wasn't long before he started talking up the attributes of nearby Kendal at Oberlin to his mother in Pennsylvania. Nanette Holben (Nan) liked what she heard and saw, and this summer, 15 years later, she made the move.
"I wanted to be near my family, and I know they're here to stay," Nan said. "And I saw immediately what a vibrant community exists at Kendal—intellectually, socially, and even physically!"
Ben, her only child, is the college's Assistant Vice President of Admissions Communications. His wife, Tanya Rosen-Jones, is a professional photographer with a studio in Oberlin. Both Ben and Tanya are Oberlin alums, and now their two sons, Emerson, left, and Asa Rosen-Jones, right, are Obies.
And, in a way, so is Nan.
"Before I even came, I knew I wanted to audit a class at the college every semester. My first class is focused on Ukrainian literature and film in the 20th century. I'm taking it with another Kendal resident, Mary Van Nortwick. Both of us are of Ukrainian heritage, and found each other at Kendal soon after I arrived."
It's been a busy summer
After years of thinking about the move to Kendal, Nan's plans ran into a snag the night before she moved in. Exhausted from her 9-hour drive from Philadelphia, she spent the night at Ben's and in the middle of the night had a misstep that sent her tumbling down a flight of stairs. She broke several bones in her left foot and arrived at Kendal the next day in an orthopedic boot.
"While the injury made moving in more challenging, I was so wonderfully treated by Kendal staff, who brought me all my meals and helped out in any way they could. It was so good to know that they were there," she says. "My nearby Kendal neighbors were equally thoughtful and supportive."
Kendal's on-site physical therapy department also made Nan's recovery easier.
Now back on her feet, Nan is on the move. Along with attending the college class twice a week (and keeping up with all the reading), she's already on Kendal's horticulture and philanthropy committees.
Her background is in nonprofit development, most recently as Director of Philanthropic Resources at the American Philosophical Society in Philadelphia. The APS was founded by Benjamin Franklin in conjunction with botanist John Bartram, for whom the Kendal arboretum is named. "When I saw that," she said, "I knew I was in the right place." Unsurprisingly, Nan herself is a passionate gardener.
Nan's also helping to informally gather residents who share two of her special interests – Peace Corps (she was stationed in Libya in the late 1960s) and Bryn Mawr College (she just celebrated her 55th reunion).
The family connection
Many residents, though, know Nan as "Asa's grandmother." College freshman Asa worked in Kendal dining services during his high school years (even delivering meals to cottages and apartments during the pandemic), and he is still working in the dining room on Sundays. Nan's son Ben is also a familiar face at Kendal. He's been a member of the marketing committee for more than a decade.
As Ben says in his Oberlin College bio: "If you have any questions about pretty much anything Oberlin-related, I'm probably your guy," so Nan doesn't have to look far for information about her new hometown.
---
A Guide to Oberlin, Ohio- Dining, Shopping, and Attractions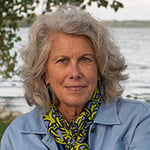 In the past, Molly Kavanaugh frequently wrote about Kendal at Oberlin for the Cleveland Plain Dealer, where she was a reporter for 16 years. Now we are happy to have her writing for the Kendal at Oberlin Community.
About Kendal at Oberlin: Kendal is a nonprofit life plan community serving older adults in northeast Ohio. Located about one mile from Oberlin College and Conservatory, and about a 40 minute drive from downtown Cleveland, Kendal offers a vibrant resident-led lifestyle with access to music, art and lifelong learning.