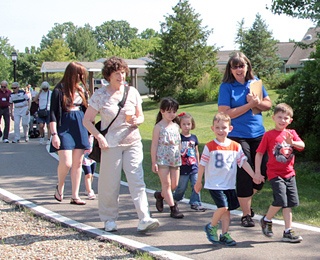 Every spring, Jerry Berner takes to his bully pulpit to promote the benefits of Fun Fitness Week at Kendal at Oberlin, the key word being "Fun."
"We have a fitness room, exercise classes – this week you're not just getting your fitness, it's fun too. And it's about participation not performance. We do not keep results of scores," Jerry tells residents and staff members.
Fun Fitness Week is held in June and consists of five days of playful and creative fitness games and events, held both outside and in. There are activities for all ages, including children in the Kendal Early Learning Center, and all levels of mobility, including residents who use a wheelchair.
The 12th Fun Fitness Week is now in the books, and Jerry, who co-chairs the event with Wellness Coordinator Jill Connone, has lots to report.
183 residents, 96 staff and 20 children participated;
22 activities were held, five of which were completed at the participant's convenience (observation walk, cycling, lap swimming or water walking, perimeter walk and miniature golf);
3 events were designed for residents in the Stephens Care Center;
children participated in 5 events;
some especially fun-filled events were the water balloon toss and Wii games.
the most popular events were Baggo (a bean bag toss game), bowling (using lightweight balls and pins), and observation walks
"Lunch is the most popular event – it's held on the last day and free for anyone who participated in at least one activity," Jill said. The meal features healthy foods, such as fruit, salads and whole wheat bread.
The idea for Fun Fitness Week grew out of a conversation Jerry had with a man who was visiting Kendal and lived at a retirement community in Washington. The visitor was chair of the community's fitness committee and told Jerry about its popular Senior Olympics event.
"We could do something like that," Jerry and other residents thought. They decided to create a program that included staff, and focused on participation rather than performance.
In the beginning, they did post some stats, like the top three male and female participants, but the committee eventually decided to drop numbers altogether.
Every year soon after Fun Fitness Week is over, the 2-dozen committee members regroup to decide how to improve the following year. What events should be moved to another location or a different time slot? What events should be added or dropped?
"We're maxed for the number of events," said Jerry, who participated in 15 of the 22 events.
One of the new events in 2016 was a mini-obstacle course, coordinated by Katherine Caldwell, who moved to Kendal eight months ago.
"Jerry is quite a motivator. He makes an effort to get people involved," Katherine said.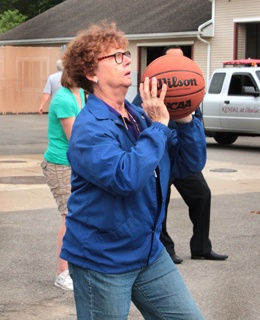 Katherine, a retired physical therapist, designed the course so residents could either walk or use a wheelchair. "It worked out," she said.
Katherine also participated in a number of events, including daily walks with her dog, Mylee, a walk with her 94-year-old aunt, who also lives at Kendal, and basketball. "I haven't shot hoops since high school," she said.
Other new events included a remote-controlled sailboat race on Kendal's Triangle Pond, badminton and mini-croquet.
One perennial favorite for Jerry, and his wife, Jeanne, is the observation walks. Instead of collecting items as if on a scavenger hunt, participants pick up a sheet of paper listing a route – find the pink flamingo in a resident's yard, a painting with six little chickens, etc.
This year there were three routes – two outside and one indoors.
"We did all three," Jerry said. "The observation walks bring people to different parts of the campus and you discover new things."
The walking relay race brings staff and residents together. Each team is comprised of 2 residents and 2 staff. "Some of the staff have to be admonished 'no running,' " Jerry joked.
Jill said one of the biggest benefits of Fun Fitness Week is the interaction between residents and staff. "Residents learn a little more about us, and vice versa," she said.
Photo Credit: Eleanor Helper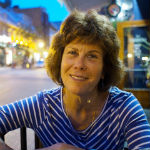 Molly Kavanaugh frequently wrote about Kendal at Oberlin for the Cleveland Plain Dealer, where she was a reporter for 16 years.