Published: November 10, 2020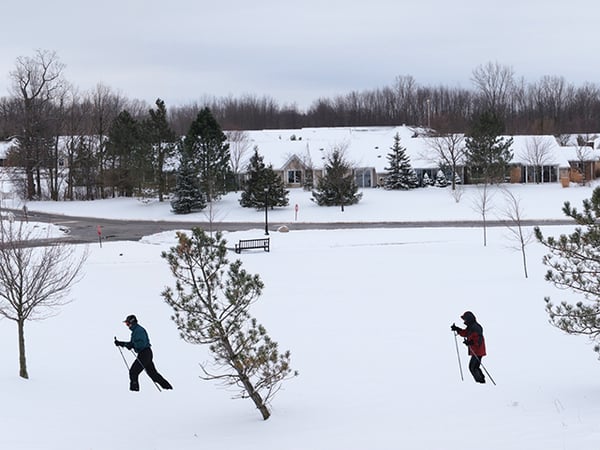 There's still a lot we don't know about COVID-19 but one thing is clear: the outdoors is safer than the indoors. So, Buckeyes, 'tis the time to winterize ourselves and our homes so we can embrace freezing temperatures, snow and sleet and whatever else Mother Nature blows our way.
Let's start by borrowing a familiar phrase from Scandinavia: "There's no such thing as bad weather, only bad clothes." There's even a book by that name, written by Linda Åkeson McGurk, a Swedish woman who married an American and moved to Indiana to start a family.
In her blog Rain or Shine Mama, she writes: "When kids are outside, they're naturally physically distancing. There are also fewer surfaces for viruses and bacteria to cling to. The children are getting sun exposure (Vitamin D) and exercise, both of which are crucial to a strong immune system. Plus, nature works wonders on children's mental health, as it's known to reduce feelings of stress and anxiety, and increase feelings of calm and happiness. Some of these effects are measurable after as little as 10 minutes outside."
These benefits ring true for adults too.
And in tandem with the "bad clothing" saying is another Scandinavian concept. "Friluftsliv is a Norwegian word that illustrates the commitment to celebrating time outdoors. And it doesn't have to be skating or skiing—it's a long walk outside, a picnic in the backyard, a hike through the woods, a bike commute, daily dog walks, or a drink at an outdoor heated (socially-distanced) patio," writes Blue Zones, based in wintry Minneapolis.
Good Clothes and Outdoor Gear
Base layers, boots, jackets, gloves, scarves and hats – the outdoor clothing market has never been deeper and more diverse. Two of the most popular stores are L.L. Bean and REI Co-Op, the latter which sells Patagonia, North Face, Columbia and other outdoor brands. Both outlets offer lots of expert advice too, like how to choose base layers and winter coats, even "how to go to the bathroom in the woods."
Good walking shoes or boots are always important, but especially in icy and cold conditions to prevent falls and hypothermia. Socks too, and again the selection is great. Plus, this year an extra layer of warmth is in style – a face mask or better yet, a balaclava.
Both stores sell gear, from snowshoes and winter bike tires to handwarmers and headlamps. Don't forget to bundle up Fido for your cold walks and hikes.
And winterproof your skin too. "Cover your face and use a petroleum-based lip balm. Skin protectants that include petroleum and creams with ceramides are effective as well. Remember that winter sun can also be dangerous to the skin. Even in the winter, you should use a sunscreen with a sun-protection factor of 15 or greater if you plan to be outdoors for prolonged periods," according to NewYork-Presbyterian hospital.
Winterizing Your Outdoor Space
If there was ever a time to clean out the garage, this is it. Forget keeping the car warm and dry this winter, use the space to keep your friends toasty for playing cards, watching TV, listening to or making music.
Depending on your space and interests, friends can safely and comfortably gather in and around an open garage with portable heaters (make sure any heating device is safe and appropriate for the space). Ditto for decks and porches – BYOB (blankets) and BYOC (chairs). No garage? Maybe an outdoor tent or canopy can help create a new outdoor space.
Festive outdoor lights and candles can warm the space too. So can hot chocolate and hot toddies but go light on spirits. "Drinking alcohol may make you feel warm because it causes blood to rush to your skin's surface. But it actually causes your blood vessels to widen and makes you lose heat faster. Drinking alcohol in the cold also decreases the shivering process, which produces extra body heat," according to the University of Rochester Medical Center.
Kendal Residents
Kendal residents walk year-round, utilizing the covered walkways and perimeter path when it is safe to do so. Clearing those walkways is a priority for snow removal crews. This winter, maybe we'll see more people bundle up and gather outdoors on patios, or in garages and carports.
"Probably my number one rule of thumb for mental well-being is to get outside within an hour of awakening, regardless of weather," says resident Robin Lauren, who plans to continue to do so as the days get short and cold.
"As far as clothing goes, losing your vanity is key. My wet winter night getup--the least flattering--consists of a sports bra, T-neck, a secondhand North Face jacket with a fickle zipper, a fluorescent raincoat, baggy yoga pants topped with waterproof Fila pants with torn pockets, Smartwool socks, and Walmart boys' boots. Headphones or earmuffs keep my head warm, and oversized men's biking gloves allow me to curl my fingers inside. After dusk, I wear enough flashing lights to merit Christmas tree status," she says.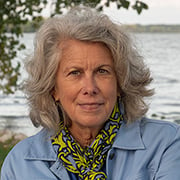 In the past, Molly Kavanaugh frequently wrote about Kendal at Oberlin for the Cleveland Plain Dealer, where she was a reporter for 16 years. Now we are happy to have her writing for the Kendal at Oberlin Community.