Published: April 13, 2022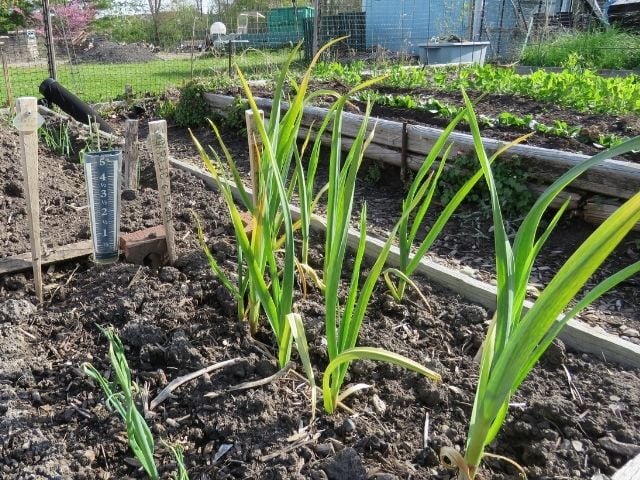 April is National Garden Month. While it may be a few more weeks before those of us in northeast Ohio can be sure that frosty nights are behind us, it's not too soon to plan and get your garden space in shape after a long Ohio winter.
Now is the time to clean up flower and vegetable beds and prune certain shrubs and trees. In general, shrubs that bloom in the summer (later in June and beyond) can be pruned now. Spring bloomers are likely budding already, and you may want to avoid pruning those until later in the year.
So many of us look forward to spring and thinking about the flowers and vegetables we want to grow. Rachel Duncan, Kendal at Oberlin Horticulturist and Arboretum Curator, says "Pay attention to other landscapes to find inspiration for your own." You may also find some help from the National Garden Bureau, which offers tips for inspiration in the garden.
Look for new ideas by visiting the websites and looking at photos of public gardens in your area. In northeast Ohio, two you might consider exploring are the Cleveland Botanical Gardens and Stan Hywet Hall and Gardens.
Planning for Your Garden
Once you have some plants in mind, do a little research. Rachel shares one of her favorite resources for researching plants – the Missouri Botanical Garden's Plant Finder website. It includes Information about size, blooms, nativity, cultural preferences (soil, moisture, sunlight, etc.), disease/pest susceptibility, and other interesting historical information for nearly 8000 plants!
During the pandemic, many people found that gardens were a safe and healthy place to be. Kendal at Oberlin resident, Nick Long moved to Kendal with his wife Lillie in 2020, and he was quick to reserve a spot in the Community Garden. He started his planning by drawing a sketch of the planting area, showing the dimensions of the total gardening space and areas that are sunny and shaded. He then broke down the space into smaller planting units of 2 ft. x 2 ft., using circles to show how much space each plant needed.
"And don't forget to leave room in your plan for steppingstones so you don't accidentally step on valuable plants," Nick says.
What's Happening in the Gardens at Kendal?
Spring cleaning and planning are well under way for the Community Gardens, the Courtyard Garden and shared gardens throughout the campus. The Horticulture committee has started plants for general use, as well as plants to be sold in the annual spring plant sale.
April is a good time to plant new trees. Rachel and Kendal's Arboretum Committee have a number of trees and plants to add to the landscape this spring - including 4 commemorative trees and the delicious, healthy, and native Elderberry shrub.
Don Parker and a team of about a half-dozen fellow residents just recently spruced up some of the buildings and figurines that grace the Hoot 'n' Holler garden railroad on the north side of the Kendal campus. Fresh paint and minor (maybe a few major) repairs have the pieces looking as good as new. As Don said, "It takes a village to create a village."
The Benefits of Gardening for Older Adults
For older adults, there are several benefits to gardening. It's a great way to stay active and enjoy the fresh spring air. Modest exposure to sunlight helps your body create Vitamin D – just keep the sunscreen handy if you plan to be outside for a while. And it's certainly good for your mental health too.
A recent article in WebMD tells us several positive ways that gardening affects mental health:
Improves mood. Just spending time around plants eases stress for many people.
Boosts self-esteem. When you see your hard work pay off with healthy plants, your sense of pride gets a boost.
Improves attention span. If you struggle to stay focused on tasks, conversations, or topics in your daily life, gardening can help you learn to concentrate on the task at hand without getting distracted.
Provides exercise. Regular exercise reduces anxiety, depression, and other mental health issues, and can even help prevent dementia. If you don't like going to the gym, gardening can be a fun way to get these benefits.
Encourages social bonds. Gardening with others at a community garden or other group setting takes teamwork and creates social connections.
So, what are you planning to grow in your garden this year? Feel free to comment and let us know.
Check Out Our New Gardening Guide:
---
Gardening is a great activity at all ages. Get helpful tips here!
Author Terry Kovach is Kendal at Oberlin's Director of Sales and Marketing, and has worked for Kendal since 1995.
About Kendal at Oberlin: Kendal is a nonprofit life plan community serving older adults in northeast Ohio. Located about one mile from Oberlin College and Conservatory, and about a 40 minute drive from downtown Cleveland, Kendal offers a vibrant resident-led lifestyle with access to music, art and lifelong learning.