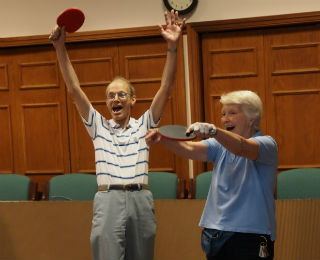 The gift-giving season is not quite over. Now it's time to think of a gift – or two – to give yourself. And there's no better time to do so than now, as the New Year approaches.
If your ideal gift is in a store, and you can afford it, go for IT! But how about thinking outside of the store and showering yourself with a gift for your body, mind and/or spirit?
Strengthen your Body
Some people "exercise," others talk about running, swimming, biking, walking and the like. Whatever your word preference, treating your body to movement and activity is a lifelong gift.
The benefits are immense, especially as we grow older.
"Making exercise and physical activity a regular part of your life can improve your health and help you maintain your independence as you age," according to the National Institute on Aging.
Many gyms and exercise clubs offer discount memberships and other specials in January. But don't just look at price. Find an activity that sounds enjoyable and one that matches your physical ability. (Be sure to consult your physician if you have been inactive.)
A spinning class with a dozen other people of all ages, or working one-on-one with a personal trainer? Swimming with a buddy or signing up for Silver Sneakers, a national exercise program for older adults. Some clubs offer a free day or week pass so you can see if the fit is a good one. Often you don't have to join a club, but can pay just for a class or activity. Take time to explore.
Expand your Mind
Many public colleges and universities allow older men and women to enroll in academic classes tuition free.
In Ohio, the four-year universities and two-year technical colleges allow residents age 60 and older to attend classes at no cost. Participation is limited to classes with space available and must be approved by the instructor. In most cases, no college credit is earned and some costs (such as books, equipment and lab fees) may apply.
The Ohio Department of Aging maintains a list of all programs at Ohio public institutions. Some private schools also offer free programs. For instance, Kendal residents can sit in on a course at Oberlin College at no cost, with permission of the professor or instructor.
Many colleges also offer continuing education programs geared for older adults.
The Center for LifeLong Learning, affiliated with Lorain County Community College, holds classes at various locations, including Kendal. Topics range from computer and culinary skills to religious and historical issues. Typically there is a nominal fee.
Road Scholar maintains a complete list of lifelong learning centers in the U.S.
Nurture your Spirit
Caring for a loved one can be very challenging and exhausting, which is why caregivers often need an occasional break. Think of it as a vacation from your job.
Many skilled nursing centers offer respite care or temporary overnight accommodations for your loved one. Even though the stay may only be a few days long, you want to spend time at the center meeting staff and talking with families before making a selection. Consider just an overnight stay, before planning to leave your loved one for a week or longer.
Regardless of your circumstance, all of us can occasionally benefit from quiet time in a relaxing setting surrounded by nature. Many retreat centers, some with a religious affiliation, offer overnight accommodations and meals, with or without a program. Some rent hermitages, a cabin or cottage usually just for one person.
From spring to fall, Omega in Rhinebeck, New York, offers dozens of weekend and weeklong programs that focus on body, mind and spirit. From yoga to writing, chanting to meditation, the programs attract men, women and children, of all ages.
But you don't have to go away to nurture your spirit. You can start a meditation program in the comfort of your home. Just find a quiet time and space, a comfortable pillow or chair, and focus on your breath, a visualization or calming word.
"During meditation, you focus your attention and eliminate the stream of jumbled thoughts that may be crowding your mind and causing stress. This process may result in enhanced physical and emotional well-being," according to the Mayo Clinic.
So what gift are you going to give yourself this holiday season? Let us know.
Written By: Molly Kavanaugh