Published: November 18, 2019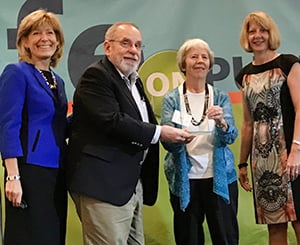 Kendal at Oberlin needs them. The city of Oberlin and surrounding Lorain County communities need them.
In this season of giving thanks, the retirement community and other nonprofits are filled with gratitude for Kendal residents who exemplify Quaker values year-round by sharing their energy and knowledge with others.
(Above Image: Kendal residents accept Volunteer Recognition award from LeadingAge Ohio)
Who Volunteers at Kendal at Oberlin?
"Kendal's residents are a collection of individuals who collectively bring centuries of experience in a wide range of fields. Engaging them in service to each other and to the larger community helps bring them closer to each other, which strengthens Kendal itself," says Dick Baznik, a resident and avid volunteer.
A snapshot of Kendal's volunteer engagement is impressive:
Every year, Kendal residents devote more than 47,000 hours of service to more than 80 nonprofit organizations in Lorain County;
The cumulative value of these volunteer hours is equal to approximately $17 million since the tracking began in 2000;
Community outreach efforts have impacted people of all ages, from toddlers to college students, low-income families and older adults with dementia.
Meet a Couple of Kendal's Volunteers
Anne Elder volunteers at several community organizations and for Kendal, where she chairs the Volunteer Clearinghouse Committee that tracks annual hours.
"Volunteering is a big part of Kendal because we do not have an activities director or social director. The residents all do the work to make things happen," she says.
Anne's activities in the larger community include reading with kindergarten children at Eastwood School in Oberlin and volunteering as a Court Appointed Special Assistant (CASA) for at-risk families in Lorain County.
"You are supposed to have completed service with a child as a CASA after two or three years, but my last family of four girls has extended until the youngest girl - in kindergarten when I first met her - will turn 18 this November, when her court supervision will end. That has been a long journey for all of us involved with the family," Anne says.
Over the years, other organizations that have relied on Kendal residents –hands-on and as board members - are Oberlin Heritage Center, Oberlin Community Services, Lorain County Habitat for Humanity, Second Harvest Food Bank, Community Foundation of Lorain County, the Alzheimer's Association and more.
Dick Baznik's volunteer projects include:
Managing director of MANA (Management Assistance for Nonprofit Agencies), a volunteer management consulting group that works with nonprofits and government agencies in Lorain County by providing advice on a wide range of topics, from governance and strategy to finance and marketing;
Board member of the Bill Long Foundation, a community foundation based in Oberlin that makes small- to medium-sized grants to nonprofit organizations in Oberlin that contribute to the cultural, educational and social fabric of the city;
Graphic designer and photographer of Eureka!, a literary magazine published three times a year by and for Kendal residents. (He also oversees the production.)
Like many volunteers, Dick has found that helping others enriches his life too.
"It allows me to continue to use and refine skills I developed during my career, such as writing and editing, community relations, strategic planning and senior executive search. It would be a waste to let those skills evaporate from disuse when they can benefit the community where we now live. I worked too hard to develop them.
"Plus, it brings me into contact with a wide range of people and issues, which contributes to my understanding of my adopted home and its residents, institutions, and issues," Dick said.

Related read: Volunteer opportunities in Oberlin >>


How Volunteering Benefits Your Health
Being involved in meaningful activities like volunteering gives one a sense of purpose - and that adds up to a healthier life, studies have found. From increased longevity to a reduced risk of heart disease, a purpose-driven life helps older adults thrive mentally and physically.
One study by the American Psychological Association looked at the effects of volunteering and found that individuals who helped others had better health and a longer life.
So as all of us give thanks for the men and women who enrich our lives at Kendal and elsewhere by being volunteers, all you volunteers should pat yourself on the back too.
Volunteering is good for others and good for you.
Live Life with Purpose Through Volunteering and More
Giving back to others through volunteering is one way to cultivate a sense of gratitude and purpose.

If you're interested in learning more about the benefits of purposeful living, our free guide can help you understand:
How to live a life guided by your values.
How to balance spiritual, emotional and physical health.
How living a purposeful life can be so good for you.
Download your free copy today to get started.
5 Ways of Living Life with Purpose
---
Studies show that people who feel they live a purposeful life tend to be healthier in body, mind and spirit.

In the past, Molly Kavanaugh frequently wrote about Kendal at Oberlin for the Cleveland Plain Dealer, where she was a reporter for 16 years. Now we are happy to have her writing for the Kendal at Oberlin Community.