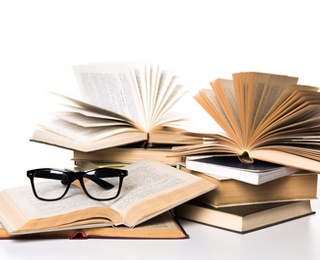 Pre-Kindle, my husband was a sporadic reader. Now his electronic reader is rarely out of reach – though black and slim, it's easy to overlook. At home, he sits wherever he wants, regardless of available light, and on vacation, he can finish one book and begin another without leaving poolside.
While I envy that freedom, I'm still stuck on paper.
I like the feel of the weight of a book and the paper in my hands. I like to highlight and make stars and other symbols next to words and passages. I like to see the coffee table and bookcase stacked with books of all shapes and colors. I like to flip through books to find a particular passage or poem, and find bookmarks and other scraps of paper I tucked inside. I like to visit the public library in my hometown of Berlin Heights and look at the book covers of new releases for ideas on what to read.
And some of my favorite reading material, such as Kendal at Oberlin's creative writing magazine Eureka! is not yet available electronically.
________________________________________
Get recommendations for top spiritual books here.
________________________________________
Guess I'm not alone, according to the results of a 2016 Pew Research Center survey that found "when people reach for a book, it is much more likely to be a traditional print book than a digital product. Fully 65 percent of Americans have read a print book in the last year, more than double the share that has read an e-book (28 percent) and more than four times the share that has consumed book content via audio book (14 percent)."
The survey also found that four in 10 Americans read print books exclusively, compared to 6 percent of readers who are digital-only.
But the variety of e-reading options continues to grow, including smartphones and tablets, and the technology is only going to get better.
So paper vs. electronic, you decide.
The Pros of Paper
Writer Lev Raphael reads both paper and electronic books, but prefers paper for several reasons, including health-related ones.
"Because I have maintenance insomnia, I've been advised to avoid computer and tablet screens for at least an hour before bed," he writes in The Huffington Post.
Studies have found that the bright light of a computer screen may alter the body's biological clock and suppress the natural production of melatonin, a hormone that helps regulate a person's normal sleep-wake cycle.
"But the key element is immersion," Lev concludes. "I can lose myself more readily in a well-written book when it's spread open in front of me, as opposed to when it's on either one of my tablets and I'm scrolling rather than turning physical pages."
The educational/entertainment website SuperheroYou lists 10 reasons to choose paper over e-books. Here are 3 of them:
They make great conversation pieces, but that conversation doesn't start unless people see the book you're reading. Plus, lending a beloved book is a lovely way to bond with a friend. Neither of these can happen with an e-reader.
Studies show you understand more when reading a paper book instead of an e-book.
Paper books can become collectible, with an author's signature, first editions and special covers.
The Electronic Experience
"A library in your pocket" is how writer Jo Walton explains her fondness for electronic reading.
"The eternal calculus of 'what am I going to read, what am I going to read next after it, is there enough of this book left for today or should I take another' is solved – I take it, if I finish the book, I start another. I don't have to think about it. If I feel like reading something different I can," she explains.
The compactness of an e-reader is certainly a big plus when packing for vacation, but Jo also finds it a bonus when commuting on public transit.
Other e-readers say they like the idea of no one knowing what they are reading (and maybe judging them because the book is a light read), the ability to read just about anywhere, and depending on the device, being able to quickly look up the definition of words and do other research.
Kindle first popularized e-reading, but now there's a lot of variety and quality to choose from, including dual-purpose tablets like the Apple iPad Mini.
The folks at Wiki.ezvid.com came up with the top 7 readers for 2016. Two of them are Kindles – the Paperwhite and Oasis.
Prices for entry-level readers have gone down, too, which means you don't have to choose paper or electronic; you can choose paper and electronic.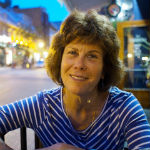 Molly Kavanaugh frequently wrote about Kendal at Oberlin for the Cleveland Plain Dealer, where she was a reporter for 16 years.