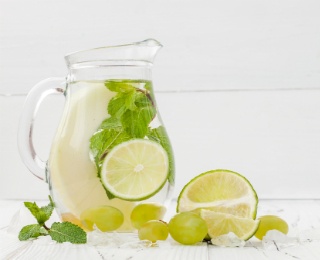 Water (regular, flavored, sports), soft drinks (name brand, specialty, diet), juices (fruits, vegetables), teas (flavored, sugar-free), milk (dairy, soy, almond, rice, coconut).
That's just for starters. Doesn't it seem that grocery stores are dedicating more and more aisles to beverages?
Well, it's not your imagination. "Consumers are increasingly looking to beverages to play new roles in their diets and health routines," reports the 2017 EcoFocus Trend Study.
Other study findings include:
Carbonated soft drink consumption continues to decline;

Almost two-thirds of shoppers are looking for drinks that contain calcium, fiber, reduced sugar and antioxidants;

Close to half want drinks that contain probiotics.
Sounds like shoppers are getting smart. For years, we've been told that sugary drinks can increase the risk of type 2 diabetes, heart disease, obesity and other chronic diseases. One study suggests diet drinks can increase the risk of depression for older adults.
Healthy Beverages
Shoppers today are looking for healthy beverages to drink, and the industry is responding. Below are several drinks with benefits supported by scientific research.
Let's Start with Water
Even with all the choices, H2O is still the best drink for you.
Not only does water keep you hydrated and help keep your organs operating normally, it has no negative side effects, and it is calorie-free. If water straight from the tap is not appealing, you can purchase a filter pitcher to keep in your fridge for a cold, refreshing drink.
Still not excited? Try adding fruit, veggies, or herbs for a healthy and natural boost of flavor. Crush some lemon or lime slices, fresh mint, strawberries, watermelon, orange, ginger, cucumber or raspberries and add them to your water for a refreshing infusion of flavor. Or pick up a favorite flavored water at your store.
"Water provides everything the body needs—pure H2O—to restore fluids lost through metabolism, breathing, sweating, and the removal of waste. It's the perfect beverage for quenching thirst and re-hydrating your system," according to the Harvard T.H. Chan School of Public Health.
Tea Tops the List, Too
The tea aisle is packed full these days too. No wonder, given its health benefits.
"There doesn't seem to be a downside to tea," says American Dietetic Association spokeswoman Katherine Tallmadge, MA, RD, LD. "I think it's a great alternative to coffee drinking. First, tea has less caffeine. It's pretty well established that the compounds in tea—their flavonoids—are good for the heart and may reduce cancer."
Green tea has been studied extensively, and its antioxidants may help reduce growth of some cancers, prevent clogging of the arteries and reduce risks of stroke and neurological disorders, according to WebMD.
Black, white and oolong teas also have antioxidants that offer health benefits. There's been limited research on herbal teas. In 2015, a University of Texas study of Mexican-American women 65 and older found that drinking chamomile tea over a 7-year period was associated with a decreased risk of death.
Other Beverage Alternatives
Overall, fruit juices contain large quantities of sugar and calories, but are good in small amounts. You can easily lighten up your fruit juice by adding a few ounces of juice to regular seltzer water or pouring a few splashes over a glass of ice.
You can also reach for vegetable juice or a fruit-and-vegetable juice blend for a nutritious drink with less sugar. Be cautious and check the sodium content on veggie juices, as some can be high in salt.
Another good alternative is coffee. Coffee has been enjoyed by people for centuries. Consuming coffee in moderation can have several health benefits, including improved brain function and reduced risk of diabetes and stroke.
Two studies published this year found that greater consumption of coffee could lead to a longer life.
Milk can offer significant nutritional value, but it also has more calories than other alternative drinks. Low-fat milk, almond milk and soymilk offer substantial amounts of calcium, protein and other nutrients good for bone and muscle health, which is extremely important for older adults. If you're looking for a lower-calorie drink, unsweetened almond milk can have as few as 30 calories in eight ounces.
Bottom Line: Hydration=Health
We need a certain amount of water and other fluids daily to stay healthy.
Explains the Mayo Clinic staff:
"Every day you lose water through your breath, perspiration, urine and bowel movements. For your body to function properly, you must replenish its water supply by consuming beverages and foods that contain water."
We've all heard we should drink eight, 8-ounce glasses of water a day, but that's not universal. We need to factor in our health, activity level and geographic location.
Mayo cites the National Academies of Sciences, Engineering, and Medicine that determined the adequate daily fluid intake of an average, healthy adult living in a temperate climate is:
About 15.5 cups (3.7 liters) of fluids for men

About 11.5 cups (2.7 liters) of fluids for women
These recommendations cover fluids from water, other beverages and food. About 20% of daily fluid intake usually comes from food and the rest from drinks.
Older Adults Should Pay Attention to Beverage Consumption
For older adults especially, hydration is important for a number of reasons:
As we age, our bodies lose the ability to recognize thirst. This is a real problem for today's active older adult, who exercises in all weather conditions.

Many older adults take diuretics, laxatives, blood pressure medication or other medicine which may lead to dehydration.

Fear of urinary incontinence may lead older adults to drink less.

Total water content in the body decreases with age.
One of the advantages of a senior living community is that it's designed to support the independent, healthy, and active lifestyles of residents. For example, at Kendal at Oberlin, independent living residents can dine at home or at the Fox & Fell dining room or Langston Express cafeteria, both of which offer numerous beverage choices. On staff are Sue Campbell, our own nutritionist and registered dietitian, as well as chefs and sous chefs whose goal is to provide nutritious and delicious fare. If you're concerned about what you eat and drink, stop by and speak to them during your tour.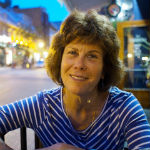 In the past, Molly Kavanaugh frequently wrote about Kendal at Oberlin for the Cleveland Plain Dealer, where she was a reporter for 16 years. Now we are happy to have her writing for the Kendal at Oberlin Community.