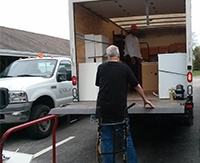 A home with fewer rooms and less square footage, a one-car garage and no basement sounds like it should cost less than maintaining a spacious family house. Not always, though.
There are costs to downsizing that might surprise you.
Costs to Consider When Downsizing
Here are four "hidden" costs to consider as you plan your downsizing move.
#1 The Price of Sunshine
Many older adults want to retire to a location where the sun shines more days than not.
And we all know real estate prices depend on "location, location, location" and supply and demand.
AARP put together a list of 10 great places to retire that met the following criteria:
at least 250 days a year that were either completely or partially cloudless;
had a distinct cultural identity, a range of activities for retirees, proximity to top-tier outdoor attractions, etc.;
met livability criteria of low crime, robust economy, healthy lifestyle and recreational amenities.
Two of the cities are San Diego, California and San Luis Obispoin, California where the cost of living is above average. Other desirable locations where housing is expensive include Sarasota, Florida., Santa Fe, New Mexico, and Bend, Oregon.
Of course, you can find affordable housing and average or below average cost of living in a sunshine city, but finding a spot that meets all the criteria listed above is likely to cost more than living in the Midwest, for instance. Check out this handy calculator to compare the cost of living (and other criteria) of your current location with a desirable place to retire.
#2 Goodbye to Cutting Grass and Shoveling Snow
One of the main attractions of condominium and retirement community living is the amenities that are offered. Along with outside maintenance, many places also offer swimming pools, fitness centers and the like.
At a continuing care retirement community, services and contracts vary greatly, but many offer a meal plan, on-site health services, housekeeping, limited transportation and a robust social calendar. But these services, whether provided by a condo association or a retirement community, come with cost. A recent Money article looked at the cost of moving to a continuing care retirement community.
"As you might suspect, this all-in-one living doesn't come cheap. Entry fees can range from the low- to mid-six figures, with monthly charges from $2,000 to more than $4,000. Costs vary widely among communities. And at any individual CCRC, you'll pay more—sometimes a lot more—if you select a larger independent-living unit or opt to prepay for more care.
"Can you afford to consider a CCRC? Many people cover the entry fee with the proceeds of a home sale. You'll need to compare the monthly charges with what you are paying now for housing and for whatever food and activity costs you might no longer face. Hiring a financial advisor for a one-time consultation might help."
Along with budget considerations, there are other factors to consider when selecting a retirement community, including your current and future health needs and the community's viability and accreditations.
#3 Is New Furniture in Your Future?
The master bedroom suite and dining room table that seats 12 probably won't fit comfortably in your downsized home, so make sure you budget money to buy new furnishings.
_____________________________________________
Get tips from Kendal at Oberlin residents who downsized here!
_____________________________________________
And don't think selling your old furniture, even if it is solid wood and carries a prestigious name, will offset the cost.
Writes Richard Eisenberg in an article titled, "Sorry, Nobody Wants Your Parents' Stuff:"
"Dining room tables and chairs, end tables and armoires ('brown' pieces) have become furniture non grata. Antiques are antiquated. "On PBS's Antiques Roadshow, prices for certain types of period furniture have dropped so much that some episode reruns note current, lower estimated appraisals.
"And if you're thinking your grown children will gladly accept your parents' items, if only for sentimental reasons, you're likely in for an unpleasant surprise." So, plan to donate your furniture to a charity or neighbor, and head to Ikea or go online and look for stores specializing in 'small furniture.'
#4 What about Self-Storage?
The highways and back roads are lined with self-storage facilities. Why, you might wonder, until you realize it's just what you need while you downsize.
Yes, it's best to toss before you move, but for a variety of reasons, some people need more time to do so. And once you have a unit, out of sight out of mind sets in and you just write the monthly check, so a couple months can easily turn into a couple of years.
Life Storage cites a study that found the contingent of renters who stored their goods for more than two years (30 percent) in 2013 was nearly double the amount from 2007 (17 percent).
Rental prices vary, depending on location and size of unit, but be sure to include an estimate in the cost of downsizing if you're likely to need extra space.
Downsizing Tips from Kendal at Oberlin
Here are some downsizing tips from Kendal at Oberlin's spring 2017 downsizing event. Our staff also have numerous recommendations if you're considering downsizing. Give us a call at 800-548-9469 or 440-775-0094 for help.