Published: March 29, 2023
Medical providers, public servants and church leaders stepped up, along with grocery store clerks, auto mechanics, restaurant owners and - fill in the blanks. When COVID enveloped our lives three years ago this month, everyday heroes rose to the occasion.
For life plan communities such as Kendal at Oberlin, home to older adults who were most at risk, the needs were great. As creative solutions surfaced one after the other from people not only inside Kendal but in Oberlin and the surrounding area, CEO Barbara Thomas got to thinking "We can't let this go unrecognized."
She put out the word to department heads and residents to send her names and stories. Thus was born Hometown Heroes, Kendal's campaign to publicly recognize men and women who reached out and helped the retirement community ride and survive the pandemic storm.
"Your frequent guidance undoubtedly saved precious lives," Barbara told the latest heroes, Lorain County Public Health Department workers Mitch Dandurand and Kathleen Grella, at a recent Kendal gathering. These two staffers took countless calls from Kendal ("we had them on speed dial," Barbara said) and provided ZOOM updates and consultations, and continue to do so.
To date, Kendal has recognized a total of eight Hometown Heroes. Meet the others.
Meditation, Masks & Meds
Indira Palekar is a psychologist in Lorain County, known for her keen listening skills among Kendal residents. When the pandemic hit, she offered free ZOOM meditation sessions, and continues to do so weekly.
"She saved us psychologically" Barbara said.
Retired Oberlin police officer Kyle Michalak is a familiar face at Kendal too. His mother Joyce lived there for nearly 20 years.
Using his 3D printer, Kyle made 3D facial masks and donated them to Kendal and Welcome Nursing Home, also in Oberlin, at a time when 3D masks were hard to come by.
"Kendal took such good care of my mom for 20 years, I'll do anything for them," he said.
Bill Doan, recently retired pharmacist at Discount Drug Mart just north of Kendal, provided "extraordinaire" all-round customer service during the pandemic. "He served Kendal in countless ways, you could call him about anything," Barbara said.
Batteries and Books
Mary and Malcolm Fowler used to own Herrick Jewelry store in Oberlin. "They just called up out of the blue when everyone was under a quarantine and offered to collect batches of watches and return them the next day or two with a new battery. They charged a modest fee of $10 for the battery and cleaned a few along the way," Barbara said.
Books along with tapes and videos kept Kendal residents engaged and entertained during the pandemic, thanks in large part to Darren McDonough, director of the Oberlin Public Library.
"His thoughtful and generous contributions helped make the program a success," said Joe Colucci, Kendal resident who partnered with the library.
Eight Hometown Heroes in the book, Barbara is still wading through names of other people who did extraordinary things during the pandemic. "I think there will be more. We'll do it as long as we can," she said.
For each honoree Barbara has tried to find a small gift that is special. For the health department workers, she gave them a handmade bracelet with "bravery" written in Morse code. For jewelers Mary and Malcom Fowler she gave them a clock to represent their contribution to keeping resident watches on time.
And all the recipients were given a $50 gift certificate that can be used at more than three dozen Oberlin shops and restaurants.
"We know that Kendal residents have said thanks, but we as Kendal want to say thank you," she said.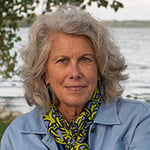 In the past, Molly Kavanaugh frequently wrote about Kendal at Oberlin for the Cleveland Plain Dealer, where she was a reporter for 16 years. Now we are happy to have her writing for the Kendal at Oberlin Community.
About Kendal at Oberlin: Kendal is a nonprofit life plan community serving older adults in northeast Ohio. Located about one mile from Oberlin College and Conservatory, and about a 40 minute drive from downtown Cleveland, Kendal offers a vibrant resident-led lifestyle with access to music, art and lifelong learning.