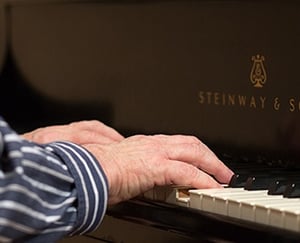 It was June 1970, New York City. I had just graduated from a Cincinnati high school and was riding in a taxicab with my friend Mary Gene, heading to Star Lake Camp for a summer job.
The radio was on:
We skipped the light fandango
Turned cartwheels 'cross the floor
I was feeling kinda seasick
But the crowd called out for more
Nearly 50 years later, and still when I hear Procol Harum's "A Whiter Shade of Pale" memories of that dazzling summer – all of it, not just the cab ride - come rushing back.
Most of us have experienced music's ability to ignite memories (sad ones too), but music has other powers as well. Music – listening to it, playing it, singing with others – can help improve our mood, mental alertness, productivity, creativity and more.
"There are few things that stimulate the brain the way music does," says one Johns Hopkins otolaryngologist. "If you want to keep your brain engaged throughout the aging process, listening to or playing music is a great tool. It provides a total brain workout."
Research finds lots of benefits to music
Music tastes can be individual – your favorite may be Bach, mine Beatles – but research is exploring some of the universal effects of how the brain responds to music.
"We're using music to better understand brain function in general," said Daniel Levitin, a prominent psychologist who studies the neuroscience of music at McGill University in Montreal.
He and his colleagues analyzed 400 studies about music and brain. Among their findings:
Patients, who were about to undergo surgery, were randomly assigned to either listen to music or take anti-anxiety drugs. The patients who listened to music had less anxiety and lower cortisol than people who took drugs;


People in an MRI machine listened to 60 excerpts of music they had never heard. The more activity in the nucleus accumbens, an area of the brain involved in forming expectations, the more money people said they were willing to spend on any particular song, "an indicator that some sort of reward-related expectations were met or surpassed," the researcher said;


In another MRI study, participants who had little or no music training listened to four symphonies by Baroque composer William Boyce. The researchers found synchronization in

several key brain areas, and similar brain activity patterns in different people who listen to the same music, reflecting "the power of music to unite people," Levitin said.
Neuroradiologist Dr. Jonathan Burdette, at Wake Forest Baptist Medical Center, has also used MRIs to study the effects of music on the brain. In one study, 21 people listened to music they liked, disliked and loved.
A brain circuit involved in thought, empathy and self-awareness were poorly connected when the participants were listening to the music they disliked, better connected when listening to the music they liked and the most connected when listening to their favorites.
"These findings may explain why comparable emotional and mental states can be experienced by people listening to music that differs as widely as Beethoven and Eminem," Dr. Burdette said.
In yet another study, a team of Swedish researchers found that frequently listening to music you like reduces your cortisol levels, which help reduce pain and boost positive emotions.
You get the idea: Music Matters
3 Ways to Put More Music in Your Life
1. Listen to Music
We all have musical preferences, enjoy many of the memories those tunes evoke and have a CD collection full of our favorites. But finding new music has never been easier with handy digital services, some free, like Pandora, Spotify and Sirius XM Radio and extensive collections in our local library.
If classical or show tunes are your go-to, check out rap or blues, bluegrass or jazz. Find a music appreciation program at a community college, online or ask a young adult for musical suggestions.
Yogi instructor Rose Sabin, owner of Soul Stretch Yoga in Westlake, has found music to be a powerful tool in her class, and a way to introduce new music to her students.
"Traditionally, yoga was not practiced with music – it was thought that the internal soundtrack of the breath was enough to connect the mind, body and spirit. But in recent years, yoga instructors have realized how a well thought out playlist (in addition to breathwork) can have a positive impact on students.
"For me, the right song, at the right time, combined with the right pose, can have the power to change things. Music can build you up, provoke you, inspire you, support you, calm you down, propel you into action. And there's nothing more satisfying than getting emails from students after class, requesting a particular playlist to treasure off the mat."
Attending concerts are fun, too, no matter how old or young you are. The Oberlin College Conservatory of Music faculty, students and visiting musicians perform nearly 500 concerts on campus each year, many of them free.
Other Northeast Ohio venues for folk, rock, blues and other musical concerts include Riverdog in Wakeman, Kent Stage, in Kent and The G.A.R. Hall in Peninsula.
2. Learn to Play an Instrument
The benefits of playing an instrument include improved long-term memory and mental alertness.
"As people get older, for example, we know their reaction times get slower. So if we know that playing a musical instrument increases reaction times, then maybe playing an instrument will be helpful for them," said University of Montreal researcher Simon Landry.
Other brain benefits include:
Improved multisensory skills;
Reduced stress and depression;
Stronger social bonds.
Several months after Jean Slonneger moved to Kendal, she put the word out that she was looking for people interested in playing the recorder. Now Kendal has two groups of about 10 recorder players who meet twice a month, sometimes more often, to play Baroque and Renaissance music, and learn more about the wind instrument.
"One of the women said the best thing is that it gives her a connection to her grandchildren" who also play the instrument, Jean said.
Consider all the instrument options, from drumming to banjo-picking and playing the harmonica.
In this TED talk, educator Anita Collins explains how playing an instrument can give your brain a full workout.
3. Sing Out Loud and with Others
According to WebMD:
"The act of singing sends vibrations through the body that simultaneously lower the level of cortisol (the stress hormone) and release endorphins, making us feel content. The anticipation of a singing group's melodic changes floods the body with dopamine, resulting in a sense of euphoria. Research shows that choir singing also releases the antibody s-IgA, which boosts our immune system -- especially when the song is moving (Mozart's "Requiem in D Minor" is a frontrunner)."
Join a church choir or community group or form your own informal sing-along.
Another study, this one in Australia, looked at older adults who participated in a community choir. Choir members felt that singing added enjoyment to their life and appreciated the company of others with similar experiences, researchers found.
"Later in life, you're experiencing things like losing loved ones, and maybe not being surrounded by as much family," Dr. Amanda Krause said. "They found that they were going through these hardships together, and through singing in a choir, which is a very positive experience, they were bonding socially with other people."
Folk singer Judy Cook started a "Song Swap," when she moved to Kendal at Oberlin. Residents gather twice a month to sing and share favorite tunes. Occasionally Judy and her husband, Dennis, hosts a song swap in their cottage with Oberlin College students.
We'd like to hear about your musical experiences and how it enhances your mental well-being.
More Practices to Keep Your Brain Healthy
Playing and listening to music has many benefits for our brain health. However, there are many other practices you can start doing today to keep your brain in optimal health.
Download our free guide, "Keeping Your Brain Healthy As You Get Older," to learn other skills that will help keep your memory sharp, learn more about dementia and Alzheimer's Disease and more.
Keeping Your Brain Healthy as You Get Older
---
It is important to stay active and eat well to stay healthy and fit, but you have to keep your brain healthy, too.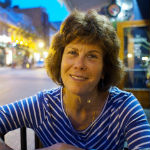 In the past, Molly Kavanaugh frequently wrote about Kendal at Oberlin for the Cleveland Plain Dealer, where she was a reporter for 16 years. Now we are happy to have her writing for the Kendal at Oberlin Community.