Published: December 13, 2019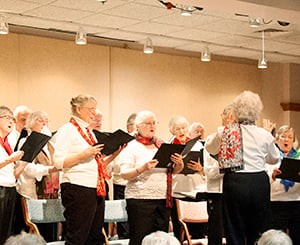 Holiday celebrations at Kendal at Oberlin are diverse, creative and lively, just like the people who live here. The celebrations reflect various cultural, ethnic and religious backgrounds. And they feature activities for young and old, with ample opportunities to participate or sit in the audience.
Popular Winter Events at Kendal
Let's start with the most popular event at Kendal.
"Kendal residents come from many different faiths and traditions. When the long nights arrive in December, we all join in celebrating the Winter Solstice," resident Marilyn Burns says.
The community's first official Winter Solstice took place Dec. 21, 1995 (three years after Kendal opened) and has continued every year on a date near the actual solstice.
According to History of Kendal at Oberlin; "The focus of subsequent performances has varied over the years, from replicas of English performances and nostalgic looks at the music of the 1930s through the 1960s to multicultural collages of music and stories from many different parts of the world – all with costumes and dance."
This year's theme is "It's about TIME!" with the program spanning sunset to sunrise and including a nature photography display, classical and folk songs and singalongs, and with "time-honored" seasonal snacks.
Another seasonal favorite associated with the dark month of December focuses on St. Lucia, or St. Lucy, whose holy day is Dec. 13 and who is associated with bringing light to the world.
Residents and staff with Scandinavian roots gather annually for dinner and festivities. The Scandinavian countries (Denmark, Norway, Finland and Sweden) are known for their long, dark winters, as well as a white codfish called "lutefisk" and herring.
Along with a smorgasbord of native foods, the event includes decorations of St. Lucia wearing a wreath of candles on her head and music, entertainment and storytelling about ancestors.
Young and Young-at-Heart Holiday Fun
Intergenerational activities are year-round at Kendal, but the December calendar is really packed with them.
Santa stops by the Langston to visit with Kendal Early Learning Center children - residents too – and everyone enjoys hot chocolate and singing holiday favorites. Later in the month, the children are the stars, performing for residents in Heiser Auditorium followed by cookies and cheer.
We all know how stressful holiday shopping can be, which is why residents organize the Twigbee Shop for pint-size shoppers. Residents donate and collect small gifts for ELC children, and after helping them find the perfect gift, wrap them up.
Oberlin College students spread holiday cheer on the Kendal campus too, with its annual "Marimba Christmas" concert following a December Sunday brunch. The musicians are percussion students from the Conservatory of Music.
Kendal Karolers take their holiday cheer to downtown Oberlin, serenading shoppers on several Saturdays in December. Merchants often invite the carolers inside and greet them with cookies. "It's a very nice community affair," resident Mary Louise VanDyke says.
---------------------------
Related Free Guide: What to Do This Winter in Oberlin, Ohio.
---------------------------
Hanukkah and Christmas Festivities
Residents hold an annual intergenerational Hanukkah tea complete with games, songs, stories, cookies and gelt chocolate coins.
On Christmas Eve, residents gather around the piano to sing carols, share favorite poems and stories – and eat more cookies. On Christmas Day, residents gather for the traditional reading aloud of A Child's Christmas in Wales.
On New Year's Eve, everyone enjoys more sweets and songs around the piano with a "ball drop" around 9:30 p.m.
Residents Enjoy Personal Celebrations Too
From Marjorie and Larry Porter:
"We've maintained a tradition dating back to my student days in Germany. We shop for greens and goodies the day after Thanksgiving, deck the halls on Saturday, and begin a series of little modified German Advent celebrations on each of the following Sunday afternoons -- replete with Lebkucken, Florentiner, and Gluehwein."
From Gary Olin and Sally Nelson-Olin:
"We enjoy having our Ohio family join us for a Christmas celebration in our cottage, sometimes as many as 12 of us. We choose a date other than Christmas Eve or Christmas so we can reserve the Den for a meal together. It is great to have Kendal do the cooking and we get the fun of being together."
From Grace Tompos:
"We have parties in our cottages with my closest friends. The big challenge is to find a date when we can get together because Kendal is a busy place and we all have various responsibilities."
See What Else Makes Oberlin a Special Place
Diverse holiday celebrations and a pervasive sense of community are just two reasons people choose to live at Kendal at Oberlin.
A vibrant town to call home is another. Learn more about the city of Oberlin and the cultural, social and recreational opportunities it has to offer.

In the past, Molly Kavanaugh frequently wrote about Kendal at Oberlin for the Cleveland Plain Dealer, where she was a reporter for 16 years. Now we are happy to have her writing for the Kendal at Oberlin Community.