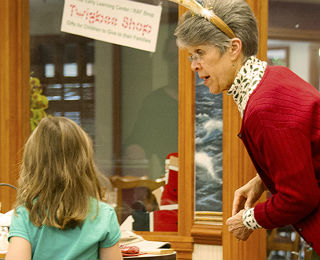 Written by Molly Kavanaugh
Sometimes it's a small gesture. The birdfeeder hanging by the window of the Stephens Care Center needs to be refilled. Or maybe the resident wants to attend a concert, but needs someone to push their wheelchair to the auditorium, or to be a "shepherd" so she doesn't get lost.
Other times the kindness is enormous. The resident is dying with no loved ones nearby. Someone comes to the bedside and sits beside her.
"It is a rich and precious experience. We feel honored to be there," explains Margaret Ann Ellis, a Kendal independent living resident who heads up the Supporting Friends committee.
What a gift these 30 men and women give to other members of the Kendal community.
What Can You Give?
"Generativity – the act of giving ourselves to the needs of the rest of the world – is the single most important function of old age," writes Joan Chittister in "The Gifts of Years, Growing Older Gracefully."
The holidays are a perfect time to give family and friends the valuable gift of yourself. Maybe it's sitting down and writing a letter, sharing your values and recipes for a good life – both literally and figuratively.
Or maybe your experiences call for a bigger writing project, like a memoir or book.
William Zinsser, a writer and well-known writing instructor, died this year at the age of 92. He encouraged older people to record their memories in this essay entitled "How to Write a Memoir:"
Writers are the custodians of memory, and that's what you must become if you want to leave some kind of record of your life and of the family you were born into. That record can take many shapes. It can be a formal memoir—a careful act of literary construction. Or it can be an informal family history, written to tell your children and your grandchildren about the family they were born into. It can be the oral history that you extract by tape recorder from a parent or a grandparent too old or too sick to do any writing. Or it can be anything else you want it to be: some hybrid mixture of history and reminiscence. Whatever it is, it's an important kind of writing. Too often memories die with their owner, and too often time surprises us by running out.
And thanks to the Internet, it's easier than ever to find self-publishing companies.
Make a Gift for a Loved One
To make a gift, a person needs a combination of talent, time and creativity. Kendal resident and set designer Bob Cothran painted a three-panel mural as a gift to the community he loves. The entire project took more than four years. Now "The Journey in Search of Curious Herbs and Spices" greets residents heading into the dining room and will do so for many years to come.
Nina Love has been solving double crostic word puzzles for years. The answer of the puzzle is a quotation, along with the author's name and title of work, so Nina decided to make her own crostic and share with others.
"This essay is too good for people not to be aware of it," she says.
Every holiday, she prints her puzzle on holiday stationery and mails to about 3 dozen people. She does not include the answers, but often has heated email exchanges as the person works on solving the puzzle.
Weaver Mary Louise VanDyke weaves personalized cards for friends, using their favorite color and including other features, like their pet. She has also woven placemats and table runners for gifts.
"It's a part of me, and I'm thinking of the person while I'm doing it," she says.
Her newest gift, still in the design stage, is weaving necklace holders for cell phones, personalizing the holder with the person's initials.
For ideas and workshops, visit your local craft store. Pick up a book at the library about how to make easy crafts and cook unusual holiday treats. Or better yet make a batch of your favorite cookies or candy, and share with friends, along with the recipe.
Artist and activist Charleen Touchette makes several strong arguments for giving homemade gifts, in a blog posted on EcoHearth:
Homemade gifts cost little in materials, but the time, effort and love put into each one makes them of great value. Gifts crafted at home inspire children, are eco-friendly, use less gas and packaging, and replace fossil fuel with human energy. Making presents requires thinking ahead and thinking about the recipient, while taking the time to make something especially for them.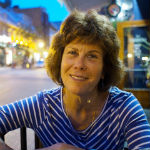 Written By: Molly Kavanaugh