Published: October 8, 2020
Fall is the perfect time for Buckeyes to get in the car and take a drive for a couple hours to peep at the leaves. Colors are expected to peak in mid to late October, according to the Ohio Department of Natural Resources, which issues weekly fall color updates. The state has 125 different tree species with autumn leaf colors ranging from deep reds to soft yellows with lots of orange and brown hues in between.
Three Nearby Car Rides for Leaf Peeping
With a great lake in our backyard, head north to the Lake Erie Coastal Trail for lakeshore foliage. "The more than 290-mile route closely follows the Lake Erie coastline from Conneaut on the east side to downtown Toledo on the west side. The byway mostly follows SR 2 and US 6 but also includes other local and state routes," according to Touring Ohio.
Scenic stops include the Marblehead Lighthouse, Old Woman Creek State Nature Preserve, Vermilion River Reservation, Fairport Harbor Lighthouse and Ashtabula Harbor.
Ashtabula's Covered Bridge Festival is canceled this fall, but its 19 bridges (representing five different construction designs) and the surrounding hilly landscape are open for business. You can download a tour map. Bridge highlights include Smolen-Gulf, the longest covered bridge in the U.S. (613 feet), Liberty Street, the shortest covered bridge in the U.S. open to traffic (18 feet) and Windsor Mills, built in 1867 in a picturesque setting over Phelps Creek.
Ohio is home to just one national park. The Cuyahoga Valley National Park, which spans parts of both Summit and Cuyahoga counties, includes deep forests, rolling hills, open farmland and the winding Cuyahoga River.
Brandywine Falls is one of the most popular locations in the park. This 60-foot waterfall is accessed via a partially accessible boardwalk. Beaver Marsh is known for its diverse wildlife and exceptional scenery.
What about Pumpkins and Apples?
Northern Ohioans have one of the best seats in the state for buying fresh apples (and apple cider) and pumpkins. Many orchards have canceled or altered their fall festivals this year but still have bagged and pick-your-own apples and pumpkins. Some locations will also provide curbside pickup upon request.
Once in a "Blue Moon" Halloween
Every once in a "blue moon," a month comes along that has two full moons. That happens about every 2 ½ years and it is happening this October, with full moons on Oct. 1 and Oct. 31. So how common is a full moon on Halloween?
'Despite all the creative Halloween full Moon pictures, a full Moon occurring on Halloween is not a common occurrence and only happens every 18 to 19 years," according to The Old Farmer's Almanac.
But there's more. A Blue Moon this October is extra special: The month will contain both the Harvest Moon and the Hunter's Moon, which are the only two full moon names associated with an astronomical event rather than a particular calendar month.
The full moon that happens nearest to the Autumnal Equinox (this year Sept. 22) is called the Harvest Moon (Oct. 1) and the full moon that follows is the Hunter's Moon (Oct. 31). The Hunter's Blue Moon will reach peak illumination at 10:51 a.m. (EDT) on Halloween morning, but will appear full that night, too.
As for a real Blue Moon on Oct. 31?
"Most Blue Moons look pale gray and white, indistinguishable from any other moon you've ever seen," according to NASA Science. "Squeezing a second full moon into a calendar month doesn't change the physical properties of the moon itself, so the color remains the same."
Volcanoes and wildfires can cause a moon to look blue, or red. In fact, red Blue Moons are more common than blue Blue Moons.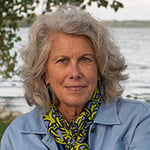 In the past, Molly Kavanaugh frequently wrote about Kendal at Oberlin for the Cleveland Plain Dealer, where she was a reporter for 16 years. Now we are happy to have her writing for the Kendal at Oberlin Community.