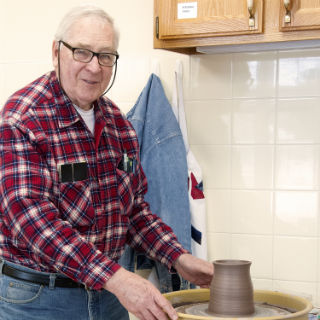 Blog Author: John D. Elder (Resident)
In the fall of 1949 I began my freshman year at Oberlin College intending to major in Studio Art. But after that first semester my interest shifted to psychology, and it wasn't until the fall of 1999 – a half-century later – that I retired from my position as administrator of a family counseling ministry and returned to the serious study of studio art.
For the next seven years, living in the D.C. area, I was able to take classes in watercolor, etching, lithography, papermaking, calligraphy, portraiture… the list goes on and on. And of course there were museums galore to visit. What a treat! Then my wife and I moved back to Oberlin as residents of Kendal. But did that mean leaving art behind? Hardly! Kendal at Oberlin is an artist's paradise!
To begin with, all the corridors are lined with art collected or produced by the residents. The Art Committee stores many more works than can be displayed at once, so we walk through an ever-changing gallery. The contrast to even the most luxurious retirement communities I have visited is amazing. Just as there is not an artificial flower to be seen at Kendal, neither is there any standardized "motel art" here. There's even a delightful Curio Cabinet with changing exhibits of resident collections – this month Janet Smith's bells from around the world.
More frequent changes happen in the three major gallery spaces, again thanks to our very active Art Committee.
Community Gallery
The "Community Gallery" is in the corridor near the Early Childhood Learning Center, the Beauty Salon and the Health & Wellness Clinic. Right now it features a stunning display of bird photographs by Maureen Bailey, a member of the housekeeping staff and an avid birder.
Friends Gallery
The "Friends Gallery" between the Care Center dining room and the Gathering Room has an exhibit of vibrant paintings, including many portraits, by local artist Greg Cross. I studied portraiture with Greg at FAVA (Firelands Association for the Visual Arts), a downtown art center that provides classes, workspace, galleries and a gift shop for local artists' wares.
Kendal Gallery
The "Kendal Gallery" between the Library and the Auditorium has a stunning exhibition now of artworks made from paper by Aimee Lee, America's leading expert on Hanji (Korean paper). Last year I joined a dozen Oberlin College students in taking Aimee's month-long Winter Term class in Korean papermaking. Exhausting, but an extraordinary experience!
The Art Committee hosts a reception for each artist - an opportunity to share his or her unique story and talk about particular art works on display. In alternate years, the Committee uses all three galleries for resident art shows – "Kendal Collects" and "Kendal Creates."
Allen Memorial Art Museum
Need to see more art and/or learn more about it? The Allen Memorial Art Museum, one of our nation's top college and university museums, is two blocks from Kendal. There are weekly "Object Talks" by students, monthly "AMAM Teas" with presentations by College faculty and staff, and "Thursday Evening Hours" with distinguished visiting lecturers, not to mention the many other lectures, all open to the public, as well as the opportunity for Kendal residents to audit classes and serve as docents. And everything free of charge!
Want to make your own art? Yesterday I was one of the "open house" hosts in the spacious new Art Studio (next to the newly enlarged Wood Shop), which is equipped with easels, drawing tables, and a potter's wheel and kiln. Residents can teach classes in their areas of expertise, schedule times to exercise their own creativity in various media, or join with others in making decorations for Kendal events. Care Center residents also engage in many art activities thanks to the leadership of Kendal's Creative Arts Therapy staff.
Kendal at Oberlin is indeed an artist's paradise!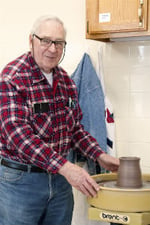 Blog Author:

John D. Elder
Photo Provided By: Richard Baznik